Doug Gills
From KeyWiki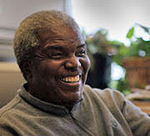 Doug Gills...(1946-2016). Former UPP Emeritus Associate Professor Doug Gills University of Illinois, Chicago. After retiring from UIC in 2012, He moved to Goldsboro, North Carolina where he had been living close to his family since.
Doug Gills joined the UIC faculty as a full-time assistant professor in Urban Planning and Policy in August of 1994. He was promoted to associate professor in 2002. He taught courses in Professional Planning Practice, Cultural Heritage Tourism, Race and Class Issues in Planning, History and Theory in Planning, Community Development, and Urban Space, Place and Institutions. He co-taught courses in Chicago's Future with Political Science Department Head Dick Simpson; Race, Class and Gender in Planning with UPP Associate Professor John Betancur and former UPP Professor Joan Fitzgerald (1993); Introduction to Planning with Betancur (1993) and a student-directed, special topics course on, Social Movements and Community Organizing for Change, with retired UPP Professor Dave Ranney (1995). He had previously held the position of assistant research associate in the Center for Urban Economic Development from 1991 to 1994. He also was director of graduate studies in UPP for several years and served on a host of department, college, and university wide committees throughout his academic career at UIC.
He was married to Wanda White.
Progressive Student Network contact
In 1982 Doug Gills was Third World Caucus coordinator for Progressive Student Network - Study and Struggle.
Malcolm X conference
A conference, Malcolm X: Radical Tradition and a Legacy of Struggle was held in New York City, November 14 1990.
The "Is It Time for Independent Black Politics?" panel consisted of;
Chairperson:
Panel:
"A call to build an organization for the 1990s and beyond"
Unity, January 28 1991, issued a statement "A call to build an organization for the 1990s and beyond" on pages 4 to 6.
This group was a split in the League of Revolutionary Struggle which soon became the Unity Organizing Committee.
Those listed as supporters of the call included Mike Murase, state coordinator Doug Gills, Kenwood Oakland Community Organization, Chicago. .
Black Radical Congress
In March 1998 "Endorsers of the Call" to found a Black Radical Congress included Doug Gills, Chicago[2].
References