Donald M. Fraser
From KeyWiki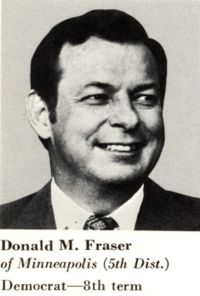 Donald M. Fraser is a former US Congressman and Mayor of Minneapolis.
Cuba recognition drive
In 1972, a coalition of congressmen, radical activists and some communists spearheaded a drive to relax relations with Fidel Castro's Cuba.
Under, the auspices of Sen. Ted Kennedy (D.- Mass.) and Sen. Harold Hughes (D.-Iowa), a two day conference of liberal scholars assembled in April, in the New Senate Office Building to thrash out a fresh U.S. policy on Cùba.
Among congressional sponsors of the seminar were Sen. J. William Fulbright (D.-Ark.) and Sen. Jacob K. Javits (R.-N.Y.), both influential members of the Senate Foreign Relations Committee; Sen. George McGovern (D.-S.D.), Rep. Bella Abzug (D~-N.Y.) and Rep. Ron Dellums (D.-Calif.).
Other sponsors included Senators Alan Cranston (D-CA), Mike Gravel (D - Alaska), Fred Harris (D - OK), Philip Hart (D - MI) and Frank Moss (D - UT)
Congressmen Joseph Addabo (D - NY), Herman Badillo ( D - NY), Alphonzo Bell (R -CA), Jonathan Bingham (D - NY), John Brademas (D -Indiana), Donald Fraser (D - Minn.), Seymour Halpern (R - NY), Lee Hamilton (D - Ind.), Michael J. Harrington (D - MA), Patsy Mink (D -HI), Parren Mitchell (D - MD), Charles Rangel (D - NY), Thomas Rees (D - CA), William Fitts Ryan (D - NY), Ogden Reid (D - NY), Benjamin Rosenthal ( D - NY), Morris Udall ( D - AZ).
Secretary of the New York State Communist Party USA, Michael Myerson was among the observers.
One panelist, John M. Cates, Jr., director of the , Center for Inter-American Relations, matter of factly remarked during the discussions: "So why are we here'? We're here so Sen. Kennedy can have a rationale to get our country to recognize Cuba."
The conference was financed by a New York-based organization called the Fund for the New Priorities in America, a coalition of groups clearly sympathetic to many pro-Communist causes.
The Fund was virtually the same group as the Committee for Peace and New Priorities, a pro-Hanoi group which bought an ad in November 1971 in the New York Times demanding Nixon set a Viet Nam withdrawal date. Both the Fund for the New Priorities and the Committee for Peace, were located at the same address in New York.[1]
Chile petition
In 1973;
Circulated a petition opposing the anti - socialist military government of Chile.[2]
We urge that the people of the world join in pressing upon the military junta of Chile the realization that they must abide by the norms of civilized practices and human decency.
Center for International Policy
In 1980, Donald M. Fraser. Mayor of Minneapolis, served on the Advisory Board of the Center for International Policy, a project of the Institute for Policy Studies.[3]
IVI-IPO
In 1981 Donald Fraser was a Vice President of Independent Voters of Illinois-Independent Precinct Organization[4].
Soviet visit
On April 10, 1982, an IPS-sponsored group visiting Moscow for a week of meetings with high-level Soviet officials responsible for disseminating disinformation and propaganda for U.S. consumption, met with U.S. reporters to serve as the unofficial means for floating the possibility that Brezhnev might agree to a New York summit meeting in New York at SSD-II. The IPS group, led by its principal spokesman, Marcus Raskin, IPS cofounder and senior fellow, included Robert Borosage, IPS director, National Lawyers Guild activist and former director of the Center for National Security Studies; Minneapolis Mayor Donald M. Fraser; Rt. Rev. Paul Moore, Episcopal Bishop of New York; New York lawyer Robert S. Potter; and Roger Wilkins, journalist and senior fellow of the Joint Center for Political Studies which specializes in "black issues."
The IPS group identified only two of the Communist Party of the Soviet Union Central Committee officials they met - Georgi A. Arbatov, head of the Institute of the USA and Canada, a "think-tank" that provides research and analysis and also cultivates and develops contacts with Americans at the direction of the KGB and the International Department of the CPSU Central Committee; and Vadim V. Zagladin, first deputy chief of the International Department.
In various U.S. interviews, Borosage has floated such standard Soviet themes as the Soviet Union is satisfied by "rough parity" with the United States; that the United States is restarting the arms race; that the Soviets want to go back to SALT II and get U.S. ratification; that if the United States starts another round in the arms race, it will seriously hurt the Soviet economy and ordinary Soviet citizens-but they'll still go ahead, so competition is futile; and the threat that the modern U.S. weapons proposed for deployment are "very dangerous... and would lead to much more dangerous stages that would make both sides insecure, not more secure."
Borosage took pains to say that the Soviets are "skeptical" of the disarmament movement and "they hadn't expected it. It was much more powerful and widespread than they'd ever imagined."[5]
Democratic Socialists of America
Donald Fraser addressed the October 9 2004 Democratic Socialists of America Mid-West regional conference in Minneapolis...representing American progressives, Donald Fraser, former member of the U.S. House of Representatives and its committee on international relations, and former mayor of Minneapolis.
The dialogue was the centerpiece for the Midwest Regional DSA retreat, and also had wide support from other organizations. It was initiated by the DSA International Commission and the DSA FUND and cosponsored by the Minnesota Democratic-Farmer-Labor Party (DFL) Education Foundation; the Freeman Center at the University of Minnesota's Humphrey Institute,which donated the meeting space[6]
References