Don Rose
Jump to navigation
Jump to search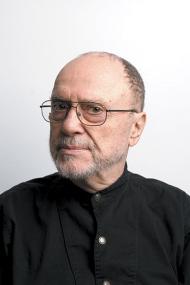 Template:TOCnestleft Don Rose is a veteran Chicago journalist and socialist activist.
Rose has been a longtime leader of "progressive forces" in Chicago and the nation; he was Martin Luther King's press secretary when Dr. King was in Chicago. Rose is a regular political columnist for The Chicago Daily Observer.[1]
An Open Letter to the New New Left From the Old New Left
An Open Letter to the New New Left From the Old New Left.
Now it is time for all those who yearn for a more equal and just social order to face facts.
By Former leaders of the Students for a Democratic Society. April 16, 2020.
On April 13, 2020, Senator Bernie Sanders urged his supporters to vote for the presumptive Democratic nominee, former vice president Joe Biden. Writing as founders and veterans of the leading New Left organization of the 1960s, Students for a Democratic Society, we welcome Bernie's wise choice—but we are gravely concerned that some of his supporters, including the leadership of Democratic Socialists of America, refuse to support Biden, whom they see as a representative of Wall Street capital. Some of us are DSA members, but do not believe their position is consistent with a long-range vision of democracy, justice, and human survival....
We salute Bernie Sanders and our friends and comrades in DSA and in the diverse movements for social justice and environmental sanity that enabled them to rise. We look forward to joining together to build on and defend our accomplishments. And now we plead with all: Get together, beat Trump, and fight for democracy—precious, fragile, worth keeping.
The signers of this letter were founders, officers, and activists in Students for a Democratic Society between 1960 and 1969.
Signers included Don Rose.
Hyde Park-Kenwood Voices
In January 1969, the Chicago radical newspaper, Hyde Park-Kenwood Voices, listed those who had helped produce its first 16 monthly issues as "writers, researchers, photographers, artists and clerical workers".
The list included Don Rose who was Co-Publisher, Editor.[2]
Consultancy
Don Rose is an independent political consultant heading Don Rose Communications and The Urban Political Group. The firms offer campaign consulting and management services including strategic message development and media production to candidates of both parties as well as independents. Based in Chicago the firms have operated in 13 states. Clientele has included Chicago Mayors Harold Washington and Jane Byrne, Illinois Senator Paul Simon, Supreme Court JusticeSeymour Simon, Governor Jim Edgar, former State's Attorney Bernard Carey and numerous congressmen, state and municipal legislators, including Senator Carol Moseley Braun in her early career as a state representative. The firm has also consulted for governmental agencies such as the Illinois Housing Development Authority and the Illinois Law Enforcement Commission[3].
Writing
Rose has published widely on political and cultural affairs, appearing in Social Policy, The Nation, George, Selling Magazine, Seven Days Magazine, Los Angeles Times, Atlanta Constitution, Chicago Sun-Times, Tribune, Chicago Magazine, Chicago Reader and the Journal of the Illinois Political Science Association. He has contributed chapters to several books, including 20th Century Chicago: 100 years, 100 Voices; Sweet Home Chicago;The Making of the Mayor 1983 and Restoration: 1989. He has lectured at Harvard, the University of Chicago, University of Illinois, Northwestern University, Loyola of Chicago and other schools and colleges.
He has been an on-air commentator for WLS-TV (ABC), hosted a weekly community-affairs talk show for 22 years on WPNT-FM and its predecessor stations and was editor and co-publisher of the monthly Hyde Park-Kenwood Voices. He is a frequent guest on network as well as local television and radio programs[4].
Activism
Rose had been radical since the 1940s when he joined Henry Wallace's communist controlled Progressive Party.
In the '50s Rose was involved in the campaign for nuclear disarmament.
During the 1960s Don Rose was active in the civilrights movement, acting as a midwest-states organizer for the 1963 March on Washington for Jobs and Freedom and later served as press secretary to Dr. Martin Luther King Jr. during his Chicago campaign. In 1968 he was an organizer for the National Mobilization Committee to End the War in Vietnam. In 1980 he was an organizer of the short-lived Citizens Party and was political director in l992 of the National Committee to Draft Mario Cuomo for President.
SDS connection
In 1968 Rose was asked to serve as press secretary to the Chicago Mobilization Committee-the Students for a Democratic Society/Communist Party USA influenced alliance that wreaked havoc at the Chicago Democratic Party Convention. It was during these violent times that Rose coined the famous phrase-"the whole world is watching"
Through the mobilization Committee Rose met Marilyn Katz, the SDS security officer for the demonstrations.
"Who Asked You" Election Advertisement
In April 1968, Don Rose signed an Advertisement in the Hyde Park-Kenwood Voices as a committee member of an as yet un-named organization led by Ruth Adams, Timuel Black, Rev. E. Spencer Parsons, Al Verri and Rabbi Jacob Weinstein asking the question, "What can you do to get a real choice for president in 1968?"[5]
Chicago Committee to Defend the Bill of Rights
In November 1967, Don Rose and his wife signed a Chicago Committee to Defend the Bill of Rights advertisement in the Hyde Park-Kenwood Voices opposing efforts by Senator Dirksen to re-institute the McCarran Subversive Activities Control Act of 1950.[6]
In 1970, the Board of Directors of the then Communist Party USA front Chicago Committee to Defend the Bill of Rights consisted of Rev. Frederic E. Sau, Harry Barnard, Boris Brail, Edward Carey, Milt Cohen, Ernest DeMaio ,Rev.William D. Faw, Richard Galloway, Prof. Charles H. George, Prof. Margaret Y. George, Ben Green, Pearl Hart, Dr. Hyman J. Hirshfield, David C. Jensen, Daniel Kaufman, Rev. S. Hunter Leggitt, Harry Mack, Rev. Daniel J. Malette, Lafayette Marsh, Rev. Francis J. McGrath, Akiro Makino , Ruth Muench, Isadore Pomerantz, Jesse Prosten, Don Rose, Norman Roth, Dr. Boris Rubenstein, Evelyn Salk, Thomas Slater, Walter Soroka, Jack Spiegel, Prof. William Starr, Lynward Stevenson, Edmonia Swanson, Gil Terry, Rev.C. T. Vivian, Otto Wander, Rabbi Burr Yampol, Dr. Quentin Young[7].
Rose eventually moved from the board to serve on an "advisory committee" to the CCDBR, one of the most successful Party fronts ever.
Institute for Policy Studies connections
Don Rose of the Jane Byrne mayoral campaign was listed[8]among those participating in the Institute for Policy Studies affiliated Conference on Alternative State and Local Policies (CASLP) Bryn Mawr August 3-5 1979.
Hyde Park-Kenwood Voices
From 1965 to 1975 Don Rose edited and co-owned a small Hyde Park based newspaper called the Hyde Park-Kenwood Voices. The paper's radical tone suited the neighborhood. It tended to follow the Communist Party USA line, campaigning for example to abolish the House Committee on Un-American Activities and the Chicago police "Red Squad" The Voice's co-owner, the late David Canter had personal experience with the committee, being hauled before it and named as a Communist Party member in the late 1960s. Don Rose's personal Red Squad file accused him of being a "member of the anarchists".
Mentoring David Axelrod
After the Hyde Park-Kenwood Voices folded, Don Rose and David Canter became mentors to a young journalist named David Axelrod[9].
In his early years as a political consultant, Axelrod, following in the footsteps of his mentor, the political strategist Don Rose, carved out a reputation for himself as a skillful specialist working for local progressive candidates...says Rose. "I think he's a principled, generally progressive guy... ."
Axelrod first met Rose and Canter in the early 1970s while studying political science at the University of Chicago and working as a reporter on the Hyde Park Herald.
Canter and Rose took the young David Axelrod under their wing. They took it upon themselves to "mentor" and "educate...politically", a the young journalist. Don Rose later wrote a reference letter for Axelrod that helped win him the internship at the Chicago Tribune which launched his career.
Don Rose writing to David Canter's son Marc Canter;
David Axelrod did not work for the Voices at any point. He was a reporter for the HP Herald while attending U of C, appearing on the scene first in 1975, just after the Voices folded–but he was familiar with our paper as a student before he got the Herald job. Your dad and i "mentored" and helped educate him politically in that capacity, which is perhaps why you may recall seeing him hanging around the house. I later wrote a reference letter for him that helped him win an internship at the Tribune, which was the next step in his journalism career.
Supporting Timuel Black
In the late 1970s Harold Rogers served on a "Citizen's Committee" supporting Timuel Black's unsuccessful campaign for State Representative in the 22nd District.
The "Citizen's Committee" included "former" communist Charles Hayes, Don Rose, socialist Chicago Alderman Leon Despres, future Democratic Socialists of America members members Saul Mendelson (a former Trotskyist), Danny Davis and Milt Cohen (another former communist).
Citizens Party
In 1979 Stanley Weiss, an Institute for Policy Studies (IPS) Trustee was a founding member[10]of the IPS connected Citizens Party. Other founders included IPS co-founder and senior fellow Richard Barnet, Adam Hochschild of Mother Jones magazine, Archibald Gillies, director of the John Hay Whitney Foundation, Julian Bond, a trustee of the IPS spin-off Institute for Southern Studies, Chicago activist organizer Don Rose, campaign manager and adviser to Chicago Mayor Jane Byrne, and Quentin Young, the Director of Medicine at Cook County Hospital, Chicago.
Launching Harold Washington
In 1982 David Canter and nine others persuaded black Democratic Congressman Harold Washington to stand for the Chicago mayoralty. Washington had a long history with Chicago's communists and socialists. When he accepted, the Communist Party USA and Democratic Socialists of America formed a multi-ethnic alliance behind Washington.
The alliance targetted black voters in a huge voter registration drive on the city's South Side.
Don Rose, Marilyn Katz and David Canter all worked on the successful campaign and all later secured jobs in Washington's administration.
The Washington /Mosely Braun/Obama succession
Rose and Canter were both involved in Washington's re-election campaign in 1987, as was David Axelrod.
Though Washington died in office shortly after, the communist/socialist alliance survived.
In 1992 the alliance elected the Communist/DSA friendly Carol Moseley Braun to the U.S. Senate.
In 2004 it helped put Barack Obama into the same Senate seat and in 2008 enlisted its allies nationwide to put Obama in the White House.
When Barack Obama was 22 years old, just out of Columbia University, he took a $10,000-a-year job as a community organizer on the South Side of Chicago. It was a shrewd move for a young black man with an interest in politics...
The politician who truly set the stage for Obama's rise was also a South Side congressman: Harold Washington, who was elected mayor of Chicago in 1983...In New York, Obama read about Washington's victory and wrote to City Hall, asking for a job. He never heard back, but he made it to Chicago just months after Washington took office...
Washington dropped dead of a heart attack in his second term. But the confidence he instilled in black leaders became a permanent factor in Chicago politics. His success inspired Jesse Jackson to run for president in 1984, which in turn inspired Obama, who was impressed to see a black man on the same stage as Walter Mondale and Gary Hart. Washington also strengthened the community organizations in which Obama was cutting his teeth, says Ransom. Obama's Project Vote, which put him on the local political map, was a successor to the South Side voter registration drive that made Washington's election possible.
Chicago has two unique advantages, says political consultant Don Rose. First, it's in Cook County, which contains nearly half of Illinois' voters. Second, the local Democratic Party is a countywide organization. After Chicago's Carol Moseley Braun beat two white men to win the 1992 Democratic Senate primary, precinct captains in white Chicago neighborhoods and the suburbs whipped up votes for her in the general election.
"They had to go out and sell the black person to demonstrate that the party was still open," says (Don)Rose, who sees "direct links" from Washington to Moseley Braun to Obama.
Rose, Canter and Axelrod all worked on Moseley Braun's 1992 campaign. Marilyn Katz worked with Obama in Project Vote's huge voter registration drive that ensured Moseley Braun's victory.
CAWI/launching Barack Obama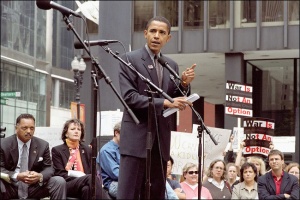 Don Rose was a founding member of Chicagoans Against the War in Iraq, with Marilyn Katz, Carl Davidson and James Weinstein. The group organized a year before the war's outbreak and is now known as Chicagoans Against War and Injustice[12].
On October 2 2002 Chicagoans Against War in Iraq organized the famous anti war rally in Federal Plaza Chicago, where Illininois State Senator Barack Obama made his name as a strong opponent of the war.[13].
Socialist connections
By the late 1970s Rose was linked to the Chicago coalition of former Trotskyists, Socialist Party USA members and communists that would in 1982 form Democratic Socialists of America.
Rose was a regular sponsor of the annual Norman Thomas-Eugene V. Debs award dinner held under the auspices of the Democratic Socialist Organizing Committee[14].
Chicago Area Friends of SNCC
In 2005 Chicago Area Friends of SNCC organized the "Tell the Story: The Chicago SNCC History Project, 1960-1965" Chicago Area Friends of the Student Nonviolent Coordinating Committee and the Chicago Civil Rights Movement, c. 1960-1965. The event was held October 21-22, 2005 Roosevelt University, Chicago, Illinois.
The Organizing Committee consisted of:
"Barack Obama could only have emerged in Chicago"
In August 2008 year Don Rose and Marilyn Katz gave an interview to the DSA linked journal In These Times, just before Obama's "coronation" at the Democratic Party Convention in Denver.
Some excerpts[16];
ITT 40 years ago this week, Chicago police battled protesters at the DNC. Two '60s radicals remember the madness, and look to Denver for change...
The '68 Democratic National Convention debacle remains a symbol of everything that went wrong with American politics, society and culture in that tumultuous and iconic year. It was five days of mayhem in the Windy City, five days that left the Democratic Party in shambles...
In August 1968, those explosive battles put Chicago at the epicenter of one of the most searing political and social upheavals of the 20th century. In August 2008, a U.S. senator from Chicago will be anointed the first black major-party nominee for the presidency of the United States.
Don Rose...the political wise man has helped elect mayors and senators since then, from Harold Washington to Paul Simon. Now 77, Rose - a mentor to David Axelrod, Obama's top campaign strategist...
The 1983 election of Harold Washington as Chicago's first black mayor came courtesy of a progressive coalition of blacks, Latinos and so-called "Lakefront liberals." Katz and Rose were there, once again, as advisors and operatives."
Katz My straight line goes from '66/'68 to the folks who began to work together and formed the core group of the Harold Washington campaign. (Almost) everyone I worked with in 1982 I had met as a kid in '68. I believe that Barack Obama could only have emerged in Chicago. Why? Because since '68 there was a web of relationships between black civil rights groups, anti-war groups, women's activities, immigrant rights activities, that has sustained and grown...
ITT What we did here in Chicago had international implications: In '68 there was a workers' movement in Paris, there was a worldwide movement of students. We lost that in the intervening 40 years. Now in 2008, with Barack Obama, we have a renewed sense that the whole world is watching again.
Katz I think that millions of young people are flocking to Barack, as we did to the anti-war movement...
ITT The Democratic Party will gather once again later this month. Everybody is expecting a big party in Denver. Will it be an Obama coronation? Is that what we should be looking for?
So how do you resolve Obama's move to the center? What about holding his feet to the fire? Don't we need to keep him true to progressive issues?
Katz We have to get him into office so then we can be the left opposition. I think it is a delicate balance between those of us who are progressive, how much you push, how much you don't want to put him in very difficult positions that would embarrass him or give John McCain some advantage...
Rose I believe that almost everything the Obama people do, like the McCain people, like the Hillary people, is a fairly well-tested proposition.
Given that, I think Obama's positions, the ones we like, don't like and applaud, are all very well-tested. I know the guys who are doing these things, and they have run a virtually flawless campaign. So I have a lot of confidence that they know what they're doing when they trim their sails and when they attack this way and attack the other way. I believe they are doing what will win and I think they have a concept of what will win.
Endorsing Geoghehan
In early 2009, Illinois Congressman Rahm Emmanuel gave up his seat to serve as Obama's Chief of Staff. A bye-election was called in Illinois's 5th District.
Tom Geoghegan threw his hat in the ring. He was endorsed by his law partner Leon Despres, Quentin Young and Don Rose, but lost the Democratic primary race.
In These Times
As of 2009 Don Rose was a member of the Editorial Board of Chicago based, Democratic Socialists of America linked journal In These Times.[17]
References