Don Pelles
Jump to navigation
Jump to search

Don Pelles is an hypnotherapist and NLP practicioner in Silver Springs Maryland. he is married to Roz Pelles.
Relationship to Roz Pelles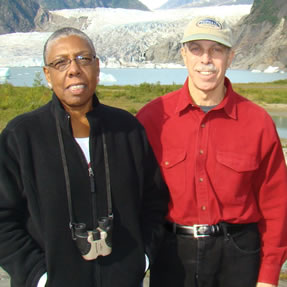 Roz Pelles and Don Pelles met in Chapel Hill, North Carolina. Rosalyn was divorced and the mother of two sons. Her oldest son, Hugh, was in the first grade. Don, who had recently made a decision to change careers and become an elementary school teacher, was a practice teacher in Hugh's classroom. Don made a point to speak with Roz about a situation he had noticed in the classroom.
The classroom teacher found it impossible to believe that Hugh was a fluent reader as a first grader and continuously challenged Hugh's abilities in the classroom. Don thought that the teacher's actions were inappropriate at best and -- worst case -- racist.
The couple met in 1975 and were married in 1977.[1]
"Greensboro Massacre"
As leading members of the Communist Workers Party, Don Pelles and Roz Pelles were involved in the infamous "Greensboro Massacre" of November 3 1979.
Don Pelles recalled;[2]
I saw the caravan coming by. And people were lining up along the street and starting to yell "Death to the Klan! Death to the Klan!" And I saw the cars coming by rather slowly. And there were people in the cars, men, women…and I heard people hitting on the cars. And somehow, my first reaction was, well that was wrong. I mean just the idea of hitting a stick on a nice car and damaging it, but then I thought, "What am I talking about, these are the Klan."…so then, they kind of sped up, and by then I kind of regretted not banging on one of the cars, so I kind of ran after it. So by then, I must have put my stick down…I tried to kick a car and I missed and I went running after it. But by that time they were speeding up and I stopped by the side of the road…and then I looked up and I saw silhouetted against the sky I saw a figure leaning out of a window with a long barrel pistol. I don't remember it firing. I just remember him waving it. And then I heard people yelling. I looked around me and I realized I was kind of isolated. I had run up the street and there was nobody around me, so I started to come back towards the corner. There was this little exchange along the sidewalk. And I heard people yelling. I heard "Get the children." And then I thought about just jumping over this little chain fence…and going back, but then I thought better of it and I kept going towards the corner. I saw kind of out of the corner of my eye the stick fight…and I kind of had this idea that maybe I should go join that, but I really didn't relish that idea, I guess out of fear.
Somehow I knew that there was shooting, but I didn't hear any shots… I looked up. By this time I was back near the corner…and I saw Dori Blitz firing a little pistol…At least she was waving it and I assume she was firing it. And I thought, damn, they're shooting. And then I looked and saw Chekesha, Frankie Powell, down on the ground. There was blood on her forehead, but she was conscious…I remember saying to her, "can you walk?" and she said, "I don't know."… I was on one side of her. Kate White was on the other side and we got her under the arms and started helping her back towards the shelter and we turned the corner and were going to go around and hide behind the car…even though I don't remember hearing any shots, I knew there was shooting. I felt a little pain on my cheek, just some birdshot. And a second later we were back behind the wheel of the car…. I don't know if it was then, but at some point I said, "I'm hit." And then I heard the voice of Jim Wrenn say, "I'm hit too," but I couldn't see him. At that point I could hear this roar of gunfire.
The shooting stopped. I think maybe I saw Sandi first. She was lying on her back with eyes wide open and a little round hole right between her eyes and a pool of blood under her head. I thought, well, she's probably dead, but if she's not, then she'll be cold so I took off my coat and put it over her. And then I walked away. And it was then that I saw César and he was kind of lying there with his mouth open and his shirt was pulled up and his stomach was kind of riddled with shots. Then I think I turned and saw Bill who was lying on his back by the recreation center and there were several people around him. Tom Clark. And Tom said "can you give him mouth to mouth?" Because he was working on his chest. I'd never given anyone mouth to mouth before, but I did. I put my mouth around his. I remember tasting vomit and trying to blow air into his lungs. And as I did, there was a sound coming back. And I thought oh, well maybe he's alive. I was over where Paul Bermanzohn was. He had been shot in the head and the arm, but I don't think I noticed the head wound at that time. He was bleeding profusely from his right arm. He had a big wound there. So I took off my shirt and tied it around his arm as a tourniquet really, to try to stop the bleeding.
Pretty soon after that I ran in to Roz (Pelles) who was pretty frantic who had been looking for me. And she realized that she was in charge, as all the other leaders were gone. That all of the WVO leadership were either dead or incapacitated so she was kind of the ranking leadership there.
Pelles working on Moral Mondays
Roz Pelles and Don Pelles (he of the DC Labor Chorus, she recently retired from being the Director of the Office of Human Rights for the AFL-CIO) have been working with Moral Mondays for many months, and Reverend Barber is a powerful inspiring organizer and speaker. [3]
References