Don Luce
Jump to navigation
Jump to search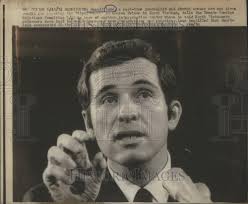 Don Luce is an activist specializing in Vietnam.
Luce at International Voluntary Services
International Voluntary Services (IVS) was an overseas volunteer program which worked closely with US government agencies, similar to the Peace Corps. It had been initiated by the Friends (aka Quakers), Mennonites, and Brethren, pacifist denominations known collectively as the "Historic Peace Churches". Accordingly, many IVS volunteers were religious pacifists. Some came to sympathize with the Vietnam antiwar movement.
Don Luce was the leader of IVS' program in Vietnam. Unlike many of his IVS colleagues he was a Congregationalist rather than a member of one of the Historic Peace Churches. But while teaching part-time at an agricultural college outside Saigon in 1965-1966, he became close to a group of Vietnamese students and developed antiwar sympathies. Luce's Vietnamese contacts included members of the Struggle Movement, a coalition of dissidents led by a militant Buddhist faction following the radical monk Thich Tri Quang, a former associate of Ho Chi Minh who encouraged self-immolation as a form of civil disobedience. During this period Luce also met Senator Edward Kennedy while testifying before the Senate Judiciary Committee's Subcommittee on Refugees and Escapees in 1965.
The Struggle Movement had lost some momentum by the end of 1966. The next year the South Vietnamese government attempted to pacify its domestic opposition by announcing elections, scheduled for September 1967. Thich Tri Quag's supporters immediately began questioning the legitimacy of the elections and threatening renewed civil disobedience. Three weeks after the election results, Luce and a group of other IVS leaders joined the radical Buddhists' repudiation of the new government by sending the New York Times an advance copy of a letter to President Johnson announcing their resignation. Joining Luce in this action were fellow IVS program leaders Gene Stoltzfus (who would later direct the group Christian Peacemaker Teams, aka CPT) and Willi Meyers and IVS regional team leader Don Ronk. Also helping draft their letter of resignation but not resigning themselves were their IVS colleagues David Gitelson and Tom Fox (recently killed in Iraq while working for CPT).
Luce and his colleagues' cause was taken up by Senator Kennedy, whose brother Robert Kennedy was then considering running for President in the 1968 election on an antiwar ticket. Kennedy used his influence to give Luce and Stoltzfus access to State Department personnel and to arrange for them to testify before the Senate Subcommittee on Refugees and Escapees. In early 1968 Kennedy was given a factfinding tour of South Vietnam by Luce's IVS associate John Sommer. David Gitelson also met with Kennedy at this time, and shortly afterwards IVS reported that he had been captured and killed by the Vietcong; his antiwar associates would assert without proof that he had actually been killed by anti-Communist agents. Kennedy subsequently wrote the foreword to Luce and Sommer's 1969 book Viet Nam: The Unheard Voices, published by Cornell University Press[1]
Luce and Cornell's Hanoi for Lunch Bunch
Luce's choice of publishers was significant. Following his resignation from IVS, Luce had spent 1968 at Cornell, which was his alma mater. There he worked at Cornell's Center for International Studies as a research assistant with the Center's Project on International Relations of East Asia, credited in the preface to his book. In this capacity he interacted with an antiwar network centered around Cornell's Southeast Asia Program, directed by George McTurnan Kahin (usually referred to as George McT. Kahin). Kahin's 1967 book The United States in Vietnam is cited on page 277 of Luce and Sommer's book.
Kahin was a pivotal figure who stood at the nexus between the popular antiwar movement and its academic and political supporters. Before coming to Cornell in 1951, he had worked part-time as a journalist in Indonesia. There he asked Minister of Education Ali Sastroamidjojo to suggest a research assistant for him, and he was assigned Selo Soemardjan, secretary to Sultan Hamengku Buwono IX, who had been a leading figure in the Indonesian independence movement against the Dutch. Soemardjan introduced him to other political figures, most significantly President Sukarno. Kahin maintained his relationship with Sukarno until 1963 and invited Soemardjan to come study with him in the United States. Kahin's academic attacks on Dutch colonialism led Dutch authorities to regard him as persona non grata and prompted the US State Department to withhold his passport from 1949 to 1954.
After returning to the US in 1949, Kahin became an instructor at Johns Hopkins University, where Asian studies specialist Owen Lattimore was Director of the Page School of International Relations. Lattimore's FBI file includes an informant's report on a private discussion Lattimore had about the Page School's appointment of Kahin to research Indonesian nationalism. Lattimore mentioned that Kahin's appointment was part of an effort to promote comparative work on nationalism in Asia, with Kahin to work on Indonesian nationalism, Chinese linguist John DeFrancis to work on Chinese nationalism, and an undesignated anthropologist or sociologist to be assigned to work on Mongolian nationalism (a field Lattimore later worked in).
Kahin and DeFrancis became research aides for Lattimore's legal defense team after Lattimore was accused by Joseph McCarthy in 1950 of being "Moscow's top spy" and "one of the principal architects of our Far Eastern policy", allegations which remain controversial to this day even among anti-Communist historians. Two different Senate subcommittees reached conflicting conclusions about Lattimore, and subsequent research has not resolved the question of his precise relationship to Soviet intelligence. Declassified Soviet Venona cables do not directly settle this issue, implicating some of Lattimore's associates but making no mention of Lattimore himself. US government documents pertinent to the case include over 8,000 pages of relevant FBI files and Senate testimony, which are still being digested by historians.
The FBI had flagged Lattimore as a suspected Communist and potential security risk as early as May 1941, when he was being considered for a position as the Roosevelt administration's political advisor to Chinese Nationalist leader Chiang Kai-shek. The Nationalists similarly opposed Lattimore's appointment, but President Roosevelt forced him on Chiang, according to an FBI informant quoting Chiang's wife. Lattimore had initially been recommended for the position by White House aide Lauchlin Currie (previously with the Treasury Department) and Treasury Department assistant Harry Dexter White, both later discovered to be members of the Silvermaster Group spy ring supervised by Jacob Golos and Elizabeth Bentley. At this time Currie was President Roosevelt's personal representative in China and the head of the US economic mission to the Chinese Nationalist government. Lattimore received a desk in Currie's office at Room 228 in the State Department Building, telling associates he could be reached there in a 1942 letter (contradicting his later Senate testimony that he never had a desk at the State Department). Meanwhile White and his staff at Treasury were blocking the delivery of US aid to the Nationalists which had been approved by Congress.
At the same time White was seconding Currie's recommendation of Lattimore as a political advisor to the Nationalists, he also recommended that the Nationalists' Ministry of Finance hire Communist spy Chi Ch'ao-ting, who like Lattimore was associated with the publication Amerasia. In June 1945 the FBI raided Amerasia, uncovering approximately a thousand stolen government documents, along with a spy ring linked to Soviet agent Joseph Bernstein which included Lattimore's associates Philip Jaffe and T.A. Bisson. Follow-up investigation of Amerasia and other Soviet espionage activity eventually drew attention to Lattimore himself.
Several Communist Party USA informants and Soviet defectors told the FBI and Senate investigators that they had heard Lattimore was a Soviet agent. The FBI was apparently unable to substantiate this with direct surveillance evidence (at least judging by a declassified 1949 report, which is heavily censored in certain key sections), but did document regular contact between Lattimore and Communist front groups, party members, and agents. In addition to Currie, White, Jaffe, and Bisson, Soviet agents Lattimore had been in contact with during the 1930s and 1940s included Comintern agent Willi Munzenberg's lieutenant Louis Gibarti, Agnes Smedley and Chen Han-seng of the Sorge spy ring, and Michael Greenberg of the Cambridge Five. At a minimum, he owed his position as a political advisor to a pair of key agents in the Soviet campaign to undermine the Chinese Nationalists, and his foreign policy statements were evidently viewed by these agents as conducive to the Soviets' foreign policy goals in Asia.
In a similar way, Kahin's foreign policy statements would prove useful to the North Vietnamese. While working for Lattimore's defense, Kahin applied for a job at Cornell. There, using a strained analogy between the Indonesian nationalist movement and the Vietcong to portray the latter as "nationalists" rather than communists, he became an early supporter of the Vietnam antiwar movement. Joining the Teach-In movement in 1965, he quickly becoming one of the antiwar movement's most prominent academic spokesmen. He agreed to debate Johnson administration representative McGeorge Bundy, which led to Bundy's brother William attempting to co-opt him by inviting him to join the State Department's East Asia Advisory Committee. Kahin accepted the invitation, but used the opportunity to network with government critics of Johnson's Vietnam policy, including the leader of the Senate antiwar lobby, J. William Fulbright, as well as 1972 Democratic Presidential candidate George McGovern. In this way Kahin became a key contact between the antiwar movement and the Congressional antiwar lobby. Several of Kahin's associates at Cornell would likewise become involved with the IRC's efforts to influence Congress, including Luce, David G. Marr, and Gary Porter, who have collectively been referred to as the "Hanoi for Lunch Bunch".[2]
Luce's Tiger Cages and the Indochina Mobile Education Project
After a year at Cornell, Luce returned to Vietnam in 1969 as an investigative journalist for Cornell and for the United Methodist Church's Vietnam Education Project (VEP). In this capacity he became affiliated with the World Council of Churches (WCC), an international religious body which had been infiltrated by Soviet intelligence through front groups such as the Prague-based Christian Peace Conference (CPC). Networking with other religious antiwar groups and with Thich Tri Quang's follower Ngo Ba Thanh, Luce along with Stoltzfus and Fox joined a campaign to publicize allegations of torture against the South Vietnamese government, involving what were called "Tiger Cages", allegedly located at Con Son Island Prison.
Luce's public involvement in the Tiger Cages story was preceded by the more low-key involvement of his former IVS colleagues Stolzfus and Fox. Fox had also quit IVS after the 1968 Tet Offensive and was now working as a foreign correspondent for National Catholic Reporter, TIME, The New York Times, and Dispatch News Service International. Dispatch News, founded in 1968 by Berkeley grad student David Obst and freelance writer Michael Morrow, was the same news service that helped Seymour Hersh break the My Lai Massacre story in 1969. It was funded by Philip Stern, nephew of Soviet spy Alfred Stern and a financier and board member of the Marxist think tank the Institute for Policy Studies (IPS). Dispatch News also employed Soviet agent Wilfred Burchett. Luce's Cornell associate Gary Porter later became Dispatch News' Saigon bureau chief.
While Fox was working for Dispatch News, he also began courting and eventually married Vietnamese native Kim Hoa, who worked for the Saigon staff of the Committee of Responsibility (COR). This was a medical activist group founded in New York in 1966. Its Chairman was Herbert Needleman, a pediatrician and child psychologist associated with antiwar activist Benjamin Spock, later exposed for using faulty methodology to perpetrate junk-science claims about lead poisoning. Its Treasurer was Anne Peretz, a wealthy heiress married to Martin Peretz, who during that period worked with the antiwar magazine Ramparts and the Vietnam Moratorium Committee (VMC).
While Fox's wife worked for the Saigon staff of COR, Fox and Stoltzfus served as the Saigon staff of the US Study Team on Religious & Political Freedom in Vietnam. This was a human rights investigating body consisting primarily of a group of religious antiwar leaders that included Fox's friend Robert Drinan, an associate of the VMC and soon to run for Congress in a 1970 campaign chaired by John Kerry. Also part of the team was Congressman John Conyers, Jr. The Study Team's research was conducted in May-June 1969 and the results were presented to the Senate Foreign Relations Committee in February 1970 by J. William Fulbright, leader of the antiwar lobby in the Senate. The Team's report stated that "prison authorities denied the existence of 'tiger cages'", that "Team members were unable to elicit any more from the prison officials than that the 'tiger cages' were no longer in existence", and that "Team members observed no brutality." However an unidentified prisoner "speaking surreptitiously to the Team members said, in answer to a question, 'Yes, the 'tiger cages' are here, behind Camp No. 2 and Camp No. 3. You looked in the wrong place.'"
To make this unsubstantiated hearsay sound more convincing, Luce started his own propaganda campaign. One of Luce's former agriculture college students had been imprisoned at Con Son. Students protesting the imprisonment had written a report on conditions at the prison, which Luce and a Quaker friend translated and sent to hundreds of newspapers around the US. While Luce was preparing the report for distribution, he recruited Congressmen William Anderson and Augustus Hawkins and Congressional aide Tom Harkin to stray away from an official Congressional delegation to Saigon for a private fact-finding trip to Con Son in July 1970. Harkin forced his Vietnamese hosts to let him into the prison, violated security procedures by walking among the inmates, and shot some photos of prison cells with bars in the ceiling under catwalks, which shouting prisoners reportedly alleged were used for abusing inmates by dumping things from the ceiling. Luce's factfinding team then went back to Saigon and collected abuse allegations from five former inmates who had been imprisoned as suspected Communists. The allegations collected by Luce's team were disputed by officials who claimed the catwalks were used for observing inmates rather than for abuse. The US Agency for International Development's Senior Advisor to the South Vietnamese Director of Corrections, Don Bordenkircher, would later extensively criticize the Luce team's allegations, arguing, "The Tiger Cage story put out in 1970 stands as one of the most successful operations ever undertaken by Hanoi's Department of Psychological Warfare." The majority of other Congressmen investigating the matter decided they did not find the Luce team's allegations persuasive enough to include in their official report.
Bypassing his colleagues' objections, Harkin called a press conference and denounced the official report as "a whitewash or a snow job". He allowed Luce to provide some of his photographs for a pictorial essay in the July 17, 1970 issue of LIFE. Luce also supplied photographs to the underground paper Liberation News Service (LNS, supported by IPS) and wrote pieces on the subject for a British antiwar paper, the Manchester Guardian, as well as several Vietnamese newspapers. This led the government of South Vietnam to inform him that his press card would not be renewed.
No longer welcome in South Vietnam, Luce began telling his Tiger Cages story around the United States as he toured the country from 1971 to 1974 with what he called the Indochina Mobile Education Project. This involved Luce travelling by bus around the country and presenting visual aids designed to arouse opposition to the war and pressure Congress to cut off aid to South Vietnam.
Assisting Luce with the Indochina Mobile Education Project was poet Jacqueline Chagnon (aka Jacquelyn Chagnon, Jacqui Chagnon). Chagnon would later be overheard by federal investigators having conversations with convicted Vietnamese spy David Truong (Truong Dinh Hung). Truong, who like Luce was associated with the Vietnam Education Project, had cowritten a letter to the magazine New Republic in July 1971 regarding an inmate named Nguyen Truong Con imprisoned at Con Son, the location of Luce's alleged Tiger Cages.[3]
Luce and Branfman: The COLIFAM Connection
While running his Indochina Mobile Education Project, Luce traveled as an ABC News correspondent to Hanoi in fall 1972. On November 15 he appeared on ABC Evening News with a group of Americans visiting POWs held by the North Vietnamese. The segment included an interview with Jane Hart, wife of Senator Philip Hart. Mrs. Hart claimed that POWs were being treated well.
Hart had come to Hanoi that October as part of a four-person delegation of female poets called the Committee for the Release of Prisoners of War in Hanoi. According to FBI files, the delegation's flight had been arranged by Anniversary Tours (AT), a travel agency controlled by Communist Party USA, which was funded and directed by the Soviet Union. In addition to Hart, the delegation also included "Mrs. D. Goodwin" (first name not given in FBI files), Muriel Rukeyser (under FBI surveillance since 1932 due to association with CPUSA fronts and identified as a CPUSA member by former member Louis Budenz), and Denise Levertov (wife of Mitchell Goodman, indicted for conspiring with the "Boston Five" to advocate draft evasion in 1967). Hart's group was traveling on behalf of the Committee of Liaison with Families of Servicemen Detained in North Vietnam (COLIFAM, aka COL).
COLIFAM was a group which helped the North Vietnamese extort POW families by offering mail contact with POWs and the hope of POW releases in exchange for antiwar propaganda statements. It was formed in 1970 as an outgrowth of a July 1965 conference in Jakarta, Indonesia between female representatives of the Vietnamese Communists (including Madame Nguyen Thi Binh, future delegate to the Paris Peace Talks) and delegates from the US antiwar group Women Strike for Peace (WSP), which had been infiltrated by CPUSA and became the US affiliate of the Soviet front group the Women's International Democratic Federation (WIDF). According to private conversations between COLIFAM committee member Richard Fernandez and an informant quoted in FBI files, COLIFAM had secretly been formed by North Vietnam and its members had been selected by the Hanoi government. COLIFAM's formation was supported by representatives of WSP, the New Mobilization Committee to End the War in Vietnam (New Mobe), the religious antiwar groups the American Friends Service Committee (AFSC) and Clergy and Laity Concerned (CALC), and other antiwar groups. COLIFAM was cochaired by WSP's Cora Weiss and the New Mobe's David Dellinger.
Dellinger was the protege of leading US pacifist A.J. Muste, identified as a CPUSA front man in 1957 FBI testimony to the Senate Internal Security Subcommittee. In 1966 he had helped Muste found the US antiwar movement's national organizing body, the National Mobilization Committee to End the War in Vietnam (Mobe, succeeded in 1969 by the New Mobe). Meanwhile he traveled to China and North Vietnam in fall 1966, shortly before Muste led one of the earliest US delegations to Hanoi (following up on an earlier 1965 delegation that included CPUSA's Herbert Aptheker and SDS' Tom Hayden and Staughton Lynd). He again visited China and North Vietnam in spring 1967, just after Muste died. Since then he had followed in Muste's footsteps by taking the lead in handling arrangements for American antiwar delegations to North Vietnam. In early 1971 he became a leader of a CPUSA-controlled spinoff of the New Mobe called the People's Coalition for Peace and Justice (PCPJ), which regularly sent delegations abroad to Communist-bloc countries and to conferences of Soviet front groups, such as the World Assembly for the Peace and Independence of the Peoples of Indochina held in Paris in February 1972, which was sponsored by the Soviet front groups the World Peace Council and the Stockholm Conference on Vietnam (aka World Conference on Vietnam). The PCPJ worked with representatives of North Vietnam to organize violent protests designed to paralyze Washington DC and American college campuses and thus pressure the US government to accept a "People's Peace Treaty" expressing Hanoi's peace terms. Luce helped support the PCPJ's US demonstrations by using his contacts to organize parallel demonstrations in Saigon.
Cora Weiss, COLIFAM's other cochair, had a background similar to Dellinger's. She was the daughter of Faberge millionaire and CPUSA member Samuel Rubin, a friend of CPUSA financier Armand Hammer. Her husband Peter Weiss was an attorney with the legal groups the National Lawyers Guild (NLG) and the Center for Constitutional Rights (CCR), which frequently defended Communist clients. Cora and her husband distributed the Rubin family fortune through a charity called the Fund for Tomorrow to left-wing groups such as IPS. Like Dellinger she had travelled to North Vietnam and was working with North Vietnam and the PCPJ to pressure the US government to accept the terms of the People's Peace Treaty.
In the wake of Hart's October 1972 COLIFAM delegation, another COLIFAM delegation had been announced departing for Hanoi on November 1, 1972, with some members traveling via Moscow aboard the Soviet airline Aeroflot. This delegation included:
Luce, Branfman, Winter Soldier, and Project Air War
Like Luce, Branfman had worked with IVS, serving as a volunteer in Laos from March 1967 through June 1969. Quitting IVS, Branfman worked as an investigative journalist in Laos from September 1969 through February 1971 to expose US covert bombing operations in Southeast Asia. Then in February 1971 he returned to the US to continue his campaign against US bombing by founding a program called Project Air War, which he ran while codirecting the IRC.
Project Air War's publicity campaign against US bombing was part of a broader propaganda offensive against the US military that was launched in 1971 by the same PCPJ-led coalition groups then helping the Vietnam Veterans Against the War promote war crimes allegations against US soldiers through the Winter Soldier Investigation.
The WSI was an outgrowth of a Soviet propaganda campaign that can be traced back to at least early 1965 (with precedents during the French phase of the Vietnam War), when the US began its first major offensives in Vietnam and the antiwar movement countered with its first major protests. At that time KGB agent Romesh Chandra, who was chairman of the WPC, launched the Stockholm Conference on Vietnam, which promoted war crimes allegations against US troops. Meanwhile, Soviet archives reveal, Soviet intelligence began circulating forgeries in the name of Gordon Goldstein of the US Office of Naval Research, falsely "confessing" to US biological warfare activity in Vietnam and Thailand.
The Stockholm Conference sponsored the 1967 inauguration of the Bertrand Russell Peace Foundation's International War Crimes Tribunal. In late 1969 Seymour Hersh's My Lai expose inspired a US counterpart to the International War Crimes Tribunal called the Citizens' Commission of Inquiry into War Crimes in Indochina (CCI). Representatives of the CCI and VVAW would join Don Luce in attending the International War Crimes Tribunal in Oslo, Norway in June 1971.
The VVAW's Winter Soldier Investigation originally began in January 1970 as part of the CCI's inquiry, but by the end of the year it had spun off into a separate project due to a conflict between CCI leadership and lawyer Mark Lane. Lane's speculations about the Kennedy assassination had been supported by the KGB since 1964, but by the time of the Winter Soldier Investigation his self-promoting grandstanding had come to irritate CPUSA and CCI leaders. Unfortunately for his rivals, Lane was supported in this dispute by Jane Fonda, who was the VVAW's Honorary National Coordinator and controlled the housing and funding arrangements for WSI. Fonda raised funds for WSI through a speaking tour at 54 colleges, through appeals to United Auto Workers and Detroit attorneys, and through benefit concerts involving fellow celebrities Donald Sutherland, Dick Gregory, Barbara Dane, Phil Ochs, David Crosby, and Graham Nash. Also contributing significant funding was the United States Servicemen's Fund (USSF), whose funding in turn came from sources such as Cora and Peter Weiss' Fund for Tomorrow, Philip Stern and David Hunter's Stern Family Fund, Anne Peretz, and Democratic Party antiwar wing financier Max Palevsky (cofounder with businessmen Harold Willens and Henry Niles of an antiwar group called Business Executives Move for Peace in Vietnam aka BEM, founded in 1967 and changed in 1975 to Business Executives Move for New National Priorities). WSI and CCI's work was also supported by a group of antiwar academics called the Education/Action Conference on US Crimes of War that included MIT's Noam Chomsky, Harvard's George Wald, IPS' Richard Falk and Peter Weiss, Temple University's Mark Sacharoff, AFSC's Stewart Meacham, Luce's former IVS associate Willi Meyers, CALC's Richard Fernandez, IPS/VVAW-associated psychiatrist Robert Jay Lifton, and others.
WSI initially publicized its allegations against US troops in hearings held in Detroit from January 31 through February 2, 1971. That same February Branfman launched Project Air War, which collected information on US bombing operations for the purpose of generating public opposition to the intensification of bombing in Vietnam.
Project Air War reflected a strategic shift by the North Vietnamese and the antiwar movement in early 1971 to focus on countering the US bombing campaign. That spring as the VVAW joined the PCPJ in a Mayday protest that aimed to close down the streets of Washington DC (coordinated with a parallel protest PCPJ co-leader Rennie Davis had Don Luce organize in Saigon), antiwar protestors took up the slogan, "Stop the air war!" Towards this end, Project Air War worked closely with similar projects run by a network of antiwar groups tied to the VVAW.
One of Project Air War's allies in this effort was an AFSC intelligence-gathering operation formed in 1969 called National Action/Research on the Military/Industrial Complex (NARMIC). NARMIC worked closely with IPS and an IPS spinoff called the North American Congress on Latin America (NACLA) to collect information on corporate US military contractors so that these companies could be targeted for protests. NARMIC corporate targets included napalm manufacturer Dow Chemical and cluster or "pineapple" bomb manufacturer Honeywell. NARMIC coordinated its propaganda efforts with the VVAW's WSI operation. NARMIC research assistant Arthur Kanegis testified at the WSI, using slides provided by Seattle AFSC member Ken Kirkpatrick depicting alleged victims of napalm and cluster bombs. Kanegis followed up his presentation with a question-and-answer session which included a plug for NARMIC and a list of corporate targets mentioning Honeywell. NARMIC also coordinated with Project Air War. In 1972 Kanegis coproduced for NARMIC a slide show called The Automated Air War which was widely shown by antiwar groups to generate protests against US bombings.
Another ally of Project Air War and NARMIC was the VVAW's Ad Hoc Military Buildup Committee (AHMBC, aka Ad Hoc Committee on US Military Buildup in Indochina). The AHMBC was activated in April 1972 as a function of the VVAW Intelligence Center, then run by New England VVAW Regional Coordinator Mike Roche. It was a joint project that included:
the GI Movement, which was the VVAW's active-duty counterpart;
With support from these groups, the AHMBC collected information from active-duty personnel and veterans about US military installations, operations, and troop movements, which was then disseminated to the media and other war critics.
Project Air War, the AFSC's NARMIC operation, and the VVAW's AHMBC operation worked in coordination with other antiwar groups from the PCPJ's coalition over the course of 1971-1972. In February 1972 the PCPJ, AFSC, CALC, and the VVAW all sent delegations to Paris for the Soviet-sponsored World Assembly for the Peace and Independence of the Peoples of Indochina, where plans were discussed for US delegations to visit Hanoi later that year. After the PCPJ's fellow travelers returned from Paris, a PCPJ-linked coalition implemented plans to disrupt the Republican National Convention, leading to a showdown between the VVAW and law enforcement in Miami that August. In September Project Air War, the AFSC, the VVAW, CALC, and a group called the Honeywell Project (formed by Minnesota activist Marv Davidov in 1968 to protest Honeywell's corporate headquarters in Minneapolis) joined together to form the People's Blockade Committee (PBC), which aimed to physically block munitions shipments to US troops.
This was followed up by the PCPJ coalition's participation in the October-November 1972 COLIFAM delegations to Hanoi that Branfman and Luce were involved with. As COLIFAM's delegations were returning from Hanoi that Christmas, Luce's former IVS colleague Tom Fox also returned from Vietnam to the US, bringing with him his new wife Kim Hoa from the Saigon staff of COR. The next year Branfman and Luce would be joined at the IRC by William Goodfellow.[5]
The Indochina Resource Center: Branfman, Luce, and Goodfellow
From 1973 through 1975, Goodfellow worked at the IRC with Branfman and Luce. Different sources variously list his title as "research director" and "associate". Also at the IRC were David Marr and Gary Porter from the Cornell Hanoi for Lunch Bunch, as well as journalist John Spragens, Jr.
Spragens was the bureau chief of Pacific Basin Reports and wrote for American Reports. He also did work as a photographer and interpreter for the Washington Post. In 1977 he would translate Our Great Spring Victory, a chronicle of the fall of Saigon by North Vietnamese General Van Tien Dung. The book was edited by Don Luce and Cora Weiss and published by Monthly Review Press, a Marxist periodical then co-edited by Harry Magdoff, who had been a member of the Perlo Group Soviet spy ring during World War II.
The IRC contributed to the fall of Saigon by playing a key role in the campaign to pressure Congress to withdraw US aid to South Vietnam. In this campaign the IRC worked in coordination with the antiwar lobby in Congress and other members of the PCPJ coalition, particularly CALC, which Luce directed from 1974-1978. The IRC also formed a close relationship with an organization similar to itself called the Indochina Peace Campaign.[6]
The IRC and the Indochina Peace Campaign: The Hayden-Fonda Link
The Indochina Peace Campaign had been founded by Tom Hayden and Jane Fonda in September 1972, and lasted until the end of the Vietnam War in 1975. It was launched in Ohio concurrently with an appearance by Fonda on the Dayton-based Phil Donahue Show, where Fonda reported on her July 1972 visit to Hanoi and claimed she had witnessed American POWs being treated well. Other IPC members included Donald Sutherland and Holly Near from Fonda's FTA troupe, the VVAW's Scott Camil (whose legal defense in the Gainesville Eight trial was being funded by Fonda), former POW George E. Smith, and former Ramparts editor Mike Ansara.
Like the IRC, the IPC worked with the PCPJ coalition to pressure Congress to cut off US aid to South Vietnam. The IPC also collected aid in conjunction with Medical Aid for Indochina (MAI, aka Medical Aid for Indochina Committee), founded by IPC staff member Bill Zimmerman (recently media consultant for MoveOn.org). MAI raised donations to "buy medical equipment" for the Vietcong and North Vietnam, as well as Communists in Laos and Cambodia, with the funds sent via trips to Hanoi coordinated with COLIFAM and the CPUSA travel agency AT. MAI's fundraisers included Cuban agent Rene Mederos.
The IPC developed a close relationship with the IRC. The IPC's Cambridge, Massachusetts branch was actually known as the "Resource Center", and Boston IPC associate Henry Norr collected publications from the IRC as part of his work for the IPC.
Hayden and Branfman also developed a close relationship after Hayden accompanied Branfman's COLIFAM delegation to Hanoi in November 1972. Branfman spent 1975-1976 as an advisor to Hayden's unsuccessful 1976 Senate campaign, which was directed by Bill Zimmerman. (Zimmerman's firm Zimmerman, Galanty & Fiman also later produced the Jane Fonda's Workout video, which Fonda used to finance her husband's activism).[7]
"Tiger cages"
Tom Harkin went to Washington in 1969 to join the staff of Iowa Congressman Neal Smith.[8]
In 1970, President Nixon sent a delegation of ten Congressmen to Viet Nam to investigate pacification. A part of their mandate included a visit to a prison in South Viet Nam as a way to be allowed to visit a prison where U.S. POWs were held in the North.
Tom Harkin, then an aide to the congressional group, convinced two of the Congressmen to investigate stories of torture in the Tiger Cages off the coast of Viet Nam. The congressman requisitioned a plane for the 200-mile trip to Con Son Island. Don Luce was asked to go as an interpreter and specialist in Vietnamese prisons. At that time he was working for the World Council of Churches.
On the way out Frank Walton, the U.S. prison advisor, described Con Son as being like "a Boy Scout Recreational Camp." It was, he said, "the largest prison in the Free World."
Luce and Harkin "saw a very different scene when we got to the prison. Using maps drawn by a former Tiger Cage prisoner, we diverted from the planned tour and hurried down an alleyway between two prison buildings. We found the tiny door that led to the cages between the prison walls. A guard inside heard the commotion outside and opened the door. We walked in".
The faces of the prisoners in the cages below are still etched indelibly in my mind: the man with three fingers cut off; the man (soon to die) from Quang Tri province whose skull was split open; and the Buddhist monk form Hue who spoke intensely about the repression of the Buddhists. I remember clearly the terrible stench from diarrhea and the open sores where shackles cut into the prisoners' ankles. "Donnez-moi de l'eau" (Give me water), they begged. They sent us scurrying between cells to check on other prisoners' health and continued to ask for water.
The photos that Harkin, took were printed in Life Magazine (July 17, 1970). The international protest which resulted brought about the transfer of the 180 men and 300 women from the Cages. Some were sent to other prisons. Some were sent to mental institutions.[9]
Palestine Human Rights Campaign
A brochure came out in early 1978 announcing "A National Organizing Conference" sponsored by the Palestine Human Rights Campaign to be held on May 20-21, 1978, at American University, with the theme of "Palestinian Human Rights and Peace".
The list of "Sponsors" was a mix of a several groupings including the Communist Party USA and its sympathizers, the World Peace Council, the Hanoi Lobby, black extremists, mainly marxists, radical Christians, and Arab/Arab-American organizations, plus a few phone-booth sized pro-Palestinian Christian groups.
Individual sponsors of the event included Don Luce.
Guardian
In March 1979, the New York radical magazine the Guardian issued an emergency appeal to funds in an effort to save the publication.
Over fifty supporters endorsed the appeal including Don Luce[10]
Vietnam Agent Orange Relief & Responsibility Campaign
In 2012 Don Luce served on the Board of the Vietnam Agent Orange Relief & Responsibility Campaign.[11]
References