Digna Sanchez
From KeyWiki
Digna Sanchez has been a longtime Puerto Rican Marxist often affiliated with the Communist Party USA and its fronts/operations as well as a writer for Claridad, the official publication of the Marxist, pro-Cuban Puerto Rican Socialist Party (PRSP) and the Party itself.[1].
In fact, she self-identified herself as "First Secretary, Puerto Rican Socialist Party, US Branch" on p. 80 of the CPUSA tribute to Sandy Pollack, one of their international workhorses who was killed in a plane crash coming from Cuba, January 1985. The book "Sandy Pollack, Her Life" was filled with tributes from the stellar constellation of American and foreign communists and sympathizers. It was published by the CPUSA and KGB front, the U.S. Peace Council (USPC), the U.S., CPUSA dominated affiliate of the Soviet's World Peace Council (WPC.
Sanchez wrote the following in tribute to Pollack on page 80, in the chapter entitled "International Messages": "For over a decade the Puerto Rican independence movement had the good fortune of having the tireless energy, the clear political vision, the commitment to forging a unified coalition that was Sandy's. She helped to bring the issue of Puerto Rican independence to key sectors of the people's progressive movements in the United States. We will always remember you Sandy; Companera, you are a part of our history for national liberation."
DC demo
April 15, 1978 — In one of the most militant and massive demonstrations held anywhere in the United States since the civil rights struggle of the 1960s, over 35,000 people, the majority Black, Asian and Latin youth, came to Washington, D.C., to voice their total opposition to the racist Bakke case now pending before the Nixon-packed U.S. Supreme Court.
Chanting "We won't go back, send Bakke back," the angry voices of thousands of youth from the oppressed communities demanding the overturn of the notorious Bakke decision, an end to racism and upholding of affirmative action programs were undoubtedly heard in the hallowed halls of the Supreme Court and the White House.
Among the speakers at the rally were Grantland Johnson from the National Committee to Overturn the Bakke Decision, Aimee Cruz of Union of Democratic Filipinos, Digna Sanchez of the Puerto Rican Socialist Party, Betsy Gimbel of Disabled in Action, Reverend Bob Pruitt, Joe Malloy, a coal miner and member of the United Mine Workers Union, and Claudette Furlonge of the Women's Focus of the National Committee to Overturn the Bakke Decision.
Larry Holmes, New York City mobilizer of the National Committee to Overturn the Bakke Decision, received a tremendous cheer as he opened his remarks with the chant "Down with Bakke, up with Soweto." He then went on to express the sentiments of all those participating in today's demonstration when he said, "Today we have a meeting of organizers, a meeting of anti-racist activists. We have to be about continuing the struggle. Our presence here today is making history, making April 15 a turning point in the struggle to liberate the oppressed people."[2]
National Coalition for Independent Political Action - NCIPA
Sanchez was listed as a "Co-chairperson(s)" of the scheduled May 20, 1988 "NCIPA Annual Dinner", to be held in New York City by the Marxist coalition known as the "National Coalition for independent Political Action]] (NCIPA), a brainchild of veteran communists and Marxists including law professor Arthur Kinoy and former CPUSA California Party leader Dorothy Healey, among others. It was founded in the late 70's but only lasted as a viable organization for about 10 years. NCIPA was an attempt by former CPUSA members and supporters, as well as those who would become the core of the Marxist "Democratic Socialists of America (DSA), radical, pro-Castro Marxist Hispanics, and key leaders of the "Hanoi Lobby" to create a new national Marxist party to replace the CPUSA. It wanted to attract younger members from the former SDS, NAM, and similar organizations.
Her name appeared on an April 14, 1988 letter about NCIPA's "third annual awards dinner" scheduled for May 20, 1988. The full text of this letter will be found at NCIPA's KW site now under construction.
WIDF affiliated United States "Regional Workshops"
Circa 2007 these people were members of the US "Regional Workshop" of the former Soviet front Women's International Democratic Federation;[3]
University of California, Digna Sanchez- Membra
LUZ DE LAS NIEVES AYRESS MORENO, Nieves Ayress - nacionalidad chilena
Rent Freeze Now!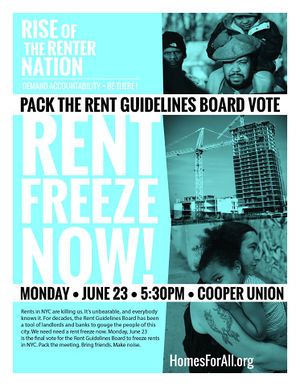 Lenina Nadal June 17, 2014;
Let's do this. Please share. — with George Ciccariello-Maher, Kate Cavanagh, Claudia Copeland, Maria Elena Perez, Maribel Cordero-Garcia, En Bey, Estevan Lee Roman, Beka Economopoulos, Ejima Baker-Morales, Crecensio Morales, Eulan Atkinson, Heidi Schwa, Stuart Ewen, Teresa Basilio, Jed Brandt, Eric Odell, Brian Hernandez, Christopher Gunderson, Janvieve Williams Comrie, Laurie Davidson, Mark Swier, Ramiro Campos, El Lopex, Jesse Ehrensaft-Hawley, Elisha Miranda, Prof. Antonio Nadal, Digna Sanchez, Elizabeth Walsh, Blandon Casenave, Kazembe Balagun, Dasha Munoz, Caridad De La Luz, Yasmeen Perez, Yvonne Enid Rodriguez-MacDonald, Lilo Carr Rivera, Esther Wang, Stomp Box, Dee PoeticalGenius, Esperanza Martell, Eddy Nelson Rivera, Tamara Czyzyk, Jessica Klonsky, Luz Schreiber, Carlos J. Serrano and Roger Bonair-Agard.
References
↑ "Revolutionary Activities Directed Toward the Administration of Penal or Correctional Systems, Part 1", House Internal Security Committee (HISC), Hearings, march 29 and May 1, 1973, p. 228
↑ Workers World, WW in 1978: 35,000 march to 'Beat back Bakke!' Workers World is in its 50th year of publication. We reprint this article from the April 21, 1978, issue of the paper as part of our special archival series. By Jaime Veve