Diane Bukowski
From KeyWiki
Diane Bukowski was born in Detroit in 1948 and still lives there. She graduated from Wayne State University in 1991 with a Bachelor of Science in psychology and anthropology. During the 60's and 70's, she worked in the anti-STRESS movement, struggles on behalf of prisoners after the Attica Rebellion, and anti-war campaigns[1].
She is single with no children, but a loving daughter to her mother Dorothy Bukowski and recently deceased father Robert Bukowski.
Activism/career
After her employment with the City of Detroit Health Department in 1974, she was elected to various union posts in Local 457 of the American Federation of State County and Municipal Employees (AFSCME). She campaigned during that time against the privatization of Detroit General Hospital and other city assets, and joined a coalition against the plant closings that began to devastate Detroit.
In 1995, she transferred to the City's Human Rights Department, where she monitored Mayor Coleman Young's Executive Order No. 22 (50 percent Detroit residents, 25 percent "minorities," and 5 percent women on construction projects with city tax dollars going into them). She also certified Detroit-Based and Small Businesses[2].
Retirement activism
Upon her retirement from the City in 1999, she began writing for The Michigan Citizen newspaper as a free-lancer. She covers privatization and government corruption, the Detroit Public Schools, police brutality, and prisoners' rights, among other issues. In 2000, she broke the story of Eugene Brown, the Detroit police officer who unjustifiably killed three men in 1995, 1996 and 1999.
She has continued to expose killer and rapist cops, as well as the failure of Wayne County Prosecutor Kym Worthy to charge them.
Bukowski also works part-time for a non-profit organization that helps to place homeless families and individuals[3].
Bukowski arrested and charged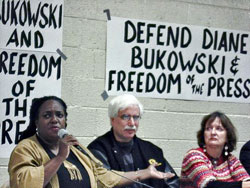 Freelance journalist Diane Bukowski, whose byline appears frequently in far left The Michigan Citizen newspaper, was convicted May 1 2009, on two felony charges stemming from her involvement as a reporter on the scene of a deadly police chase in Detroit on Nov. 4.
Bukowski was arrested as she attempted to photograph the grisly scene and after a state trooper yelled to her, "Who the f**k do you think you are?" Police confiscated her camera, deleted her photos and claimed Bukowski had crossed yellow crime-scene tape, which she denied.
Bukowski was originally charged with one misdemeanor count of obstructing an investigation. But Wayne County prosecutor Kym Worthy charged Bukowski with five felony counts that totaled a possible sentence of 20 years in prison. The prosecutor's office later dropped three of the charges.
Bukowski and The Michigan Citizen, a Detroit-based weekly "addressed to African Americans and the progressive community", had a history of successfully fighting for access to public documents from the prosecutor's office in police brutality and murder cases. Bukowski had written dozens of stories "chronicling police brutality, prosecutorial misconduct and police murders in Detroit. She is well-known in the community as a strong anti-racist fighter and reporter on issues involving foreclosures, utility shutoffs and union struggles".
The "railroading" of Bukowski on "trumped-up charges aroused strong community support from unionists, political leaders and community organizers who formed the Committee to Defend Diane Bukowski and Freedom of the Press. Bukowski and her supporters say this is a clear-cut case of retribution by the cops and prosecutor for her role in exposing the many injustices of the criminal justice system."
A meeting to organize further support for Bukowski and her appeal took place May 7 2009 at the offices of The Michigan Citizen. [4]
Every anti-racist and progressive activist in Michigan has a stake in the final outcome of this case.
References