Dessima Williams
From KeyWiki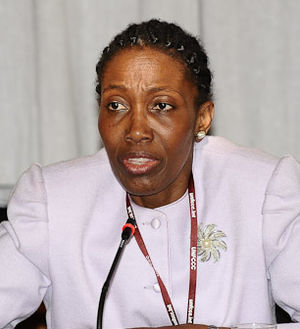 Dessima Williams is currently Grenadan ambassador to the United Nations and Chair of the Alliance of Small Island States. Until recently she was a professor of sociology and Caribbean studies at Brandeis University, was a leader in Grenada's New Jewel Movement and served as that country's ambassador to UNESCO and to the Organization of American States. Since the U.S. overthrow of Grenada's Marxist-Leninist government in 1983, Williams has been active in the peace and feminist movements and as an "intellectual and organizer for a more just world order"[1].
Williams is a founder of the Grenada Education and Development Program. She is also co-founder of HAITIwomen and a vice president of OXFAM America. She was a delegate to the World Summit on Social Development in Copenhagen in 1995. She was also co-chair of Massachusetts Action for Women, which was launched to implement the 1995 Beijing Platform for Action of the Fourth World Conference on Women.
Early life in Grenada
Born in the Caribbean Island state of Grenada Dessima Williams was radicalized[2] by the conditions she observed around her;
Strongly influenced by a Catholic upbringing, Williams says that from an early age, she was trained in the values of charity and social obligation. At the age of nine, she began work in a medical clinic after school, helping the resident nurse examine low-income rural children. This, she says, had a vast impact on her view of her place in the world, as she became involved in the process of challenging malnutrition and sickness among Grenada's poor.
Move to the US, early activism
Williams's radicalism found an outlet at university in the US.
Her potential for leadership blossomed in secondary school, where she distinguished herself as a scholar and valuable member of the community. Accepted into the University of Minnesota, she left Grenada to study International Relations. Although at first bewildered and confused by the racism and unfairness she saw in the United States, she became politically active, forming groups to spread the word about Caribbean culture. After four years, she enrolled in American University.
Serving the Grenadan revolution
Williams was a supporter of the Marxist-Leninist New Jewel Movement which took power in Grenada in 1979.
In 1979...The pro-socialist New Jewel Movement, with which she had affiliated herself, overthrew the dictatorial government and took power. In a brief phone call, Williams was assigned the central role as Grenada's ambassador to the Organization of American States. In a whirlwind of meetings and travel, she became the government's representative to Congress, the media, the U.N., the World Bank and UNESCO. Working alongside Grenada's prime minister and foreign minister, she helped to manage Grenada's foreign relations while seeking economic support from bilateral and multilateral donors.
She says.."I understood the possibility of change." Developing countries stuck together in the UN, she explains, and she was active in a non-alignment movement with Mexico, India, Cuba, Ghana and Yugoslavia. "I became a global citizen for justice in a way I'd never been before." Her role became "to translate Grenada to the world and the world to Grenada," she says. Greatly respected as a revolutionary character and an active speaker, she also began to represent the rights of women around the world.
The revolution implodes
In 1983, havoc broke loose among the government of Grenada. The prime minister and others were killed by more radical members of their own party, and U.S. forces swept into the country to make order of the ensuing political chaos. Arresting the interim government and deporting those who remained, U.S. troops ensured that the party was permanently scattered. Williams tells of how she was both "enraged and devastated" to watch the collapse of what she and her colleagues had fought for. "When brother killed brother, I couldn't go on," she recalls. She left the embassy and mobilized diplomatic opinion for the removal of U.S. troops from Grenada, a process which ended a year and a half later...
At this point, Dessima Williams, left Grenada to finish her graduate studies in the United States.
Arrest by INS
Dessima Williams was arrested[3]by INS agents in Washington on the first anniversary of the U.S. invasion of Grenada.
I had just made the keynote address at a conference on Peace in the Caribbean at Howard University. As I left, about six men suddenly approached me. They indicated I was under arrest and that I should get into the car. I had already been pushed against the open door. I was standing there, baffled: "Why have I been arrested and what is this all about?" The men--they were armed-- tried to keep people away from me. Then one fellow grabbed me by the neck from behind and the other one pushed his hand in my pelvic area and the other hand on my head, and they crumpled me into the car.
All I knew was that there were these aggressive, hostile white males speeding off with me in a civilian car. We eventually arrived at a jail, and a woman matron began to search me. She found some little buttons that said, "Maurice Bishop's Spirit Lives." She said, "They're weapons. They have sharp points." I had a lot of foreign currency from years of traveling. "These are very important documents." I was put in a tiny cell and released on bail in the morning. The charge was that I was living here illegally. In fact, I'd been going back and forth from Grenada for eleven or twelve years.
Williams, had remained in the US, long after her diplomatic visa had expired. Jesse Jackson's wife, Jacqueline Jackson, then offered to take Williams into personal custody.[4]
During her trips to Grenada, Williams was involved with the Maurice Bishop Patriotic Movement faction on the island[5].
Addressed Communist Party USA, front meeting
An ad/notice was placed in the Guardian, November 8, 1989, concerning an upcoming U.S. Peace Council national conference. The text of the notice was:
"End The Cold War Fund Human Needs" U.S. Peace Council's Tenth Anniversary National Conference - Boston, Mass., Nov. 10-12, 1989
Speakers Included:[6]
Honored by Democratic Socialists of America
In 2001 Williams was honored with the Debs-Thomas-Bernstein Award by the Boston branch of Democratic Socialists of America.[7]
Dessima Williams' moving and inspirational speech recounted how a young graduate student in the U.S. came to find herself appointed UN Ambassador from Grenada's new revolutionary government. Reflecting on the bitterness and sorrow of seeing their promising movement collapse, leading to military coup and ultimately a U.S. invasion, Dessima affirmed her conviction gained from experience that "Socialism without democracy cannot survive, but ultimately, neither can democracy without socialism."
On June 12, 2001 Boston Democratic Socialists of America presented its annual award to "leaders who fight for democracy, here at home and around the world". Ed Clark and Dessima Williams received the Debs- Thomas-Bernstein Award; John Maher Leaders for Social Democracy at Home and Abroad: Ed Clark, Dessima Williams, John Maher received the Michael Harrington Lifetime Achievement Award. The reception took place at the home of Marcia Peters and David Karaus in Jamaica Plain.
At the time Williams was a professor of Sociology and Carribean Studies at Brandeis University.[8]
Membership of Committees of Correspondence for Democracy and Socialism
In 2002 Dessima Williams was listed[9]on the Advisory Board of Committees of Correspondence for Democracy and Socialism-a splinter from the Communist Party USA.
Climate Change activism
Williams has used her position as Grenadan ambassador to the United Nations and chair of the Alliance of Small Island States to call for action[10]on "climate change."
In an opinion piece published in Accra, Ghana's Public Agenda, United Nations Secretary-General Ban Ki-moon put it plainly: The G8 leaders "have a special obligation to lead, given past commitments, the size of their economies, their disproportionate contributions of greenhouse gas emissions, and their responsibilities as donor countries."
The urgency of the UN secretary-general's call was underscored last week by Grenada's UN ambassador, Dessima Williams, who chairs the Alliance of Small Island States.
"For the smallest and most vulnerable among us, climate change is already here, causing damage," Williams told the French news agency AFP. "It is a cruel irony that without adequate global commitments, the countries contributing least to global warming will be the ones most affected by its consequences."
References