Derek Shearer
From KeyWiki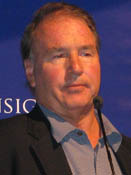 Derek N. Shearer is currently Chevalier Professor of Diplomacy and World Affairs at Occidental College in Los Angeles. He also serves as Director of Global Affairs, handling the college's international relations and directing the expansion of its international affairs programs[1].
He currently resides in Pacific Palisades, CA with his wife, financial consultant Sue Toigo[2].
He was previously married to Ruth Yanatta Goldway[3].
Education
Shearer received his B.A. from Yale University and his Ph.D. in Public Policy from the Union Graduate School. He has received a Guggenheim Fellowship, a Swedish Bicentennial grant, a German Marshall Fund grant among other grants and awards[4].
Clintons connection
Bill Clinton nominated his friend and adviser Derek Shearer to an ambassadorship after Shearer told Bill and Hillary he was owed a "political debt."
Private letters sent to the Clintons reveal how Shearer worked with longtime Clinton confidante Sidney Blumenthal behind the scenes to "attack [their] enemies" during the 1992 campaign.
The letters were among Shearer's collection of papers at Brown University. In August 1993, following a short stint in the Commerce Department, Shearer pleaded with the Clintons for an ambassadorial appointment to—in order of preference—Singapore, New Zealand, or Finland.
He was nominated to be ambassador to Finland six months later.
Shearer, a professor at Occidental College, also forwarded the Clintons an 8-page memo outlining his work on the family's first White House run.
"Given all that I did in the campaign, I've never understood why I wasn't offered a serious position in the government after you won," Shearer wrote to Hillary in a letter dated August 26, 1993. "I was one of your longest standing supporter [sic] but I wasn't an FOB hanger on; I'm a smart and talented person who contributed to winning–and I was with you in the trenches in the darkest days."
In the memo meant "only for you and Bill," Shearer described how he worked to dig up dirt on Clinton's political opponents Jerry Brown, Paul Tsongas, and Ross Perot, as well as Gennifer Flowers, who came forward about her affair with Bill Clinton just before the New Hampshire primary.
After the election Shearer joined the Clinton administration as an official in the Commerce Department, but was unhappy with his role. He said Commerce Secretary Ron Brown "treated me badly," and left the position after his wife Ruth became ill.
Shearer still longed for a role in the administration and asked the Clintons directly for an ambassadorship.
"I believe in political debts as well as in friendship," Shearer wrote in the memo. "Below is as objective a listing as I can give of the ways in which I contributed to your winning Presidential effort."
One of the first reasons listed is that he and his wife maxed out as donors to Clinton's campaign.
"Ruth and I immediately donated the maximum to you, and I raised early money for you from my parents, my friends, and my colleagues," he said.
Shearer described how he worked with George Stephanopoulos, who was then Clinton's communications director, on drafts of speeches. He touted his work with Sidney Blumenthal and his brother Cody Shearer, a longtime Clinton operative who was at the center of the "spy network" collecting private intelligence while Hillary Clinton was secretary of state.
"I also began working behind-the-scenes with Cody and with Sid Blumenthal to promote your candidacy, to defend you and to attack your enemies," Shearer said.
Shearer said he worked with "Sid on his attack piece on Tsongas" and helped prepare a defense against Flowers, who claimed she had a 12-year-long affair with Clinton. Bill Clinton denied the claim for years, but eventually admitted to the affair in 1998.
"As you know, Cody was with you in Boston when the Flowers story broke," Shearer said. "I spoke almost everyday of the campaign with Cody, and with Sid, as well as with Susan T. [Thomases], to work on defense tactics on this issue."
Shearer bragged about leaking "uncomplimentary material" to the press about his former boss, California Gov. Jerry Brown, and said he was involved in attacks against Ross Perot "behind the scenes."
"I was very successfull [sic] in working with Cody and Sid on the Perot problem," he said. "I coordinated their investigative work on Perot, and I know that our work played a crucial role in getting Perot to drop out of the race in July. It's a long story, but the bottom line is that we unearthed the info about his investigation of his daughter's boyfriend, the assistant prof. at Vanderbilt, and Sid and Cody got the story out. We were on the offensive against Perot when most of the campaign hierarchy was defensive!"
The story alleged that Perot hired a private investigator to discredit his daughter's fiancé. Blumenthal wrote in the New Republic that Perot investigated his future son-in-law because Perot was anti-Semitic, telling friends "You don't think I'd let my daughter marry a Jew."
"It made a big difference that Perot dropped out when he did, and that he never traced the press stories to us," Shearer said. "You or Hillary can ask Sid or Cody sometime about it, if you want the full stroy [sic]."
Shearer also took credit for bringing Betsey Wright onto the campaign, writing that "having her inside the operation made a substantial difference." Wright played a prominent role in the campaign, acting in an "intimidating" way toward the press and working to stamp out rumors of Bill Clinton's sexual exploits, famously dubbing new accusations against him as "bimbo eruptions."
Shearer even made sure Clinton knew that he wrote a line in an environmental speech that "got a chuckle."
"Ruth and [I] still want to find a way to be part of the administration," he wrote to Hillary. "The best choice for us, at this stage of the game, is for me to be named an ambassador. There are still countries available–Sinapore [sic], New Zealand, Finland–where I would like to go and where I could do a good job."
"I know that I have the ability to be a good ambassador–and I know that in the future, I will be a valuable friend and advisor to you, perhaps back in Washington," Shearer said in his letter to Bill. "And frankly, in addition to our friendship of more than twenty years, I feel strongly that there's a political debt here that is owed."
Clinton nominated Shearer to be ambassador to Finland on February 23, 1994, and Shearer served in that role until 1997. He went on to serve as a foreign policy adviser to Al Gore during the 2000 presidential campaign and an adviser to Hillary Clinton during the 2008 democratic primary.[5]
In The Times Founding sponsors
In 1976 founding sponsors of the Institute for Policy Studies/New American Movement linked socialist journal were;
DEMOCRACY '76
The Democratic Socialist Organizing Committee organized a DEMOCRACY '76 conference within the Democratic Party conference in Los Angeles in 1976.
Are there concrete programs that progressives can work for in this election year which could begin to democratize our social and economic institutions? D.S~O.C. thinks that there are . . . and has initiated a nationwide series of conferences to discuss the DEMOCRACY '76 program.
Already endorsed by political and union leaders - including George McGovern - DEMOCRACY '76 calls for a greater reliance on the public sector in creating genuine full employment - for a more progressive tax system - for increased social control of the corporate structures which increasingly control our lives - for democratic and public, rather than corporate, planning of our national future.
Workshop panellists included (Partial List): Jim Berland, Public Affairs Director, KPFK; Tim Brick, Coordinator, CAUSE; Paul Bullock, Director of Research, Institute of industrial Relations, UCLA; Rev. Peter Christiansen; Art Forcier ,Political Director, So. Calif. ADA; Jim Gallagher, Coordinator, Labor Studies, UCLA; Otis Graham, Prof. of History, UCSB; Jonathan Lewis, Director, California Tax Reform Association; Nancy Lieber, Prof: of Political Science ~ UCD; Jim Lowery, Director, Citizens' Committee Against Redlining; Jim Pino, Friends Committee on Legislation; Derek Shearer, economist/writer, West Coast Editor, Working Papers; Tom Thompson, author/publisher.[7]
Writing
Shearer's public policy books include Economic Democracy ( co author Martin Carnoy), a member of Democratic Socialists of America.[8], A New Social Contract (with Carnoy and Rumsberger), Putting People First- 1992 Program of Clinton-Gore Campaign (with Magaziner, Reich et al); and the Public Policy Reader, edited with Lee Webb[9].
Institute for Policy Studies
In 1979 Derek Shearer of served on the steering committee of the Institute for Policy Studies initiated Conference on Alternative State and Local Public Policies.[10]
In 1993 Shearer was listed as a among "former Visiting Fellows and Visiting Scholars and current TransNational Institute Fellows" on the Institute for Policy Studies 30th Anniversary brochure.
Democratic Agenda
More than 1,200 people attended the Democratic Socialist Organizing Committee initiated Democratic Agenda Conference held November 16-18, 1979, at the International Inn and Metropolitan AM Church in Washington 1 DC. The conference focused on "corporate power'; as the key barrier to "economic and political democracy," concepts many Democratic Agenda participants defined as "socialism.'
The Democratic Agenda meetings attempted to develop anti-corporate alternatives" through influencing the direction of the Democratic Party during the period leading to the July 1980 Democratic National Convention in New York.
Workshops included Housing: The National Issue - Cushing Dolbeare, Derek Shearer[11]
"Solidarity"
Circa 1984, July 17, at the Great Electronic Underground, San Francisco, Democratic Socialists of America's American Solidarity Movement organized a reception "Solidarity"at the Democratic Party Convention, in support of US labor.
Sponsors included Derek Shearer.[12]
Diplomacy/politics
Derek Shearer served in the Clinton administration as an economics official in the Commerce Department, and then as Ambassador to Finland (1994-97). Among his many accomplishments were the creation of the administration's coordinated strategy to the Nordic-Baltic region and the hosting of the Clinton-Yeltsin summit in Helsinki. After diplomatic service, Ambassador Shearer was a fellow at the Economic Strategy Institute and then at the Woodrow Wilson Scholars Center in Washington, DC. He also was a visiting Woodrow Wilson fellow and ambassador-in-residence at a number of colleges. He served as a foreign policy advisor to Vice President Gore during the 2000 Presidential campaign and to Senator Hillary Clinton in the 2007-2008 Presidential primary contests[13].
Carter appointment
In 1978, President Jimmy Carter appointed Shearer to the founding Board of Directors of the National Consumer Cooperative Bank[14].
Planning commissioner
In the 1980's, Shearer served as a city planning commissioner in Santa Monica, California[15].
This came through the success of the Campaign for Economic Democracy, which had won five of the council's seven seats in 1981. the council majority elected Shearer's wife, Ruth Yanatta Goldway as mayor[16].
Socialists organize to "challenge for power" in Los Angeles
On March 11, 1998, Los Angeles Democratic Socialists of America leader Steve Tarzynski wrote an email to another Los Angeles DSA leader Harold Meyerson.
Tarzynski listed 25 people he thought should be on an "A-list" of "25 or so leaders/activists/intellectuals and/or "eminent persons" who would gather periodically to theorize/strategize about how to rebuild a progressive movement in our metropolitan area that could challenge for power."
Tarzynski listed himself, Harold Meyerson, Karen Bass, Sylvia Castillo, Gary Phillips, Joe Hicks, Richard Rothstein, Steve Cancian, Larry Frank, Torie Osborn, Rudy Acuna, Aris Anagnos, Abby Arnold, Carl Boggs, Blase Bonpane, Rick Brown, Stanley Sheinbaum, Alice Callahan, Jim Conn, Peter Dreier, Maria Elena Durazo, Miguel Contreras, Mike Davis, Bill Gallegos, Bob Gottlieb, Kent Wong, Russell Jacoby, Bong Hwan Kim, Paula Litt (and Barry Litt, with a question mark), Peter Olney, Derek Shearer, Clancy Sigal and Anthony Thigpenn.
Included in a suggested elected officials sub-group were Mark Ridley-Thomas, Gloria Romero, Jackie Goldberg, Gil Cedillo, Tom Hayden, Antonio Villaraigosa, Paul Rosenstein and Congressmen Xavier Becerra, Henry Waxman and Maxine Waters.
Tarzynski went on to write "I think we should limit the group to 25 max, otherwise group dynamics begins to break down....As i said, I would like this to take place in a nice place with good food and drink...it should properly be an all day event."
DSA speech
On December 8, 1985, Derek Shearer addressed a Santa Monica Democratic Socialists of America meeting at 2848 Exposition Boulevard, on the subject "The future of Radical politics in Santa Monica"[17].
Tribute to Michael Harrington
In September 1989 Derek Shearer, Dolores Huerta, Dick Flacks, Harold Meyerson, Penny Schantz, paid tribute to the late Michael Harrington, at a Democratic Socialists of America event in Los Angeles.
Service
Ambassador Shearer has also taught courses in business and entrepreneurship, served on the boards of media and food companies, and as an international advisor to Ziff Brothers Investment Co, and other firms. He serves on the board of the nonprofit relief group Operation USA, and is a member of the Pacific Council on International Policy[18].
Military relationships
Ambassador Shearer has served as a political advisor to the U.S. military and was a moderator of the Chiefs of Defense Conference for the U.S. Pacific Command in Honolulu in 2005 and for the U.S. Central Command in Tampa FL in 2008[19].
References