Department of Health and Human Services
From KeyWiki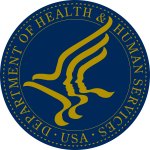 The United States Department of Health and Human Services is a Cabinet department that has the goal of protecting the health of Americans and providing essential human services. Its motto is "Improving the health, safety, and well-being of America".
The department is headed by current Secretary of Health and Human Services, Kathleen Sebelius.
Obama-appointed
The following HHS employees were appointed by Barack Obama:
Biomedical Advanced Research and Development Authority
The Biomedical Advanced Research and Development Authority (BARDA) is responsible for affairs such as the new $35 million contract with the Protein Sciences Corporation, Inc., of Meriden, Conn., for a supposedly advanced way of obtaining flu vaccinations. This contract could be extended up to five years at a total cost of approximately $147 million.
"The technology has advanced in recent years to a point that we believe it could help meet a surge in demand for U.S.-based vaccine for seasonal and pandemic flu," Secretary Sebelius said. "We want to use the technology to help our nation respond to emerging infectious diseases."
The contract is supposed to promote domestic manufacturing capable of providing a finished vaccine within 12 weeks of pandemic onset and of producing at least 50 million doses of pandemic flu vaccine within six months of pandemic onset.
The contract aligns with the National Strategy for Pandemic Influenza Implementation Plan, which calls on HHS to develop and procure medical countermeasures for pandemic influenza or for potentially pandemic strains, such as the recent novel H1N1 flu virus.[1]
External links
References