Department of Education
From KeyWiki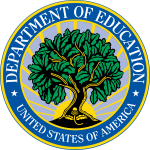 The United States Department of Education is a Cabinet department that deals with creating programs to generate funds for education and enforcement of privacy and civil rights laws.
The department was created by the Department of Education Organization Act (Public Law 96-88), signed into law by President Jimmy Carter on October 17, 1979.
The department is headed by current Secretary of Education, Arne Duncan.
External links
References