Dennis Brutus
Jump to navigation
Jump to search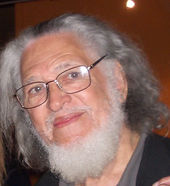 Template:TOCnestleft Dennis Vincent Brutus (1924-2009) South African political organizer and poet. He died early on December 26 2009 in Cape Town. He was born in Salisbury, Rhodesia in 1924, but his South African parents soon moved to Port Elizabeth, where he attended Paterson and Schauderville high schools.[1].
Education
Brutus entered Fort Hare University on a full scholarship in 1940, graduating with a distinction in English and a second major in psychology. Further studies in law at the University of the Witwatersrand were cut short by imprisonment for anti-apartheid activism[2].
Activism
Brutus' political activity initially included extensive journalistic reporting, organising with the Teachers' League and the African National Congress movement, and leading the new South African Sports Association as an alternative to white sports bodies. After his banning in 1961 under the Suppression of Communism Act, he fled to Mozambique but was captured and deported to Johannesburg. There, in 1963, Brutus was shot in the back while attempting to escape police custody. Memorably, it was in front of Anglo American Corporation headquarters that he nearly died while awaiting an ambulance reserved for blacks.
While recovering, he was held in the Johannesburg Fort Prison cell which more than a half-century earlier housed Mahatma Gandhi. Brutus was transferred to Robben Island where he was jailed in the cell next to Nelson Mandela, and in 1964-65 wrote the collections Sirens Knuckles Boots and Letters to Martha," two of the richest poetic expressions of political incarceration"[3].
Exile
Subsequently forced into exile, Brutus resumed simultaneous careers as a poet and anti-apartheid campaigner in London, and while working for the International Defense and Aid Fund, was instrumental in achieving the apartheid regime's expulsion from the 1968 Mexican Olympics and then in 1970 from the Olympic movement[4].
US activism
Upon moving to the U.S. in 1971, Brutus served as a professor of literature and African studies at Northwestern (Chicago) and Pittsburgh, and defeated high-profile efforts by the Reagan administration to deport him during the early 1980s. He wrote numerous poems, 90 of which will be published posthumously next year by Worcester State University, and he helped organise major African writers organisations with his colleagues Wole Soyinka and Chinua Achebe[5].
National Anti-Imperialist Conference in Solidarity With African Liberation
Dennis Brutus of Northwestern University, Sec., International Campaign Against Racism In Sports, President, South was named as a sponsor of the Communist Party USA dominated National Anti-Imperialist Conference in Solidarity With African Liberation held at Dunbar Vocational High School, Martin Luther King Drive, Chicago, October 19 to 21 1973.[6]
IPS
In 1993 Brutus was listed as a among "former Visiting Fellows and Visiting Scholars and current TransNational Institute Fellows" on the Institute for Policy Studies 30th Anniversary brochure.
Ad Hoc Committee to Keep South Africa out of the Olympics
In December 1983, a creation of the Federation for Progress, the Ad Hoc Committee to Keep South Africa out of the Olympics wrote a letter:
We have reason to believe that there will be an attempt by the expelled South African Olympic Committee to regain membership in the International Olympic Committee. Some indication of this has appeared in the Economist (September 3, 1983) which states, "The South Africans are going to plead in some foreign high courts that their exclusion from international athletics is contrary to signed international athletic agreements...If they get their declaration, they intend to ask the California courts to enforce it...."
We therefore call on the President of the International Olympic Committee, the President of the U.S. Olympic Committee, and the Chair of the Los Angeles Olympic Organizing Committee to:
J) issue a clear. public declaration that they will oppose any efforts by the racist regime of South Africa to regain membership in the International Olympic Committee; 2) support the Commonwealth Games Federation resolution; 3) issue a public declaration opposing the establishment of a South African information center in Los Angeles to promote propaganda legitimizing apartheid in sport.
Sincerely,
"Survival Day 84" speakers
Survival Fest 84, "Survival Day 84" speakers included Dennis Brutus.
Black Press Institute
In 1987 Dennis Brutus was on the Board of Directors of the Black Press Institute[8].
Chicago Committee to Defend the Bill of Rights Bicentennial Celebration
On November 10, 1991 Dennis Brutus was listed as a member of the 1991 Tribute Committee for the Chicago Committee to Defend the Bill of Rights Bicentennial Celebration.[9]
Back to South Africa
Following the political transition in South Africa, Brutus resumed activities with grassroots social movements in his home country. In the late 1990s he also became a pivotal figure in the global justice movement and a featured speaker each year at the World Social Forum, as well as at protests against the World Trade Organisation, G8, Bretton Woods Institutions and the New Partnership for Africa's Development.
Brutus continued to serve in the anti-racism, reparations and economic justice movements as a leading strategist until his death, calling in August 2009 for the "Seattling" of the recent Copenhagen summit because sufficient greenhouse gas emissions cuts and North-South "climate debt" payments were not on the agenda.
His final academic appointment was as Honorary Professor at the University of KwaZulu-Natal Centre for Civil Society, and for that university's press and Haymarket Press, he published the autobiographical Poetry and Protest in 2006.
Among numerous recent accolades were the U.S. War Resisters League peace award in September 2009, two Doctor of Literature degrees conferred at Rhodes and Nelson Mandela Metropolitan University in April 2009 -- following six other honorary doctorates – and the Lifetime Achievement Award of the South African government Department of Arts and Culture in 2008.
Brutus was also awarded membership in the South African Sports Hall of Fame in 2007, but rejected it on grounds that the institution had not confronted the country's racist history. He also won the Paul Robeson and Langston Hughes awards.
Even in his last days, Brutus was fully engaged, advocating social protest against those responsible for climate change, and promoting reparations to black South Africans from corporations that benefited from apartheid. He was a leading plaintiff in the Alien Tort Claims Act case against major firms that is now making progress in the U.S. court system[10].
Communist "Manifestivity"
On October 30 and 31, 1998 the Brecht Forum presented the "Communist Manifestivity -150th Anniversary of the Communist Manifesto" at at Cooper Union's Great Hall, New York.
One of the many workshops at the Manifestivity was;
Today's Capitalist Crisis; with Dennis Brutus, Judy Claude, Sylvia Federici, Neftali Garcia, Joan Greenbaum, Doug Henwood and Boris Kagarlitsky. Moderator: Harry Magdoff.[11]
Connection with Africa Action
On the occasion of Brutus' death, Gerald LeMelle, Executive Director of Africa Action commented in a tribute on the Africa Action website,
"Not only was Dennis a long-time friend, personal mentor and partner to this organization, but he made invaluable contributions to the anti-apartheid struggle around the world. This is a very sad time for Africa Action."
Marxism-Leninist book
In 2006 Dennis Brutus contributed a foreword to Marx, Lenin, and the Revolutionary Experience: Studies of Communism and Radicalism in an Age of Globalization by Trotskyist writer Paul Le Blanc.
Venezuelan poems
Below are two poems presented by Dennis Brutus, in Venezuela for the eighth meeting of the Network of Intellectuals and Artists in Defence of Humanity and the World Forum for Alternatives, October 18, 2008. Dennis Brutus
Poem immediately following the conference, in the Hotel Alba overlooking Caracas mountains, 5:50am on October 18, 2008.
Saffron dawn glimmers
beyond the mountain's blue bulk
my shoulder's reflection infringes
on the window's dim report
So let some impact from you my words echo resonance
lend impulse to the bright looming dawn
Poem delivered at the closing session.
There will come a time
There will come a time we believe
When the shape of the planet
and the divisions of the land
Will be less important;
We will be caught in a glow of friendship
a red star of hope
will illuminate our lives
A star of hope
A star of joy
A star of freedom
In thanks to President Hugo Chavez and the people of Venezuela, Dennis Brutus October 18, 2008, Caracas[12].
Independent Progressive Politics Network
In 2009 Dennis Brutus served on the Advisory Committee of the U.S. based Independent Progressive Politics Network[13].
Copenhagen Climate Change Conference
Dennis Brutus on Climate Change
Brutus made the following comment in his open letter to the UN Climate Change Gathering in Copenhagen on Oct. 12, 2009,
"The danger in falling short of setting deep cuts of 45% from 1990 carbon emission levels is that it puts us beyond the tipping point where unknown additional and more catastrophic changes will be wrought in the earth's water and rainfall systems, ultimately killing millions in sudden and violent storms, droughts and fires."[14]
He intended to attend the conference as he states in the video to the right, filmed on the occasion of his 85th birthday, however he died shortly afterwards.
Poetry collections
Brutus's poetry collections are:
Sirens Knuckles and Boots (Mbari Productions, Ibaden, Nigeria and Northwestern University Press, Evanston Illinois, 1963).
Letters to Martha and Other Poems from a South African Prison (Heinemann, Oxford, 1968).
Poems from Algiers (African and Afro-American Studies and Research Institute, Austin, Texas, 1970).
A Simple Lust (Heinemann, Oxford, 1973).
China Poems (African and Afro-American Studies and Research Centre, Austin, Texas, 1975).
Strains (Troubador Press, Del Valle, Texas).
Stubborn Hope (Three Continents Press, Washington, DC and Heinemann, Oxford, 1978).
Salutes and Censures (Fourth Dimension, Enugu, Nigeria, 1982).
Airs and Tributes (Whirlwind Press, Camden, New Jersey, 1989).
Still the Sirens (Pennywhistle Press, Santa Fe, New Mexico, 1993).
Remembering Soweto, ed. Lamont B. Steptoe (Whirlwind Press, Camden, New Jersey, 2004). Leafdrift, ed. Lamont B. Steptoe (Whirlwind Press, Camden, New Jersey, 2005).
Poetry and Protest: A Dennis Brutus Reader, ed. Aisha Kareem and Lee Sustar (Haymarket Books, Chicago and University of KwaZulu-Natal Press, Pietermaritzburg, 2006).
References