Democratic Socialists of America - North Texas
Jump to navigation
Jump to search
Democratic Socialists of America - North Texas encompasses Dallas, Fort Worth and Collin County.
2021 exec
Democratic Socialists of America - North Texas 2021 executive==
Co-chairs Nora Soto, Alex Telecky, and Heather Allen.
2020 Bernie delegates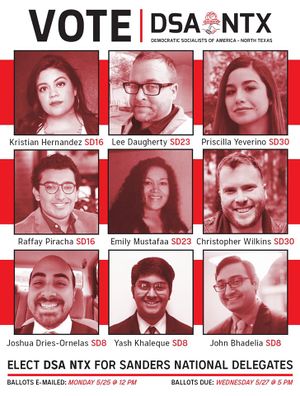 Democratic Socialists of America - North Texas 2020 Bernie delegates were Kristian Hernandez, Lee Daugherty, Priscilla Yeverino, Raffay Piracha, Emily Mustafa, Christopher Wilkins, Joshua Dreis-Ornelas, Yash Khaleque, John Bhadella.
Leaders
Lee Daugherty November 18 2019 · Dallas, TX ·
This evening was my final steering committee meeting as co-chair of DSA North Texas. We had some bread and decided to recreate the Last Supper. As EJ said, this is probably the best thing we've done as an org 😹🍞🌹
— with Michael Gonzales and John Bosco, EJ Smith, Amanda Heatherly at Half Price Books (Flagship).
2017 co-chairs
As of March 2017;[2]
2018 co-chairs
2016 contacts
As of August 2016;[3]
Modus operandi
In September 2009 Democratic Socialists of America - North Texas had 400 paid members in its ranks.
Members often wear bright red T-shirts holding signs that read "Abolish ICE" or "Medicare for All." They also call for eliminating student debt, more financial protections for consumers and other populist messages.
Kristian Hernandez, one of three co-chairs of North Texas DSA, said the group's mission right now is growing and being visible.
"We're an energized group. You don't see a lot of those in Dallas," Hernandez said. "We're not beholden to any corporate money. That gives us a lot of liberty to pursue things and say things in a way that is 'real talk.'"
Hernandez said two of the group's goals this year were the failed sick paid leave petition and the 3 percent raise for Dallas ISD support staff that the board of trustees confirmed in August.
"We're trying to change the narrative that electoral politics are the only way to make change in your community. They're not the only way to have power and to fix things," Hernandez said. "I'm not saying they're not important, but there has to be a dual-sided effort of electoral wins and community power."
As for running candidates in the future, Hernandez said the group would likely do so in the Democratic Party.
Carol Donovan, chair of the Dallas County Democratic Party, said she and party members welcome DSA because they are likely to oppose Republican leaders and Trump.
The group is also welcome to run candidates in the primaries, Donovan said, but she would expect them to support the Democratic platform if elected.
And that's what was on the agenda at a recent North Texas DSA meeting, where 17 members and non-members met at Half Price Books in northeast Dallas to quietly discuss racial justice and local organizing efforts.
Leading the meeting was Hernandez, who wore a bright red T-shirt. At the close of the meeting, she urged non-members to join and to try and be at the next meeting.
"We know our place in Dallas. A lot of it is to agitate and to have people ask more critical questions and to question power," Hernandez said. "We want to show people that they can demand better and demand more of their elected officials."[4]
Socialist Feminist Working Group
Democratic Socialists of America - North Texas December 3, 2017.
Our Socialist Feminist Working Group met today at our favorite local bookstore. Stay tuned for the next meeting! — with Zoe Holden, Noah Skocilich, Joel Constantine and J-Lew Hill.
Racial Justice Working Group
Democratic Socialists of America - North Texas, Soraya Colli September 18, 2018 ·
🔥 Solidarity. Justice. Action. ✊🏼#DSANTX — attending Racial Justice Working Group Meeting with Alex Telecky, Genesis Robledo, Sean Kirkpatrick, Joel Constantine, Clarice Criss, Kristian Hernandez, Esti Romero and Conrad Lino at Lucky Dog Books - Oak Cliff, Every Book $3 or Less.
DSA lobbying Allred
Democratic Socialists of America - North Texas January 26 2019·
Earlier today our Healthcare working group and others met with Rep. Colin Allred to talk about #medicare4all.
"We appreciate Rep. Colin Allred (D-32) meeting with local supporters of Medicare For All this morning at his office in Richardson, TX. Our coalition, including labor organizations, immigrants rights groups, and the Democratic Socialists of America, delivered a letter urging co-sponsorship and support of the Expanded and Improved Medicare For All Act.
DACA Training
DSA North Texas September 12, 2017. ·
DSA comrades at tonight's DACA training by the North Texas Dream Team. — with Rick Schoolcraft, Kristian Steffany, Tyler Davis, Mayra Guardiola, Angela Andrade, Lizzie Maldonado and MaryAnn CK.
Solidarity Day School, Dallas
Solidarity Day School in Dallas, Texas, on Saturday, March 10, 2018, the first in what we hope will become a quarterly series of Day Schools for local leftists, movement activists, and organizers, all with differing levels of familiarity with Marxist theory.
The event took place in two parts–the first held from 8:00 AM-4:00 PM in the Meadows Convention Center, a space designed to serve community organizers and area non-profits at no cost; the second at the Pan-Africa Connection from 7:30-9:00 PM, an amazing bookstore, art gallery, and cultural center in South Dallas. Participation in this inaugural event was based on intentional outreach rather than broad promotional efforts, including representatives from area community organizations, movement groups, and other organized socialists (especially the International Socialist Organization and many more from the Democratic Socialists of America - North Texas). Most significantly: participants also included community members whom we met in the process of collecting signatures, riding the trains and talking to passengers to fight Dallas Area Rapid Transit (DART)'s proposed fare hike.
Topics discussed included black liberation (Jules Clain, Solidarity Steering Committee member from Milwaukee), fighting capitalism with regard to fair housing (Ryne Poelker, Solidarity Staff organizer, from Chicago), the history of socialism (Dan La Botz, New York), socialist feminism (Zoe Holden, DFW Solidarity and Democratic Socialists of America), the BDS Movement and solidarity with Palestine (Maddie Fenn, International Socialist Organization Denton), the necessity of labor unions in the struggle for socialist revolution (Ryan Haney, DFW Solidarity and Democratic Socialists of America), strategies for building a local power base for socialism (Robert Caldwell, DFW Solidarity), ecosocialism (Gary Stuard, DFW Solidarity), trans solidarity and an introduction to trans politics (Max L., Trans Pride Initiative, Dallas), and a history of socialism, communism, and the civil rights movement in Texas (Dick Reavis, DFW Solidarity and the North Texas Transit Riders).
In our evening session at the Pan Africa Connection, we turned to the ways in which capitalism in America developed through genocide, slavery, and unspeakable brutality with a panel entitled "Understanding the Past, Confronting the Present, and Building a Socialist Future." Jodi Voice Yellowfish spoke on First Nation struggles for social justice, especially with regard to reclaiming sovereignty over lands stolen by the US. Joining us via electronic technology, Kali Akuno, organizer for Cooperation Jackson in Jackson, Mississippi, discussed local struggles in Jackson, and confronting the far right and the new confederacy, and a comrade from the Mexican PRT reflected upon a recent, contentious election.
Throughout the day, topics also included ongoing, local movement organizing like the North Texas Transit Riders (NTTR), a rapidly expanding, deeply collaborative effort across multiple leftist organizers and activists and community members to fight DART's (Dallas Area Rapid Transit) proposed fare hike. Robyn Kirk (of Democratic Socialists of America) described the ways she and Alex Teleky (of DFW Solidarity and the Green Party) worked to establish NTTR as a direct challenge to the logic of capitalism infiltrating every aspect of public transportation in Dallas. To date, NTTR petitions include almost 7,000 signatures. Before NTTR began their efforts several months ago, the DART Board strongly supported the proposed fare hike. NTTR efforts have made a significant impact, however. Last month, the DART Board passed the proposed fare hike by a very narrow margin. NTTR efforts continue in an attempt to overturn this unjust decision.
Looking back on the Day School, one of the most significant outcomes was the opportunity it provided to expand existing projects, including a collaboration with the American Federation of Teachers (AFT) and the North Texas Democratic Socialists of America to fight for a living wage for support staff employed by the Dallas Independent School District. Following a hallway conversation between Andrew Kirk (DSA and AFT) and Shannon Carter (DFW Solidarity and the Greens), Shannon met with union staff and membership at the AFT Offices in Dallas in an attempt to complement their ongoing campaign with a community organizing tool designed to facilitate storytelling (Roadside Theatre's "Story Circle"), which she has used successfully in other contexts (with incarcerated women and seniors in Dallas and with social-justice oriented academics in Boulder, Colorado). For months, this fight has been a priority among North Texas DSA membership, with Andrew Kirk (DSA and AFT) and Zoe Holden (DFW Solidarity and DSA) taking lead. A key strategy has been to gather testimonials from cafeteria workers, custodians, and support staff to present at upcoming DISD Board meetings.
Additional joint actions include a fight for paid sick leave for all workers in Dallas, following the lead of Austin, which recently became the first city in the south to pass such an ordinance. To this end, DFW Solidarity hosted a public educational in Dallas on April 1, 2018, with Sarah Swallow (Fight for the $15, Work Strong Austin, Young Active Labor Leaders), a key organizer in the Austin campaign. Sarah spoke about her work in our state capital and how we might bring that fight to Dallas. AFL CIO-Dallas recently launched a similar campaign, as has the Workers Defense Project. DFW Solidarity have reached out to them to stand in solidarity and collective action.[5]
DSA NTX National Delegates & Alternates
DSA NTX National Delegates & Alternates to DSA National Convention, Chicago, Closed Facebook Group.[6]
Admins
Other Members
DSA North Texas Closed Facebook Group
As of May 28, 2017;[7]
DSA North Texas is comprised of 11 counties, including Dallas, Tarrant, Collin, Denton, Ellis, Grayson, Kaufman, Johnson, Parker, Cooke, & Hill. We have organizing committees in Fort Worth and Collin & an interest group in Denton. We also have a youth chapter at McKinney HS and at UTD.
Co-Chairs for DSA North TX: Kristian (Steffany) Hernandez, Deborah Beltran, and Tyler Davis.
DSA NTX Media Working Group
Democratic Socialists of America - North Texas Media Working Group, closed Facebook group, accessed February 4, 2018.[8]
Our Mission: To be the creative services working group for the Democratic Socialists of America North Texas Chapter
Admins and Moderators
Members
More names were added by May 19 2018.
Regional meeting
DSA North TX Regional Meeting Public · Hosted by Democratic Socialists of America - North Texas
Sunday, April 30 at 2:30 PM - 4:45 PM CDT
North Oak Cliff Branch Library, 302 W 10th St, Dallas, Texas 75208
Invited on Facebook
Interested
Going
References