Democratic Socialists of America (Summary)
From KeyWiki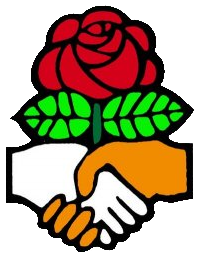 Democratic Socialists of America (DSA) is the largest socialist organization in the U.S. It is one of two official U.S. affiliates of the Socialist International. It was formed in 1982 from a merger of the Democratic Socialist Organizing Committee (DSOC) and the smaller New American Movement. DSOC in turn was founded in 1973 by Michael Harrington, when he led a left wing faction opposed to the Vietnam War out of the old Socialist Party USA. DSOC's membership included many former Students for a Democratic Society activists and "undisciplined communists".
A key strategy of DSA is partnering with highly influential leaders on a legislative level. For example, in 2005, now-Secretary of Labor Hilda Solis was the keynote speaker at the 2005 DSA national conference, "Twenty-First Century Socialism" held in Los Angeles. Prominent members of DSA have included Stanley Aronowitz; Ed Asner; Noam Chomsky; Barbara Ehrenreich; Frances Fox Piven; Gerry Hudson, SEIU VP; Eliseo Medina; Gloria Steinem; Quentin Young, as well as former U.S. Reps. David Bonior, Danny K. Davis, Ron Dellums and many more.
In 1997 DSA's goals by 2017 included: "A U.S. President from the Progressive Caucus, a 50 member socialist caucus in Congress, successful programs of the likes of universal health care, progressive taxation, social provision and campaign finance reform." But how would DSA achieve these goals? A 2001 article published in the Boston DSA's magazine discussed the DSA's "takeover" of the Democratic Party: "...By the early 1960s some within the Socialist Party (including future DSA leaders), adopting a variant of the CP's strategy 25 years earlier, ...advanced the concept of "Realignment" in the Democratic Party; forging a coalition of labor, blacks and middle-class liberals and radicals to take over the Party..."
DSA has been a strong supporter of the Occupy Wall Street Movement. DSA National Director Maria Svart wrote that "DSA and Young Democratic Socialists members have been participating in the Occupy Wall Street protests in New York City and around the country from their beginning [in Sept. 2011]." In fact, have enjoyed extensive support from local DSA branches. (more...)