Debra Bowen
From KeyWiki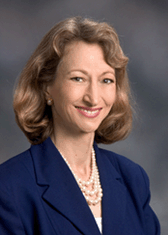 Debra Bowen is the current Secretary of State of California. She was elected in November 2006 and was one of the Secretary of State Project's first endorsed candidates.
A pioneer in open government reform, election integrity, and personal privacy rights, Debra Bowen became only the sixth woman in California history elected to a statewide constitutional office when she was elected as Secretary of State in 2006. Secretary Bowen was reelected to her second term in November 2010.
Background
Secretary Bowen was born in Rockford, Illinois, and graduated from Michigan State University in 1976. After earning her law degree at the University of Virginia, she practiced corporate, tax and ERISA law at Winston & Strawn in Chicago and in Washington, D.C., at the Los Angeles office of Wall Street firm Hughes, Hubbard & Reed; and as a sole practitioner in Los Angeles. Secretary Bowen first volunteered her legal services as a member of the Heal the Bay Legal Committee, and eventually her practice grew to include environmental and land use cases, as well as tax and business matters.
Secretary Bowen is married to Mark Nechodom, Senior Advisor for Environmental Markets in the Office of the Secretary at the U.S. Department of Agriculture.[1]
Political career
First elected in 1992 to represent the 53rd Assembly District in west Los Angeles County, Secretary Bowen served three terms before being elected to represent the 28th Senate District in 1998. She then served two terms in the Senate until she was elected Secretary of State in 2006.
Prior to being elected Secretary of State, Bowen served six years in the State Assembly (1992-1998) and eight years in the State Senate (1998-2006). As a legislator, Secretary Bowen authored several election-related laws designed to boost integrity, including measures related to verifiable paper trails and public audits.
Early in her legislative career, Secretary Bowen championed the use of the Internet to open government to computer users worldwide and worked with community-based groups to close the digital divide. In 1993, Secretary Bowen authored the first-in-the-world law that put legislative information online, giving the public access to information about California bills, committee analyses, state legislators' voting records and much more. The law has served as a model for other U.S. states and countries. Secretary Bowen was also the first California lawmaker to voluntarily put her campaign finance reports online in 1995, several years before all candidates for state office were required to do so.
As a longtime advocate of personal privacy, Secretary Bowen authored landmark consumer protection laws to equip people with the tools they need to safeguard their important information. Today, the impact of Secretary Bowen's far-reaching work makes it more difficult for criminals to commit identity theft by banning businesses and government agencies from using social security numbers as public identifiers, requiring credit card numbers to be removed from receipts kept by merchants, giving people the right to freeze access to their credit reports, and giving people the tools to fight back against unsolicited email and fax advertising.
At different points during her time in the Legislature, Secretary Bowen chaired the Senate Elections, Reapportionment and Constitutional Amendments Committee; the Senate Energy, Utilities and Communications Committee; and the Assembly Natural Resources Committee. At the national level, she chaired the National Conference of State Legislatures (NCSL) E-Communications Steering Committee, served on NCSL's Executive Board, and was California's appointee to the NCSL Task Force on State and Local Taxation of Telecommunications and Electronic Commerce.[2]
21st Century Democrats support
21st Century Democrats is a Political Action Committee that has stood for Progressive causes for over 20 years. Founded in 1986 by Institute for Policy Studies affiliate, Iowa Senator Tom Harkin, Democratic Socialists of America affiliates, former Texas Agriculture Secretary Jim Hightower, and former Illinois Congressman Lane Evans. Its three main goals are to help elect progressive candidates, train young people about grassroots organizing, and lastly, to continue to support our elected officials after Election Day "through our comprehensive progressive network".
Long time Board chair was Democratic Socialists of America member Jim Scheibel, a former Mayor of Saint Paul, Minnesota.
The mission of 21st Century Democrats is to build a "farm team" of progressive populists who will be the future leaders of the Democratic Party.
In each election cycle, we endorse a diverse array of candidates who exemplify our values and show unusual promise to advance our progressive goals. We invest in some of the most competitive races as well as in some of the most challenging – those in which the candidates are outstanding but the traditional Democratic supporters are most reticent. We back candidates in primaries as well as general election races, and we focus the bulk of our resources on electing challengers and protecting vulnerable incumbents.[3]
Bowen was one of 9 key progressives endorsed by 21st Century Democrats in the 2006 election cycle, second round. [4]
Parke Skelton support
Parke Skelton is one of California's preeminent political campaign consultants. His firm, SG&A Campaigns, has run campaigns for scores of progressive Democratic candidates including Controller John Chiang, Insurance Commissioner Dave Jones, Secretary of State Debra Bowen, Congressmembers Karen Bass, Julia Brownley, Judy Chu, Alan Lowenthal, Adam Schiff, Brad Sherman and Hilda Solis, Mayor Antonio Villaraigosa and District Attorney Jackie Lacey.[5]
External links
References