David Tilsen
From KeyWiki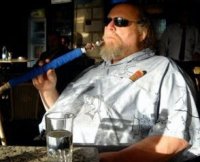 David Tilsen is a Minnesota activist and the great grandson of Arthur Le Sueur and Marian Le Sueur and a relative of long time Communist Party USA member Meridel Le Sueur.
Pine Ridge
June 26 1975, there had been a gunfight about three miles west. Two FBI agents—Jack Coler and Ronald Williams—and a local, Joseph Stuntz, were killed. It was a terrible tragedy and people were sad and angry all over. [David Tilsen] was working for the Wounded Knee Legal Defense Offense Committee WKLD/OC along with two other investigators and had been sent down to the reservation to find out what we could and advise the residents of their legal rights.[1]
Hard Times Conference
In 1976 David Tilsen attended the Weather Underground and Prairie Fire Organizing Committee organized Hard Times Conference Jan 30 - Feb 1 at the University of Chicago.[2]
DSA Facebook
Members of the Twin Cities Democratic Socialists of America public Facebook group, as of March 12, 2017, included David Tilsen.[3]
References