David Swanson
From KeyWiki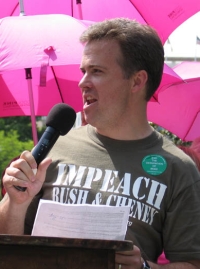 David Swanson is the Washington Director of Democrats.com, co-founder of the After Downing Street Coalition and creator of Meet with Cindy.org. He serves on the steering committee of the Charlottesville Center for Peace and Justice and on a working group of United for Peace and Justice. He has worked as a newspaper reporter, and as Press Secretary for the Dennis Kucinich 2004 campaign, Media Coordinator for the International Labor Communications Association, and three years as Communications Coordinator for ACORN, the Association of Community Organizations for Reform Now. He is a member of and has served on the Executive Council of the Washington/Baltimore Newspaper Guild[1].
David Swanson is the author of "War Is A Lie" and "Daybreak: Undoing the Imperial Presidency and Forming a More Perfect Union." He blogs at DavidSwanson.org and WarIsACrime.org and works for the online activist organization RootsAction.[2]
Education
Swanson obtained a Master's degree in philosophy from the University of Virginia in 1997[3].
ACORN
In 2002 David Swanson is the Communications Director for ACORN, wrote an article for the Fall issue of Democratic Socialists of America's Democratic Left, "New Orleans Raises Minimum Wage".[4]
Progressive Democrats of America
David Swanson serves on the Advisory Board[5] of Progressive Democrats of America.
Endorsed Marcy Winograd
In 2006 David Swanson of After Downing Street Coalition was a National and State endorser of Marcy Winograd of the Los Angeles Progressive Democrats of America in her unsuccessful primary bid for the Democratic Party nomination 26th Congressional District in California[6]
United for Peace and Justice Affiliation
In July 2007 David Swanson representing After Downing Street Coalition was affiliated to United for Peace and Justice.[7]
March on Wall Street
On April 3 2008 David Swanson, Co-Founder of After Downing Street endorsed a Bail Out the People Movement organized "March on Wall Street" ;
Because we must demand that the needs of the people come before the greed of the super rich. Millions are jobless and homeless, and millions more will be living on the streets if the government continues to waste trillions of dollars on saving wealthy bankers instead of saving people.[8]
Open Letter to Obama on Iran
In 2008 David Swanson of AfterDowningStreet.org, Charlottesville, VA signed an online petition "A Open Letter to Barack Obama on Iran".[9]
Campaign for Peace and Democracy
Swanson is listed as an endorser of the Campaign for Peace and Democracy, as of March 15, 2010.[10]
National Peace Conference
The National Peace Conference, took place at the Crowne Plaza Hotel in downtown Albany New York, July 2010. Many workshops are scheduled and many leaders of the peace and progressive movements will be there: Cindy Sheehan, Kathy Kelly, Medea Benjamin, Ann Wright, Dahlia Wasfi, Leila Zand, Michael McPhearson, Kevin Martin, David Swanson, Glen Ford, and many others.
Keynote speakers were Noam Chomsky and Donna DeWitt (President of the South Carolina AFL-CIO).
Meeting with Mahmoud Ahmadinejad
On September 21, 2010, David Swanson attended a meeting at a midtown hotel with President of Iran, Mahmoud Ahmadinejad, and approximately 130 members of the U.S. "peace and social justice movements", as well as "major figures in the Black activist community."[11]
Iraq: The Legacy of the 7-Year U.S. Occupation
On Sunday, August 29th 2010. at Busboys and Poets, 5th and K Sts. NW, Washington, D.C., an event "Iraq: The Legacy of the 7-Year U.S. Occupation" was held;
Is the U.S. military really leaving Iraq or just rebranding? What is the toll of seven years of occupation on Iraqis, U.S. soldiers and our economies? What is the status of Iraqi refugees around the world? Is it still possible to hold accountable those who dragged us into the war or committed crimes such as torture? What role did Congress and the media play in facilitating the invasion/occupation? We'll also look at the role of the peace movement -- its strengths and weaknesses -- and draw key lessons to make our work for peace, including in Afghanistan, more effective.
Speakers/performers included:
Congresswoman Donna Edwards
Kymone Tecumseh Freeman, playwright, performer, reading Letters from Iraq
Head-Roc, hip-hop artist
Manal Omar, author
Bill Fletcher, Jr., labor leader, scholar
Andy Shallal, Iraqi artist, owner Busboys and Poets
David Swanson, author
Felicia Eaves, activist
The event was sponsored by: CODEPINK, Peace Action, Institute for Policy Studies, Fellowship of Reconciliation, Global Exchange, Just Foreign Policy, Veterans for Peace, Iraq Veterans Against the War, Military Families Speak Out, Progressive Democrats of America (PDA), U.S. Labor Against the War, ANSWER, World Can't Wait, Voices for Creative Nonviolence, War is a Crime, Rivera Project, Washington Peace Center.[12]
October2011.org
Key organizers of the October2011 movement include;[13]
Take Back the American Dream Conference 2011
David Swanson was one of the 158 speakers who addressed the Take Back the American Dream Conference 2011 . The Conference was hosted by the Institute for Policy Studies, and Democratic Socialists of America dominated Campaign for America's Future, [14]
Defending Iran
Several U.S.based "anti-imperialist and anti-war organizationsuary agreed on a January 17 2012, conference call to hold coordinated protests across the country on Saturday, Feb. 4. The demands will be: "No war, no sanctions, no intervention, no assassinations against Iran."
The ad-hoc group that took part in the call decided that although there were only two weeks to organize, it would invite anti-war forces around the world to join in, if possible, so that this emergency action could develop into a global day of action.
All agreed on the need to stop U.S. imperialism and/or Israel from launching a military attack on Iran. There was also a consensus that the new sanctions President Barack Obama signed into law on Dec. 31 — with the goal of breaking the Iranian central bank — were themselves an act of war aimed at the Iranian people. The political activists on the call raised the danger of a wider war should fighting break out in or around Iran.
While the organizations involved had varied assessments of the Iranian government, they all saw any intervention from U.S. imperialism in the Southwest Asian country as a threat to the entire region and to peace. Some of the people on the call who are originally from Iran and who were in touch with family and friends there conveyed the Iranian people's anger at the recent assassination of a young scientist.
There was agreement to make "no assassinations" one of the demands to show solidarity with the Iranian population as well as to condemn the U.S. and its allies for criminal activities against Iran and its people.
As of Jan. 19, the organizations that called the actions or endorsed later included the United National Antiwar Coalition, the International Action Center, SI! Solidarity with Iran, Refugee Apostolic Catholic Church, Workers World Party, World Can't Wait, American Iranian Friendship Committee, Answer Coalition, Antiwar.com, Peace of the Action, ComeHomeAmerica.us, St. Pete for Peace, Women Against Military Madness, Defenders for Freedom, Justice & Equality-Virginia, WESPAC Foundation, Peace Action Maine, Occupy Myrtle Beach, Minnesota Peace Action Coalition, Twin Cities Peace Campaign and Bail Out the People Movement.
Individual endorsers include authors David Swanson, "When the World Outlawed War," and Phil Wilayto, "In Defense of Iran: Notes from a U.S. Peace Delegation's Journey through the Islamic Republic"; and U.N. Human Rights Award winner Ramsey Clark, a former U.S. attorney general.
People could follow developments on the Facebook link: No War On Iran: National Day of Action Feb 4, www.Facebook.com/events/214341975322807/.
John Catalinotto represented Workers World Party on the Jan. 17 conference call.[15]
External links
References