David Sole
From KeyWiki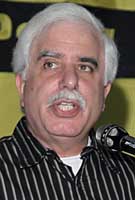 David Sole is a leader of the Detroit Workers World Party.
Early history with the WWP
David Sole gave talk at the Workers World Party national conference held in New York City Nov. 13-14, 2010, detailing his early history with the party in Detroit.[1]
This year marks the 40th anniversary of WWP's Detroit branch's founding. The branch began during a period of revolutionary upsurge. The Civil Rights and the Black liberation struggles had swept the country. The Vietnamese national liberation fight was hammering 500,000 U.S. troops, resulting in a mass anti-war movement here. Communists led most of the liberation movements worldwide.
We led the Ann Arbor Students for a Democratic Society and were active in all the battles then. We read left-wing publications like the Guardian and Workers World. We devoured Marx and Lenin, trying to understand tumultuous world events. We argued about the working class with the Weathermen at their Flint "SDS War Council" in December 1969. Two months later, they went underground, having written off the U.S. working class. In May 1970, we quit the University of Michigan campus to work for the revolution in working-class Detroit.
That summer we issued the first edition of our newspaper, Red Times. We sent two delegates to attend the WW national conference. Two weeks later, we joined the party. The oldest of us was 22. Other revolutionary youth collectives around the country joined the party then. The party tripled in size.
Detroit Youth Against War & Fascism promoted anti-imperialism, self-determination and working-class solidarity. Our first demonstration was in solidarity with the Palestinian people when Jordan massacred thousands of Palestinians in 1970.
We demonstrated in support of the Irish Republican Army and the Quebec Liberation Front. We fought the Ku Klux Klan in a pitched battle in Pontiac when busing for integration of public schools began there. We picketed Jackson Prison in rural Michigan to support the striking Prisoners' Labor Union, and we supported the Attica prison rebellion.
Some of us entered the auto and steel factories to begin the struggle to transform the labor movement. We worked in the movements for women's, LGBTQ and Native American rights. We opened our branch headquarters in 1971 and then another office in a union hall for the party's mass labor organization, the Center for United Labor Action. By 1973, we ended publishing Red Times to push WW newspaper.
Activism alone cannot sustain a revolutionary struggle. One needs to understand economic, social and political developments. Without Marxist economics and historical materialism, no individual or group can withstand bourgeois ideology.
Twists and turns, victories and defeats can disorient revolutionaries who don't have the tools to figure out what's happening. We found that critical element every time we opened our party newspaper. We benefited from consulting experienced party leaders, including Sam Marcy, Dorothy Ballan, Vince Copeland and Milt Neidenberg.
Cuba Caravan Visits Detroit
Abayomi Azikiwe June 19 2019·
This photograph was taken at the Cuba Caravan Visits Detroit public meeting on Wed. June 19, 2019. The event was held at the Cass Commons in Midtown and featured Dr. Luis Barrios of the Inter-religious Foundation for Community Organizations (IFCO) based in New York City. The annual tour is designed to challenge the various forms of travel restrictions from the United States to Cuba and the ongoing... See More — with Darryl E. Jordan and Jonathan Roberts. David Sole and Jerry Goldberg.
Weathermen Flint "War Council"
December 27-31, 1969, about 400 of the national membership of the Weatherman faction of Students for a Democratic Society held a "War Council" at a ballroom dancehall in Flint, Michigan. Posters of a giant cardboard machinegun, Ho Chi Minh, Che Guevera, and Fidel Castro hung everywhere.
Among the attendees of the "War Council in Flint" identified by the Flint police department and/or its informant were: Michael Avey, Karen Ashley, Bill Ayers, Edward Benedict, Margaret Bennett, Douglas Bernhardt, Jeff Blum, Harvey Blume, David Chase, Peter Clapp, Judy Clark, Bernardine Dohrn, Diane Donghi, Linda Evans, Brian Flannigan, David Flatley, John Fuerst, Lynn Ray Garvin, Bert Garskof, Michele Garskoff, Mark Glasser, Theodore Gold, Lenny Handlesman, Ann Hathaway, Karen Hardiman, Daniel Hardy, Tom Hayden, Phoebe Hirsch, Arthur Hochberg, Anne Hodges, John Jacobs, Jeff Jones, Sam Karp, David Klafter, Dianne Kohn, Peter Kuttner, Bradford Lang, Stephen Lang, Karen Latimer, Jonathan Lerner, Naomi Lev, Bradford Long, Alan Maki, Eric Mann, Howard Machtinger, Carol McDermott, L.R. Meadows, Lisa Meisel, Jeff Melish, James Mellen, David Millstone, Russell Neufeld, Diana Oughton, John Pilkington, Edward Purtz, Jonah Raskin, Natalie Rosenstein, Dennis Roskamp, Mark Rudd, Karen Selin, Mark Shapiro, Janet Snider, Mike Spiegel, Jane Spiegelman, Marsha Steinberg, David Sole, Susan Stern, Clayton Van Lydegraf, Cathy Wilkerson and Mary Wozniak[2].
Detroit City Council connections
In the mid 200s the pro Cuban/North Korean Workers World Party developed a relationship with Detroit City Council members JoAnn Watson and Maryann Mahaffey.
According to a report "MWM national conference in Detroit, May 14-15, 2005: What happened to this split in the labor bureaucracy?" by Pete Brown (Communist Voice #36, Sept. 2005). [3]
Next speaker was Clarence Thomas, another leader of ILWU Local 10. Thomas cashed out Holmes' general theme of "protect our leaders who are under attack" by citing the specific case of JoAnn Watson. Watson is a liberal Detroit city council member with whom WWP has been trying to build a coalition. WWP has concocted a new organization, the National Conference to Reclaim Our Cities (NCRC), based on an alliance with Watson and Maryann Mahaffey, the Detroit city council president. Thomas cited Watson as a leader to whom MWM activists should rally in support, saying she is under attack because of her solidarity with the working class...
Clarence Thomas mentioned that Watson has been a prominent leader of the NAACP, as if this were some kind of credential for a working class radical. But when was the last time the NAACP took a radical stand on anything? No, the talk about "attacks" on Watson was just a smokescreen to obscure the real import of Thomas' remarks, which was that he wants MWM activists to take a friendly attitude to Democratic political climbers like Watson. Thomas mentioned a meeting he had with Watson the day before, a meeting arranged by Detroit WWP leader David Sole. And he gave some friendly words of endorsement to Sole's special project, the NCRC coalition with Watson and Mahaffey.
National Conference to Reclaim Our Cities
The Workers World Party instigated National Conference to Reclaim Our Cities was held Friday, November 11 thru Sunday, November 13 in Detroit in the Wayne State University Student Center Ballroom.
People from the throughout the state of Michigan and delegations from New Orleans, Cleveland, Baltimore, New York and other cities will converge on the Wayne State University campus to develop strategies for the rebuilding of urban areas around the country. Under the theme: "Money to Rebuild New Orleans and all U.S. Cities, Not for War," this national meeting of grassroots, labor and peace activists will call for the feeding of the cities and the starving of the Pentagon.
Demanding funds for jobs, housing, Social Security, schools, healthcare and the environment, the conference will focus on the Bush administration's budget which slashed 150 domestic programs while it pushes the spending for war to over half a trillion dollars a year. Organizers of the event say that it is time to launch a struggle to win the right to healthcare, quality education, decent housing, food, utilities, and jobs at living wages.
A partial list of endorsers for this event includes: Maryann Mahaffey, President of the Detroit City Council, JoAnn Watson, member of the Detroit City Council, Donald Boggs, President of the Metro-Detroit AFL-CIO, Nathan Head, President of the Metro-Detroit Coalition of Black Trade Unionists, Ed Rowe, Pastor of Central United Methodist Church, Marian Kramer, Co-President of the National Welfare Rights Organization, the Gray Panthers of Metro-Detroit and Workers World Party members David Sole, President of UAW Local 2334and Abayomi Azikiwe, Editor of the Pan-African News Wire.
All day Saturday, November 12, there will be plenary sessions and workshops to discuss solutions to the urban crises across the United States and the role of the increasing militarization of both domestic and foreign policy of the national government.
This conference was open to the general public and was sponsored by the WSU student chapter of the the Workers World Party front Michigan Emergency Committee Against War & Injustice.[4]
Green Party
In 2006 David Sole was Michigan Green Party USA candidate for U.S. Senate.[5]
March on Wall Street
On April 3 2008 David Sole, President, UAW 2334 Detroit, Detroit,MI endorsed a Bail Out the People Movement organized "March on Wall Street" ;
Because we must demand that the needs of the people come before the greed of the super rich. Millions are jobless and homeless, and millions more will be living on the streets if the government continues to waste trillions of dollars on saving wealthy bankers instead of saving people.[6]
Endorsed SB 1306
As at Feb. 10, 2011, David Sole, Pres. UAW Local 2334, Detroit, had endorsed State Senator Hansen Clarke's Senate Bill 1306, "which would stop all mortgage foreclosures and evictions for two years." The bill is being supported by the Workers World Party-front, Moratorium NOW!.[7]
Committee to Defend Diane Bukowski and Freedom of the Press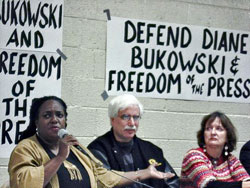 In 2009 David Sole was listed as a supporter of the Committee to Defend Diane Bukowski and Freedom of the Press[8]
Freelance journalist Diane Bukowski, whose byline appears frequently in far left The Michigan Citizen newspaper, was convicted May 1 2009, on two felony charges stemming from her involvement as a reporter on the scene of a deadly police chase in Detroit on Nov. 4.
Bukowski was arrested as she attempted to photograph the grisly scene and after a state trooper yelled to her, "Who the f**k do you think you are?" Police confiscated her camera, deleted her photos and claimed Bukowski had crossed yellow crime-scene tape, which she denied.
Bukowski was originally charged with one misdemeanor count of obstructing an investigation. But Wayne County prosecutor Kym Worthy charged Bukowski with five felony counts that totaled a possible sentence of 20 years in prison. The prosecutor's office later dropped three of the charges.
Bukowski and The Michigan Citizen, a Detroit-based weekly "addressed to African Americans and the progressive community", had a history of successfully fighting for access to public documents from the prosecutor's office in police brutality and murder cases. Bukowski had written dozens of stories "chronicling police brutality, prosecutorial misconduct and police murders in Detroit. She is well-known in the community as a strong anti-racist fighter and reporter on issues involving foreclosures, utility shutoffs and union struggles".
The "railroading" of Bukowski on "trumped-up charges aroused strong community support from unionists, political leaders and community organizers who formed the Committee to Defend Diane Bukowski and Freedom of the Press. Bukowski and her supporters say this is a clear-cut case of retribution by the cops and prosecutor for her role in exposing the many injustices of the criminal justice system."
A meeting to organize further support for Bukowski and her appeal took place May 7 2009 at the offices of The Michigan Citizen. [9]
Every anti-racist and progressive activist in Michigan has a stake in the final outcome of this case.
Workers World comrades
Bryan Pfeifer July 8, 2016:
With Andrea Banuelos, Teresa Gutierrez, David Sole, Babette Grunow, Adjoa Nkrumah, Scott Michael, Mike Shane, Gerry Scoppettuolo and Andy Koch.
References