David Moberg
Jump to navigation
Jump to search

Template:TOCnestleft David Moberg is a writer and teacher who has considerable experience and expertise in matters of American working class culture and consciousness. He has carried out extensive research and spent nearly a year interviewing participants and observers of the Lordstown, Ohio, autoworkers strike, and is knowledgeable in areas of labor conflict. Moberg has written for Newsweek, the Guardian, Liberation News Service and is a frequent contributor to the widely read Chicago alternative newspaper, the Chicago Reader.[1]
Hard Times Conference
In 1976 David Moberg for The Reader Chicago attended the Weather Underground and Prairie Fire Organizing Committee organized Hard Times Conference Jan 30 - Feb 1 at the University of Chicago.[2]
New American Movement connection
In 1979 the New American Movement published a booklet entitled "Socialist working papers on energy".
Contributors included David Moberg who wrote "Congress Gas Peaks and Energy Plan Favors Corruption".[3]
New American Movement Speakers Bureau
In the 1980s David Moberg was a speaker on the The Working Class Today section of the NAM Speakers Bureau on the subject of American Working Class Culture and Consciousness.[4]
DSA Anti-War teach-in
In early 1991 the University of Chicago chapter of Democratic Socialists of America organized an anti Gulf War teach-in featuring David Moberg of In These Times as well as organizing a debate, in which DSA activist J. Hughes "trounced a representative from the College Republicans".[5]
"Back to Basics"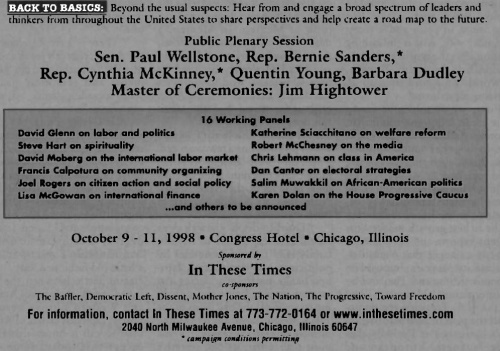 Speakers at the October 1998 Back to Basics Conference in Chicago included;
Public Plenary Session, Sen. Paul Wellstone, Rep. Bernie Sanders, Rep. Cynthia McKinney, Quentin Young, Barbara Dudley, Master of Ceremonies: Jim Hightower
16 Working Panels;
Chicago DSA forum
In October, 2008 Chicago Democratic Socialists of America , with In These Times, sponsored a panel discussion featuring Bill Fletcher, Jr. (Solidarity Divided); Richard Berg, new president, Teamsters Local 743; David Moberg, senior editor, In These Times; and moderator Kim Bobo, executive director, Interfaith Worker Justice.[8]
DSA honor
Detroit Democratic Socialists of America celebrated the 10th Annual Douglass-Debs Dinner[9] November 8th 2008 Co-chairs were UAW Region 1A Director Rory Gamble and International Union of Operating Engineers Local 547 Business Manager Phillip Schloop. The Douglass-Debs Award winners were David and Judy Bonior and Judge Claudia Morcom. The keynote speaker was In These Times senior editor David Moberg.
In their remarks at the dinner, both David Bonior and Moberg stressed the importance of building social movements;
to pressure the new Obama administration for bold progressive changes such as single-payer national health insurance, significant public investment in infrastructure and green technology, fair trade, progressive taxation, massive cuts in the military budget, ending the war in Iraq, and passing the Employee Free Choice Act.
In These Times
As of 2009 David Moberg was a Senior Editor and a member of the Editorial Board of Chicago based socialist journal In These Times.[10]
References