David Laibman
From KeyWiki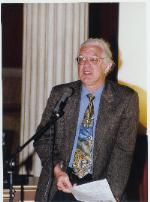 David Laibman is a Brooklyn, New York socialist.
We Will Make Peace Prevail!
On March 28, 1982 the New World Review organized a gala luncheon "We Will Make Peace Prevail! Disarmament Over Confrontation, Life Over Death", at the Grand Ballroom, Hotel Roosevelt, New York City. Virtually all participants were identified as Communist Party USA.
David Laibman was listed on the Committee of Sponsors.[1]
Socialist Scholars Conference 1990
The Socialist Scholars Conference 1990, held September 6-8, at the Hotel Commodore, New York, included panels such as:[2]
The Economics of Perestroika
Communist Party reformer
In 1991 David Laibman, New York, was one of several hundred Communist Party USA members to sign the a paper "An initiative to Unite and Renew the Party"-most signatories left the Party after the December 1991 conference to found Committees of Correspondence.[3]
Supporting Committees of Correspondence
In 1995 Laibman was listed[4] as one of the "CoC members and friends" donating to Committees of Correspondence. He contributed $25.
Communist "Manifestivity"
On October 30 and 31, 1998 the Brecht Forum presented the "Communist Manifestivity to celebrate the 150th Anniversary of the Communist Manifesto" at Cooper Union's Great Hall, New York.
Individual endorsers of the event included David Laibman.[5]
Science & Society
In 2009, the Editorial Board of Science & Society, a New York based "journal of Marxist Thought and Analysis", consisted of:[6];
Winston Unity Center
The Communist Party USA will reach its centennial anniversary in 2019, but comrades and friends in New York got a head start in 2015. A program featuring song, poetry and a dramatic presentation at its offices on 23rd Street drew a diverse and engaged crowd of supporters.
The New York District marked the occasion by naming the office the Winston Unity Center in honor of the Party's late National Chair Henry Winston. Current New York State Chair Jarvis Tyner emphasized in his remarks the importance of Winston's lifetime contributions and work for the Party and for the country generally.
The program included musical presentations by guitarist/vocalists David Laibman and Ricky Eisenberg, poetry by Chris Butters, presentations by Vinie Burrows and fast food activist Rynetha Benjnet, a dramatic reading of a 1949 speech of NY Communist City Council member Vito Marcantonio, as well as the smooth sounds of DJ Poliarity.
The day had additional significance due the presence a distinguished international guest, Mujahidul Islam Salim, the President of the Communist Party of Bangladesh.[7]
References