David Harvey
From KeyWiki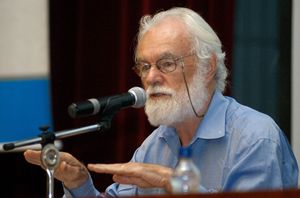 David Harvey (born 31 October 1935, Gillingham, Kent, England) is the Distinguished Professor of Anthropology at the Graduate Center of the City University of New York (CUNY). A leading social theorist of international standing, he received his PhD in Geography from University of Cambridge in 1961.
Supervising Patrick Bond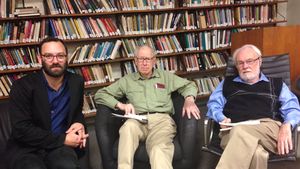 Patrick Bond worked with several social justice agencies in Washington and Philadelphia during the 1980s. He then enrolled in a doctoral program, supervised by David Harvey,at the Johns Hopkins University Department of Geography and Environmental Engineering where he received his Ph.D. in 1993 ("Finance and uneven development in Zimbabwe").
Socialist Scholars 1997
The Democratic Socialists of America sponsored 1997 Socialist Scholars Conference was held March 28- 30 at the Borough of Manhattan Community College in New York[1].
Workshops included Ellen Meiksins Wood, Aijaz Ahmad, and David Harvey on "Universalism and Difference";
Communist "Manifestivity"
On October 30 and 31, 1998 the Brecht Forum presented the "Communist Manifestivity to celebrate the 150th Anniversary of the Communist Manifesto" at Cooper Union's Great Hall, New York.
Individual endorsers of the event included David Harvey.[2]
The Right in these Times
David Harvey addressed the The Right in these Times: Understanding and Combating Contemporary Shifts to the Right, the Second Annual Conference On "Rightist Movements" Friday, May 1, 2009, The Graduate Center, City University of New York 365 Fifth Avenue.
The Right in these Times
Moderated by Craig Calhoun, University Professor of the Social Sciences, NYU & President, Social Science Research Council (SSRC)[3]
Left Forum Advisory Board
In 2009 the Left Forum Advisory Board included Gilbert Achcar, Tariq Ali, Ashanti Alston, Anthony Arnove, Robin Blackburn, Barbara Bowen, Jack Bratich, Rose Brewer, Renate Bridenthal, Michael Brie, Stephen Brier, Stephen Eric Bronner, Paul Buhle, Joseph Buttigieg, Luciana Castellina, Angela Dillard, Stephen Duncombe, Hester Eisenstein, Barbara Epstein, Deepa Fernandes, Hector Figueroa, Harriet Fraad, Josh Freeman, Barbara Garson, Heather Gautney, Marvin Gettleman, Arun Gupta, Jack Hammond, David Harvey, Gerald Horne, Boris Kagarlitsky, Robin D. G. Kelley, Christine A. Kelly, Peter Kwong, Joanne Landy, Jesse Lemisch, Michael Lowy, Nivedita Majumdar, Manning Marable, Randy Martin, Liz Mestres, Susan O'Malley, Cathy Mulder, Leo Panitch, Christian Parenti, Thomas Ponniah, Barbara Ransby, Michael Ratner, Jan Rehmann, Gerardo Renique, Rainer Rilling, Colin Robinson, Nan Rubin, Roger Salerno, Stephen R. Shalom, Neil Smith, Richard Smith, Meredith Tax, Eleni Varikas, Victor Wallis, Joseph Wilson.[4]
Left Forum 2009
The Right to the City:
Marnie Brady, (Chair) - Graduate Center, CUNY
Peter Marcuse, Professor Emeritus, Graduate School of Architecture, Columbia University
David Harvey, Anthropology, CUNY
Rene Francisco Poitevin, Director, Community Learning Initiative, Gallatin Faculty, New York University
Left Forum 2011
Post-Financial Crisis: Neoliberalism and the Global Economic Recovery:
David Harvey, Anthropology, CUNY Graduate Center; Author, A Companion to Marx's Capital
RTC 2012 staff
Right to the City Alliance September 14, 2012
RTC Staff and Professor David Harvey with his mandatory branding at the La Congress. — with Yasmeen Perez, Lisa Adler, Rachel LaForest, Mark Swier, Lenina Nadal, Luz Schreiber, Lisette Le and David Harvey.
"How to Organize a City"
How to Organize a City: Bill Fletcher, Jr., Jon Liss, and Gihan Perera in conversation, Thursday, April 25, 2013 from 6.30 – 8.30 pm in the Recital Hall - The Graduate Center, CUNY. Free and open to the public.
How can urban social movements cohere with existing institutions of power, from unions to local government? As importantly, how can movements collaborate with each other to achieve broader, systemic changes? Can these movements and political projects realistically be anti-capitalist? Activists and leaders Bill Fletcher, Jon Liss, and Gihan Perera will discuss these issues in an open forum.
Moderated by David Harvey, Director of the Center for Place, Culture and Politics.[5]
References