Dave Riddle
From KeyWiki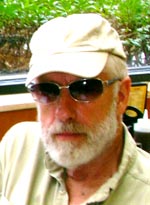 Dave Riddle is a former truck driver and Teamster member living in Detroit for the last 42 years. He is also a past hunting partner of Ernie Goodman. Dave Riddle earned his doctorate in US History in 1998 from Wayne State University, where he wrote his thesis on "The Rise of 'Reagan Democrats' in Warren, Michigan, 1964-1984." His daughter Katie is a high school senior and budding journalist.[1]
Christopher Alston Memorial
In May 1995 the Communist Party USA Newspaper, People's Weekly World published a memorial to Christopher Alston. It was endorsed by several signatories, mainly identified members of the Michigan Communist Party USA. The list included Dave Riddle.[2]
Ernie Goodman bio
In the late 2000s, Dave Riddle, Steve Babson and David Elsila co-wrote "The Color of Law:Ernie Goodman, Detroit, and the Struggle for Labor and Civil Rights".[3]
References
↑

PWW May Day Supplement, May 6 1995, Page F.