Dave Jones
From KeyWiki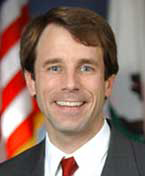 Dave Jones is a former State Representative from California and currently California's Insurance Commissioner.
Supported Progressive Health Care Reform
In late 2009, Dave Jones was one of more than 1,000 state legislators to sign a letter entitled "State Legislators for Progressive Health Care Reform". The letter was a project of the Progressive States Network and was developed in consultation with national health care reform advocates, including the AFL-CIO, AFSCME, Community Catalyst, Families USA, Herndon Alliance, National Women's Law Center, Northeast Action, SEIU, and Universal Health Care Action Network. The letter reads in part,[1]
"Failure to pass national comprehensive health reform now will further jeopardize state and local budgets, undermining public services like education, public safety, and transportation infrastructure... We, the undersigned, call on President Obama and the Congress to enact bold and comprehensive health care reform this year – based on these principles and a strong federal-state collaboration – and pledge our support as state legislators and allies in pursuit of guaranteed, high quality, affordable health care for all."
Parke Skelton support
Parke Skelton is one of California's preeminent political campaign consultants. His firm, SG&A Campaigns, has run campaigns for scores of progressive Democratic candidates including Controller John Chiang, Insurance Commissioner Dave Jones, Secretary of State Debra Bowen, Congressmembers Karen Bass, Julia Brownley, Judy Chu, Alan Lowenthal, Adam Schiff, Brad Sherman and Hilda Solis, Mayor Antonio Villaraigosa and District Attorney Jackie Lacey.[2]
Daraka Larimore-Hall endorsement
Healthcare for All
East Bay Young Democrats endorsement
Alfred Twu February 1, 2018 ·
East Bay Young Democrats just voted to endorse Dave Jones for California Attorney General! — with Toni Gomez, Stefan Elgstrand and Soli Alpert.
References