Darnell Johnson
From KeyWiki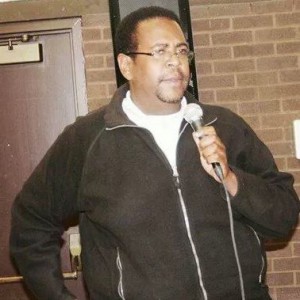 Darnell L. Johnson... coordinates Boston Right to the City Alliance in its core strategies of base building, community leadership development, political education, and community building. Johnson joined RTC's staff in 2014 after years of community and labor organizing focusing on the intersections of race, class, gender and oppression. He is a founding member of the African American Theatre Company at the University of Louisville and has been seen on stage with Actors Theatre of Louisville, the Kentucky Opera and the Juneteenth Legacy Theatre.[1]
DSA Boston Public Facebook Group
Members of Boston Democratic Socialists of America Public Facebook Group, in June 17 2019 included Darnell Johnson.[2]
Jobs with Justice
In 2009 Darnell Johnson was Missouri contact for Jobs with Justice.[3]
Pushback Network
As at April 12, 2010, the following served on the Pushback Network Steering Committee:[4]
"Roxbury Rally for Good Jobs! Stop Gentrification and Eviction!"
65 Warren St, Boston, Monday 6 October 2014, 17:00, organized by Boston Jobs Coalition
The Boston that we love is increasingly unaffordable for poor and working class people in our neighborhoods. Meanwhile, billions of new dollars are flowing into the city to develop luxury housing and high end commercial space. We demand a Right to the City...
Those signalling their intention to attend on Wherevent included Phillip Reason, Andy Moxley, An Duong, Ester Serra Luque, Tu Anh Phan, Sarita Simpson, Aslin Perez, Rene E. Mardones, Jeffrey Nunes,Woody J. Vainqueur, Nodeos Sully, Allistair Mallillin, Hendrix Rose Berry, Jamie Bergeron, Christine Maguire, Lorrayne Shen, Carl Williams, Seth Newman, Amy Banelis, Steve Kirschbaum, Marv McMoore, Jr., Remy Valeros, Edmond Caldwell, Angela Kelly, Demianna Angelica Secondino, Peter Scott Rider, Dana Mendes, Jeff Durham, Mattie Loyce, Timothy Hall, Donald Cronin, Deborah D. Dancy, Philip Stango, Austin Williams, Monicka Majesky, LaDarro LD Hagans, Remy Valeros, Chandana Cherukupalli, Jean Charles, Teenah Maria Denyse, Gul Hatt, Priscilla Banks, Leon Rivera, Jason Lydon, Bhavin Patel, David Noiles, Lisa Husniyyah Owens Pinto, Sara Sheridan, Carolyn Chou, Curtis Rollins, Mukaji Gigi, Brian Shea, Carolyn Chou, Mike Horne, Chrislene DeJean, Mary Jo Connelly, Elizabeth Saunders, Leonardo March, Matt Parker, Jeffrey Nunes, Frank Neisser, Karen Narefsky, Crystal Rizzo, Mimi Turchinetz, Doyle Canning, Ashley Rose, Nodeos Sully, Darnell Johnson, Handel Dixon, Exkluzive Sanchez , Gianluca Baù, Troy Neves, Clayton Nino Brown, Sheena Collier, Judith Glaubman.[5]
Grassroots Community Organizing class
Lori Hurlebaus March 13, 2016:
Feeling grateful to all the students from the Grassroots Community Organizing class through UACT at Amherst UMass who helped prepare for the #JustCause4Eviction Hearing happening tomorrow, Monday March 14, 4pm at City Hall. (https://www.facebook.com/events/167334716981873/) Join us tomorrow at City Hall - come at 3pm to join the action on City Hall Plaza. #Right2Remain — with Natalie Strohm, Aissah Kaba, Kinsey Foreman, Caitlin Homrich-Knieling, Hannah Youssef, Myles Brock, Cami Neira, Zulay Holland, Sarah Zolondick and Darnell Johnson.
Right to the City
Right to the City is associated with the Freedom Road Socialist Organization.
As of 2015;[6]
RTTC comrades
Mark Swier June 5, 2017 ·
AYO Come celebrate #RTC10 with the Right to the City Alliance party freaks on June 23!! Go here: bit.ly/RTC10Tix — with Mike Dennis, Gilda Haas, Camilo Sol Zamora, Cynthia Strathmann, Tony Romano, Dawn Phillips, Sacajawea Hall and Darnell Johnson.
Now What? Defying Trump and the Left's Way Forward
Now What? Defying Trump and the Left's Way Forward was a phone in webinar organized by Freedom Road Socialist Organization in the wake of the 2016 election.
Now what? We're all asking ourselves that question in the wake of Trump's victory. We've got urgent strategizing and work to do, together. Join Ash-Lee Woodard Henderson of the Movement for Black Lives and Freedom Road, Calvin Cheung-Miaw, Jodeen Olguin-Taylor of Mijente and WFP, Joe Schwartz of the Democratic Socialists of America, and Sendolo Diaminah of Freedom Road for a discussion of what happened, and what we should be doing to build mass defiance. And above all, how do we build the Left in this, which we know is the only solution to the crises we face?
This event will take place Tuesday November 15, 2016 at 9pm Eastern/8pm Central/6pm Pacific.
Those expressing interest in attending, on Facebook included Darnell Johnson.[7]
References