Dara Silverman
From KeyWiki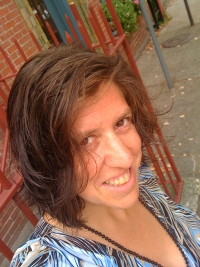 Dara Silverman grew up "Jewish and middle class in Upstate New York, acutely aware that I was different from the primarily white working class population around me. I was politicized by my parents, who were professors turned human services workers. At fourteen, I led my first protest against CIA recruitment at Cornell University and haven't looked back."
Dara Silverman has worked as a consultant, organizer and trainer who has been building movements for economic, racial, gender and social justice for the past 20 years. She focuses on supporting small and mid-sized groups to build their organizing skills, fundraising and organizational capacity. Dara was the Executive Director of Jews for Racial and Economic Justice (JFREJ) in New York City from 2003-2009. Her work has been published or featured in the New York Times, Tikkun, Zeek, Curve, and the San Francisco Bay Guardian. She co-created The Love and Justice in Times of War Haggadah. Dara is on the Leadership team of Showing Up for Racial Justice (SURJ), a national network of white people working for racial justice.
Dara has extensive experience developing and planning campaigns, supporting new and experienced organizers and executive directors, grassroots and individual fundraising, strategic planning, and board development.[1]
RoadMap
Dara Silverman is a consultant with RoadMap, a Freedom Road Socialist Organization affiliated consultancy group .[2]
Heads Up Collective members
Members of the Heads Up Collective have included Brooke Atherton El-Amine, Max Toth, Laura McNeill, Elaine Peterson, Kerry Levenberg, Amie Fishman, Clare Bayard, Eric Romann, Rahula Janowski, Mel Pilbin Baiser, Libbey Goldberg, Josh Connor, Marc Mascarenhas-Swan, Cory Schmanke Parrish, Sierra Spingarn, Dara Silverman, Jeff Giaquinto, Jamie Spector, Julia Allen, Sasha Vodnik, Cathy Rion Starr, and Becca Tumposky.[3]
For May Day and Beyond
For May Day and Beyond: White People Stepping Up for Immigrant Rights! was a letter circulated in May 2006, among people mostly affiliated with the Freedom Road Socialist Organization.
Open Letter to White Communities
In the past month, five million people, mostly immigrants of color, have mobilized for justice and are making history, flooding the streets in unprecedented numbers. Meanwhile, the most visible participation by white people is coming from the racist and right wing leaders who are defining and dominating the debate in the Federal government and in the news, radio and opinion pages. Where are the voices of anti-racist white people in this crucial moment, when the worst anti-immigrant legislation in decades is still poised to drop?
Signatories included Dara Silverman, Jews for Racial and Economic Justice. [4]
"Towards Collective Liberation" editorial crew
Chris Crass', 2013 book " was "Towards Collective Liberation: Anti-Racist Organizing, Feminist Praxis, and Movement Building Strategy..." was edited by a team consisting of Chris and Molly, Rahula Janowski Lydia Pelot-Hobbs, Nisha Anand, Sasha Vodnik, Cile Beatty, Danni Marilyn West, Amie Fishman, Jeff Giaquinto , Sharon Martinas, Gabriel Sayegh, Clare Bayard, Z. Lula Haukeness, Cindy Breunig, Jardana Peacock, Betty-Jeane Ruters-Ward, Betita Martinez, Roxanne Dunbar-Ortiz, Paul Kivel, Ingrid Chapman, Dan Berger, Josh Warren-White, Rachel Luft, Kerry Levenberg, Johnna Bossuot, Leah Jo Carnine, Berkley Carnine, Leah Close, Vivian Sanati, Dara Silverman, Helen Luu, Pauline Hwang Nrinder, N.K. Nann, Marc Mascarenhas-Swan, Max Elbaum, Keith McHenry, James Tracy, Alice Nuccio, Laura McNeill, Azedeh Ghafari, J.C. Callender, Nilou Mostoufi, April Sullivan-FitzHugh, Michelle O'Brien, Joe Tolbert, Tufara Waller Muhammad, Karly Safar, Jayanni Webster, Joshua Kahn Russell, prof. Laura Head, Andrew Cornell, Harjir Singh Gill, Emily Thuma, Rami Elamine, Chanelle Gallant, Charlie Frederick, Amar Shah, Alicia Garza, Elandria Williams, Carla Wallace, Ernesto Aguilar, Lisa Albrecht.[5]
SURJ Founders
The first National leaders of Showing Up for Racial Justice, were Sam Hamlin, Dara Silverman, Pam McMichael and Carla Wallace.[6]
SURJ Leadership team
The Leadership Team (LT) is the programmatic and decision-making body of SURJ. This team is responsible for making decisions about the ongoing development, broad programmatic vision and fiscal oversight of SURJ.
Showing Up for Racial Justice leadership team, as of 2015;[7]
"BILL FLETCHER JR, ED OTT & OTHERS"
Left Labor Project held a forum at 1199 SEIU, 310 W 43rd St, 14 January 2016, 18:00 till Thursday 14 January 2016.
The run-up to the Presidential primaries has unleashed a right-wing frenzy that's unprecedented in its naked scapegoating and repressive policy ideas. How do we analyze and respond to these developments, through our labor and community groups, and in the electoral arena? What new alliances, campaigns, and demands do we need?
Those signalling their support, or intention to attend on the events Wherevent page included Dara Silverman, Audrey Sasson, Jill Greenberg, Michael Dormo, Dennis Hart, David Mirtz, John Tarleton, Katrina Marie, Robert Ambaras, Ethan Frey, Maureen Silverman, Scarlett Ahmed, Caroline Unger, Emiljana Ulaj, Dahlia Goldenberg, Jessica Acee, Ferdinand Joseph, Kate Aronoff, Greg Dunkel, IrieAndrea LeDawes, Kristi Barnes, Nora Taggart, Mark Duran, Patrick Loman, Marion Lipshutz, Mindy Rubinstein-Rosier, Dego Adely, Marcus Meute, Gee Nimius, Mary Boger, Ellen Gurzinsky, Glorya Cabrera, Prince Manlaw King, Eric K. Ward, Joseph Phelan, Vince Kelley, Christine Williams, Plinio Cruz-Alvarez, Leon Pinsky, Dennis O'Neil, Eduardo Hugo Gil, John McCarthy, John Treat, David Salay, Kate Spaulding, Mohammad A. Khan, Charles Lenchner, Joshua Clennon, Chris Barron, Robel Tekleab, Jose Mangasha, Paolo Cremidis, John Dennie, Zach Liszka, Edgar E. Avalos, M. Dove Kent, Kristina Antonia Mazzocchi, John Ennis, Jon Zaccarini, L. Eljeer Hawkins, Bob Ratynski, Lorraine Barcant, Anne Mitchell, [8]
Livefreesotu watch party
Michael McBride, January 14, 2016;
Deeply grateful to all our amazing friends who joined our #livefreesotu watch party & discussion. It was a small cross section of the diversity in our faith & liberation movements but the conversation was rich, challenging, nuanced & unfiltered. Hopefully this will be the first of many conversations and inspire the rich and diverse voices across the country to create our own narrative, content & s... — with Rahiel Tesfamariam, Barack Obama, Osagyefo Sekou, Gabriel Salguero, Alexie Torres-Fleming, Davey D. Cook, Onleilove Alston, Dante Barry, Tory Russell, Dara Silverman, Traci Blackmon, Ify Ike, Steve Phillips, Rosa Clemente, Bakari Kitwana and Linda Sarsour.
DSA Women's Caucus Facebook group
Members of the DSA Women's Caucus closed Facebook group, as of August 25, 2017 included Dara Silverman .[9]
Florida Student Power Network
Florida Student Power Network September 29, 2016:
With Dara Silverman and Emilio Antonio Fonseca at University of Miami.
References