Daniel Moraff
From KeyWiki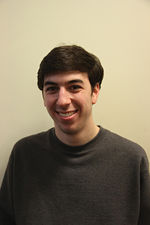 Daniel Ezra Moraff is a Pittsburgh activist. He is a writer, organizer and member of the Democratic Socialists of America. He served as the campaign manager for the Debbie Medina for State Senate campaign in Brooklyn in 2016.[1]
Daniel Moraff attended Brown University, where he wrote for the The Brown Daily Herald.
Generation Left: Millennials Building the Next Socialist Movement
"Generation Left: Millennials Building the Next Socialist Movement" Mayday Community Space, 214 Starr Street, Brooklyn, NY, Friday 12 February 2016, 18:00 till Sunday 14 February 2016, organized by Young Democratic Socialists.
This year's event comes at an unprecedented time for socialism in the United States. Polls show the growing popularity of democratic socialism and the Bernie Sanders presidential campaign among people under 35.
Those indicating intention to attend on the Wherevent website included Bhaskar Sunkara, David Littman, Emma Lucia Llano, Mark Benjamin Vondrasek, Andrew Shelton, Jameson Goetz , Chris Maisano , Ryan Bruckenthal , Juan Antonio Hernandez, John Guzek, Daniel Ezra Moraff, Joseph Schwartz, Joshua Nodiff, Heidi Easton Chua Schwa, Rahel Biru, Winnie Wong, Brandon Kemp, Sara Ali, Neal Meyer, Michele Rossi, Valencia Barbosa-Ferrer, Jason Hugh Korzelius, Mercy Villa, Barry Goldberg, Spencer Brown, Paul Goodspeed, Alex Kudeyar, Joey Iannitelli, Sean Bailey, Kayla Popuchet, Ben Packer, Alex Nitecki, Alex Nitecki, Bruce Haskin, Noelle Flan, Adam Goldman, Patrick Bon Tonissen, Patrick Bon Tonissen, Ethan Earle, Jack Suria Linares, John Richard Nolan, Byrne Hollander, Meryssa Dickerson, David Duhalde, Riaasa Muntaz, Desiree Feliciano, Louie Messina, David Lorenzo III, Priscilla Cordero, Kelsey Fatu Lizotte, Sean Monahan, Tonee Burley, Diana Dang, Orlando Escobar, Claudia Marroquin, Michelle Denise Fisher, Hoang Do, Kate Bush, Nora Evita Aresti Osis, J-anie Segui, Michael Brandini, Jake Burger, Ashley Rodriguez, Darci Collins, Shlomo Boukai, Russell David, Jonny Tsunami Iezin, Ryan Adler-Levine, Shelby Murphy, Karie Ames, Adam Joseph Cardo, Eric Dolan.[2]
Encourages Socialists to infiltrate Democratic Party
In his March 2017 article, "Want to Elect Socialists? Run Them in Democratic Primaries," Daniel Moraff wrote that the Democratic Party "offers the easiest path for socialists to win elections and build power now."[3]
DSA
In 2016 Daniel Moraff was an at-large member of Democratic Socialists of America.[4]
DSA contact
David Schlitt, Daniel Moraff and Dan Hanson were listed as contacts for Pittsburgh Democratic Socialists of America Organizing Committee in 2016.[5]
Democratic Socialists of America Electoral Committee
In March 2018 Daniel Moraff was involved with the Democratic Socialists of America Electoral Committee.
Summer Lee supporters
Summer Lee January 6, 2018.
Braving the cold...
Summer2018 — with Nan Alexander Dowiak, Julie Platt, Summer Lee, David Ankin, Kacy McGill, Jamin Bogi, Jonathan Reyes, Daniel Ezra Moraff, Symone Miquela and Louis Berry III.
Moraff was Summer Lee's campaign manager.
References