Daniel Aldana Cohen
From KeyWiki
Daniel Aldana Cohen is Assistant Professor at University of Pennsylvania.
Comrades
In 2014, David Klassen was associated with with A.J. Bauer, Michael Gould-Wartofsky, Jacob Denz, Gisselle Cunningham, Maida Rosenstein, Josh Frens-String, Pam C. Nogales Carranza, Ella Wind, Priya Mulgaonkar, Ayesha Omer, Natasha Raheja, Daniel Aldana Cohen, Caitlin MacLaren, Shelly Ronen, Rachel Nolan, Meghna Chaudhuri, Anne Falcon, Sean Larson, Christy Thornton.
Progressive Grad Union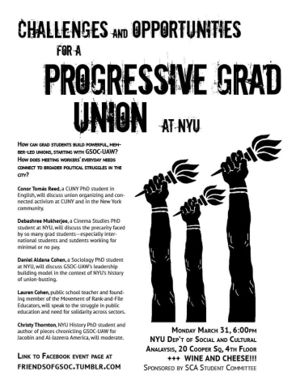 Circa 2015 Conor Tomas Reed, Daniel Aldana Cohen, Debashree Mukherjee, Lauren Cohen, and Christy Thornton, were working to establish a "progressive grad union" at NYU.
"$15/hr for all! Social Service Workers Speak Out!"
Monday 27 October 2014, Tiffany Paul organized an event "$15/hr for all! Social Service Workers Speak Out!" at the NYU Kimmel Center.
The struggle to raise the minimum wage is a lively and dynamic movement developing across the US. The fight for a minimum wage of $15 dollars is one step forward in the fight for a living wage, and fast food workers have been at the forefront of this struggle.
Speakers: Stephanie Luce - Murphy Institute for Worker Education, author of Fighting for a Living Wage, Kimberley Thomas - Dental Assistant, Harlem Hospital, DC37 local 768, Muata Greene - Coalition of Black Trade Unionists NYC and Left Labor Project, Sooyoung Lee - Substance Abuse Counselor, 1199SEIU & Power for Rank-and File Employees in the Social Services.
Those indicating willingness to attend on Wherevent included Katie Ebbitt, Elana Mae, Michelle O'Brien, Emma Rose, Andrea Shapiro, Bruce Newell Haskin, Michael Gould-Wartofsky, Jake Streich-Kest, Monica M. Garcia, Michelle Esi, Marcelo Maia, David Klassen, Ian Williams, Narbada Chhetri, Johnny Channels, Sara Duvisac, Jonah Birch, Isabella Decker, Adaner Usmani, Eric Odell, Jessica Jensen, Caitlin Knapp, Imani Henry, Lizzie Busch, Juan Ignacio Rosa, Daniel Aldana Cohen, Lizzie Kirshenbaum, Sara Hyler, Goutami Sanyal, Christy Thornton, Gavi Lankin, Padma Thapa, Juliet Ucelli, Lucretia John, Jamila Hammami, Rachel V. Isreeli , Eman Abdelhadi, Jessica Lopez, Sooyoung Lee, Marie Kerrin, Emily Weinrebe, Ceema Luu, Sarah Dh.[1]
Now What? Defying Trump and the Left's Way Forward
Now What? Defying Trump and the Left's Way Forward was a phone in webinar organized by Freedom Road Socialist Organization in the wake of the 2016 election.
Now what? We're all asking ourselves that question in the wake of Trump's victory. We've got urgent strategizing and work to do, together. Join Ash-Lee Woodard Henderson of the Movement for Black Lives and Freedom Road, Calvin Cheung-Miaw, Jodeen Olguin-Taylor of Mijente and WFP, Joe Schwartz of the Democratic Socialists of America, and Sendolo Diaminah of Freedom Road for a discussion of what happened, and what we should be doing to build mass defiance. And above all, how do we build the Left in this, which we know is the only solution to the crises we face?
This event will take place Tuesday November 15, 2016 at 9pm Eastern/8pm Central/6pm Pacific.
Those invited, on Facebook included Daniel Aldana Cohen.[2]
Democratic Socialists of America
As of June 1, 2017, Philadelphia Democratic Socialists of America Public Facebook Group members included Daniel Aldana Cohen . [3]
References