Dan Swinney
Jump to navigation
Jump to search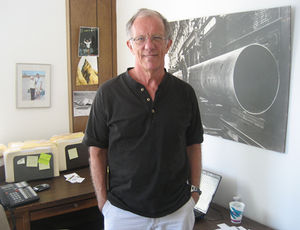 Template:TOCnestleft Dan Swinney has 35 years of community and labor organizing as well as community development experience. After graduating with a Bachelor's in History from the University of Wisconsin at Madison, Dan Swinney worked as a machinist for 13 years in the Chicago area. He organized Steelworker Local 8787 at G+W Taylor Forge in Cicero, Illinois and served as Vice President. Taylor Forge closed in 1983. Swinney founded the Center for Labor and Community Research in 1982 in response to the thousands of manufacturing plant closings in the Chicago area[1].
Mickey Jarvis connection
Dan Swinney knew Mickey Jarvis well;
We always said there should have been a movie about Mickey--a totally unique mix of character, principles, commitment, determination, humor, character, politics, culture, and character.
Always a modest soldier in the struggle to change the world, he was an enormous influence on me in my early days as a local steelworker leader in Chicago. He guided me as I tried to weave my way through the competing tensions of vision, politics, practicality, and fun. He was tireless in keeping someone like me connected to those he knew should be working together.
He was truly the co-founder of what was then the Midwest Center for Labor Research, and now the Center for Labor and Community Research, serving on our first Board of Directors. He saw the need for a much deeper analysis of what was going on in companies and the economy as we witnessed hundreds of plant closings, the loss of thousands of jobs, and complex negotiations in the steel industry as the basis for determining what organizers should really do--rather than just follow slogans and formulas from an earlier era. MCLR was one of his creations...
In Solidarity and on behalf of the Board and staff of the Center for Labor and Community Research in Chicago. [2]
Crossroads board members
Crossroads Fund board members circa 1981[3];
New Party builder
Madeline Talbott of ACORN was one of the key early organizers of the Chicago New Party.
She wrote a progress report on August 12 1992 which detailed meetings with Joe Gardner, Jackie Grimshaw (Deputy City Treasurer), Jim Pena (Federation for Industrial Retention and Renewal), lawyer Paul Strauss, Frank Rosen (Labor party Advocates), Connie Hall (IVI - IPO), Greg LeRoy and Lisa Oppenheim, (both Midwest Center for Labor Research). All were supportive.
She was also looking forward to meeting Ron Sable and Dan Swinney and reported that in May Dan Cantor held a New Party fund raising meeting in the Chicago home of Quentin Young, "with half a dozen good people present".[4]
New Party News Fall 1994 listed over 100 New Party activists-"some of the community leaders, organizers, retirees,, scholars, artists, parents, students, doctors, writers and other activists who are building the NP" the list included Dan Swinney, Midwest Center for Labor Research.
Progressive Chicago
Progressive Chicago was founded in 1993 by members of the New Party, in particular Madeline Talbott and Dan Swinney.
In an April 27, 1993 letter to prospective Progressive Chicago members, Dan Swinney wrote;
I recently have become interested in the New Party as well as committed myself to see if we can build a Progressive Chicago network, working with Madeline Talbott of ACORN - the local New Party convener.
I wanted to introduce you to the NP andProgressive Chicago and would like to talk to you about it to see if there is a role you want to play.
Enclosed is a brochure, a longer description of the NP and the ideas behind it...
Committees of Correspondence connection
In 1994 Dan Swinney ,Chicago, was listed on a "Membership, Subscription and Mailing List" for the Chicago Committees of Correspondence, an offshoot of the Communist Party USA[5]
Progressives for Obama
In 2009 Dan Swinney Center for Labor and Community Research was listed as a signer of the Progressives for Obama website.[6]
References