Dan Michniewicz
From KeyWiki
Dan Michniewicz is a Michigan activist.
Defeat
DSA NPC newsletter August 20, 2020:
We'd also like to thank the six nationally endorsed DSA candidates (Justin Farmer, Megan Green, Rebecca Parson, Mary Ellen Biggerstaff, Nada Elmikashfi, and Dan Michniewicz), who narrowly lost, for running and for all the comrades who put in work for all of the campaigns we've mentioned.[1]
DSA endorsement
Democratic Socialists of America June 30 ·
DSA is proud to endorse Dan Michniewicz for Ann Arbor City Council Ward 5 in Michigan.
Dan is an organizer with Huron Valley Democratic Socialists of America and briefly served on our National Political Committee during his 9 years as a DSA member so far. As a worker in Ann Arbor's food service industry & member of the County Food Council, knows the experiences of the city's working people and how they all lose out in the current system. Dan is fighting to make housing a human right through land trusts, tenants' rights, & social housing, for a local publicly-run utility, for economic fairness, and for defunding the police to fund social services.
City Council run
In 2020 Dan Michniewicz ran for for Ann Arbor City Council.
Colorado Transition Network
Dan Michniewicz was a member of the Colorado Transition Network in April 2011.[2]
I am one of the few who has conceded that the transportation of people and goods via fossil fuels is unsustainable and will soon prove too costly for the majority of people in the US and around the world.
I can organize like minded people by suggesting that members of the soon-to-be-operational Democratic Socialists of America Fort Collins Local take part in the transition movement.
Occupy Fort Collins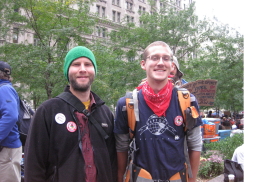 The Occupy Fort Collins demonstration is a part of the Occupy Movement which began on Sept. 17, 2011 with the original Occupy Wall Street demonstration in New York City.
Dan Michniewicz of Fort Collins Democratic Socialists of America reported on the origins of the Occupy Fort Collins demonstration:[3]
"At its monthly meeting in September, the Fort Collins Democratic Socialists of America branch did the initial organizing for Occupy Fort Collins. It then turned over all decision making to the general assembly. Many of the folks who stop by the occupation are receptive to DSA's message and interested in learning more about the organization. I managed the Occupy Fort Collins Facebook page and Twitter feed before leaving for New York to take part in the protest there."
DSA 2011 leadership
Elected to serve on the Democratic Socialists of America National Political Committee – the leadership body described as "the engine room of the organization", in November 2011, were;[4]
Theresa Alt (Ithaca, NY)
Stuart Elliott (Wichita, KS)
Paul Garver (Boston, MA),
Virginia Franco (San Diego, CA)
David Green (Detroit, MI)
Barbara Joye (Atlanta, GA)
Frank Llewellyn (New York, NY),
Dan Michniewicz (Pinckney, MI)
Simone Morgen (Columbus, OH),
Joseph Schwartz (Philadelphia, PA)
Peg Strobel (Chicago, IL)
Plus the two YDS co-chairs, Sean Monahan (Philadelphia, PA) and Jackie Sewell (Lawrence, KS).
Huron Valley Democratic Socialists of America
In 2017, Dan Michniewicz was chair the Huron Valley Democratic Socialists of America health care committee.
Leaders
Social media coordinator Huron Valley Democratic Socialists of America leaders, as of July 8, 2018 is Dan Michniewicz ;[5]
External Links
References