Damu Smith
Jump to navigation
Jump to search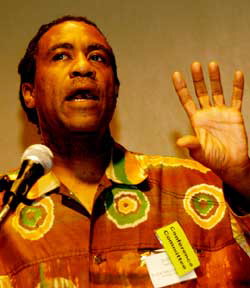 Template:TOCnestleft Damu Smith was a prominent black activist.
Southern Organizing Committee for Racial and Economic Justice
Heather Gray served on the board of the Southern Organizing Committee for Racial and Economic Justice that Anne Braden co-chaired along with Reverend Fred Shuttlesworth. The organization " was one of the few that provided the opportunity for us to think and act regionally and to make the essential connections of the myriad of issues we faced. From the 1980's and on the meetings were always filled with a diversity of black, white and eventually Latino activists in the region".
We would sit for hours in New Orleans, Montgomery or Birmingham to strategize on various issues, activities and mistakes we've made then and in the past. We would also listen, learn and occasionally join in while the legendary leaders in our midst discussed and analyzed the dynamics of white supremacy, racial politics generally and labor challenges in the South. Anne was never without offering a lengthy epistle about anything until the wee hours of the night along with her ever-present cigarettes! These sessions were often both grueling and enlightening. They were not only a history lesson but also a socialization process into the tactics of southern civil rights activism and Anne understood the importance of this. She wanted to pass this information on to all of us and to keep the momentum going at every conceivable juncture. The meetings were a roll call of southern leaders and activists the likes of Reverend C. T. Vivian, Jack O'Dell, Gwen Patton, Virginia Durr, Reverend Fred Taylor, Reverend James Orange, Connie Tucker, John Zippert, Jackie Ward, Reverend Benjamin Chavis, Charlie Orrock, Ann Romaine, Damu Smith, Jim Dunn, Judy Hand, Scott Douglas, Ron Chisholm, Spiver Gordon, Pat Bryant, Tirso Moreno and countless others.[1]
"Racism: A National Policy?"
Program for a conference held November 19, 1983 at Wilborn Temple in Albany. People listed on the program include E.F. Jeffries, Pastor, Wilborn Temple, United Church in Christ; E.J. Josey, President, Albany Branch, NAACP; Vera "Mike" Michelson, Chair, Capital District Coalition Against Apartheid And Racism; Michael Amon-Ra, President, N.Y. Chapter, National Black United Front (NBUF); Damu Smith, Founding Member, Black American Network for Disarmament, Peace, and Justice; Robert Chrisman, Editor, Black Scholar magazine; Lillie McLaughlin, First Vice President, Albany NAACP; Tony Scott; Carol Hausen; Kabili Tayor, National Black Independent Political Party; Vroman Wright, Executive Director, Phase-Out Re-Entry; Odell Winfield; Dr. Stephen Wasby, SUNYA Professor and civil liberties scholar; Mark Mishler, Esq., SUNYA Student Legal Services, National Lawyers Guild; Anita Thayer; Merton Simpson; Maggie Kirwin, Central American Solidarity Alliance; Karen Brammer, Non-Violence Project; Maria Muscarella, Capital District Committee For Palestinian Rights; Depak Kapur; Rev. Tyrone Pitts, Director, Racial Justice Commission of National Council of Churches; Maria Markovics, United Tenants of Albany; Hughes Williams, I.U.E. Local 301; and James McCoy. The program says the Minority Student Alliance of the Junior College of Albany will host a reception for conference participants.[2]
1987 Rainbow conference/Board
At the 1987 National Rainbow convention in Raleigh North Carolina, a new board was elected, which included Damu Smith.
Mozambique Support Network
A meeting of Mozambique Support Network took place Friday, March 11, 1988 and Saturday, March 12,1988 at the Lutheran School of Theology in Chicago, Illinois.
Attending the meeting were Roberta Washington, Co-chair (New York), Lisa Anderson (Idaho), Alan Isaacman, Co-chair (Minnesota), Damu Smith (Washington DC), Dan Murphy (Iowa), Mackie Mcleod (Boston), Geri Seese-Green (Oregon), Chris Root (Michigan), Stephanie Urdang (New York), Paul Epstein (Boston), Bassiru (Madison), Andy Epstein (Boston), Bill Martin, Anne Evens (Chicago), Sister Joanette Nitz (Detroit), Carrie Pratt (Madison), Prexy Nesbitt (Chicago), Dave Wiley (Michigan), Heather Gray (Atlanta), Ned Alpers, Otis Cunningham (Chicago)
Regrets were sent by Mike Johnson (Iowa), Kevin Danaher (California), Bill Minter, Kathy Flewellen (Washington, DC), Ruth Minter (Maryland), Kathie Sheldon and Steve Tarzynski (California), Paula Voelkel (Wisconsin), Coke McCord (New York) and Todd Hawkins (Washington), Treasurer Lisa Brock was unable to attend due to the tragic death of her mother in Ohio.[3]
National Campaign to Defend Civil Rights
Representatives and supporters of the ANSWER (Act Now to Stop War & End Racism) coalition held a news conference at the National Press Club in Washington, D.C., June 18 2002, to announce the National Campaign to Defend Civil Rights. The group announced a major demonstration on June 29 at the headquarters of the FBI and Justice Department.
"Our community is uniting with other civil rights and anti-war organizations to mobilize for the June 29 demonstration protesting the attacks on civil rights and civil liberties," stated Mahdi Bray, executive director of the Muslim American Society's Freedom Foundation.
Rainbow Coalition/PUSH leader Joe Leonard explained that his organization was mobilizing for the June 29 protest because President George W. Bush and Attorney General John Ashcroft's use of racial and political profiling was "a threat to all the hard won civil rights gains of past generations."
"The Bush administration is substantially expanding the FBI and CIA authority to conduct domestic spying in the absence of probable cause or criminal conduct and is authorizing indefinite detention for citizens and non-citizens at the sole discretion and the direction of George Bush and John Ashcroft--without charge or trial, and without access to an attorney," Mara Verheyden-Hilliard of the Partnership for Civil Justice explained in analyzing the government's latest move.
Other speakers at the news conference included: Lubaba Abdallah, Muslim Student Association of U.S. & Canada; the Rev. Graylan Hagler, senior minister, Plymouth Congregational Church; Macrina Cardenas, Mexico Solidarity Network; Peta Lindsay & Daniel Keesler, ANSWER youth and student organizers; Chuck Kaufman, national coordinator, Nicaragua Network; Damu Smith, Black Voices for Peace; and Brian Becker, co-director, International Action Center.[4]
DC rights march
The Aug. 23 2003 march on Washington that marked the 40th anniversary of the giant 1963 Civil Rights March led by the Rev. Martin Luther King, Jr. was noted for its strong anti-war mood. Thousands of people from across the country streamed onto the grounds of the Lincoln Memorial to commemorate the historic march, which featured Dr. King's famous "I Have A Dream" speech.
The night before this year's march, Yolanda King hosted a "spit in" geared toward younger activists. Many people took the stage for five minutes each to "spit" poetry against war, about growing up poor and oppressed, about police brutality and other injustices to illustrate that the "dream" has not been realized by most working people in this country.
Throughout the weekend the speakers who received the loudest ovations were those who demanded an end to the occupation of Iraq.
Among the speakers were three presidential candidates--the Rev. Al Sharpton, Carol Moseley Braun and Howard Dean; historic civil-rights leaders such as James Forman, Coretta Scott King and Jesse Jackson; representatives of the civil-rights/peace-and-justice movement like NOW Executive Director Kim Gandy, National Lesbian and Gay Task Force Executive Director Matt Foreman, Damu Smith of Black Voices for Peace, Leslie Cagan of United for Peace and Justice, James Zogby of the Arab American Institute, Raul Yzaguirre of La Raza, and Mahdi Bray of the Muslim American Association, who invited everyone to come back for the Oct. 25 march against the U.S. occupation of Iraq. National youth and student leaders and church representatives also spoke.[5]
"NO WAR, NO WAY"
Jan 19, 2003, ANSWER brought together an impressive array of speakers at two rallies—one that began at 11 a.m. in the sprawling National Mall, and a concluding rally at the Washington Shipyard.
Moonanum James, co-chair of United American Indians of New England and a Vietnam-era veteran, opened the rally by connecting the U.S. government's ongoing racist war against Native peoples with their preparations for a racist war against Iraq.
Anti-war speakers included Charley Richardson and Nancy Lessen from Military Families Speak Out and Liz McAlister, partner and widow of the late peace activist Philip Berrigan. "No blood for oil!" demanded disabled Vietnam War veteran Ron Kovic, author of "Born on the Fourth of July."
Speaking out for labor against the war: Brenda Stokely, president of AFSCME 1707 and Local 215 as well as a co-convener of New York City Labor Against the War; Fred Mason, president of statewide Maryland and D.C. AFL-CIO; Michael Letwin from U.S. Labor Against War and Dr. Nadia Marsh from Doctors and Nurses Against the War.
ANSWER speakers included Youth and Student Coordinator Peta Lindsay, Elias Rashmawi from the Free Palestine Alliance. Jennifer Wager from IFCO/Pastors for Peace, Mara Verheyden-Hilliard from PCJ and Larry Holmes and Brian Becker, both from the International Action Center.
Speakers representing other anti-war coalitions included Bill Fletcher, Jr., co-chair of United for Peace and Justice; Damu Smith from Black Voices for Peace; Medea Benjamin from Global Exchange, and Miles Solay from Not In Our Name.
Jesse Heiwa, from Queers for Peace and Justice, New York, pointed to the growing coalition of lesbian, gay, bi and trans organizations against the war. Brooklyn-based activists Viola Plummer from the December 12th Movement and City Councilman Charles Barron raised the need for anti-racist solidarity, including fighting for reparations. Singer Patti Smith and D.C. cultural artists Pam Parker and Lucy Murphy performed. [6]
National Dialogue on the Sudan
In Memory of El-Hajj Malik El-Shabazz (Malcolm X)
A National Dialogue on the Sudan
Sunday, Feb. 27, 2005
THE UNIVERSITY OF THE DISTRICT OF COLUMBIA, BLDG. 46 - MAIN AUDITORIUM
Among the Invited Speakers
The National Conference/Dialogue on the Sudan will take place (Feb 27th), culminating a week long observance for an Afro-American Muslim leader who was (and still is) most deserving.
We expect to be joined by a host of local grass-roots community leaders and activists (and possibly a few from outside the Washington area) for the press conference. Our hope is that we will also be joined by leaders from some of our "major Muslim organizations" (i.e., CAIR, ISNA, ICNA, MAS, MPAC, etc), as this will be an opportunity for us to make a unified statement of concern and support for the Sudan and its people – particularly in light of the crisis in Darfur.
The objective will be threefold: (a) enlightened dialogue on the crisis in Sudan; (b) education for the community; (c) and a far more constructive engagement of African Americans on this issue than what we've seen thus far.
This conference is being sponsored by The Committee for Truth, Justice, and Reconciliation in the Sudan (a project of The Peace And Justice Foundation).[7]
Millions More Movement
The Millions More Movement held an important all-day rally Oct. 15, 2005 on the National Mall that attracted an overwhelmingly African-American crowd numbering more than 1 million, according to organizers. The main demand put forth by the rally organizers and supported by the masses there was "Black power!"
Not one U.S. flag was prominent in the crowd, but the colors of the flag for U.S. Black liberation—red, black and green—could be seen everywhere.
This MMM rally was first announced in 2004 as a commemoration of the 10th anniversary of the Million Man March on Oct. 16, 1995, held at the same site. That event attracted at least 1 million, mainly Black men, and was initiated by the Nation of Islam.
The speeches were focused on a variety of issues: the prison system and the plight of political prisoners—especially Mumia Abu-Jamal, Jamil Abdullah Al-Amin (formerly H. Rap Brown) and Leonard Peltier-police brutality, reparations, voter disenfranchisement, LGBT oppression, immigrant rights, economic and political empowerment, education and health, the role of art and culture in the struggle for social justice, and much more.
The main presentation at this rally was given by the MMM's national convener and NOI leader, the Hon. Minister Louis Farrakhan.
Among the many other speakers were Clarence Thomas and Chris Silvera from the Million Worker March Movement; Dr. Dorothy Height of the National Council of Negro Women; Indigenous leaders Russell Means and Vernon Bellecourt; Congress woman Sheila Jackson; Haitian singer Wyclef Jean; Reverends Al Sharpton and Jesse Jackson; Viola Plummer of the Dec. 12 Movement; Damu Smith, Black Voices for Peace; and comedian and social activist Dick Gregory.
In a videotaped message played to the crowd, the president of Cuba's National Assembly, Ricardo Alarcón, expressed the Cuban people's solidarity with Katrina survivors and all the poor in the U.S. He also spoke about the case of the Cuban 5, who were imprisoned for fighting against terrorism while the U.S. aids and shelters real terrorists like Luis Posada Carriles. [8]
2006 YDS conference
The Young Democratic Socialists' winter conference, cosponsored by the Columbia University Working Families Party chapter, was held February 17-19 2006, in New York City. It was entitled "Turning the Tide Towards Freedom: Building the Youth and Student Movement for Justice."
Speakers included Joseph Schwartz, Bill Fletcher, Jr., Christian Parenti, Gayatri Spivak, and Damu Smith, "who gave us the "big picture," described and explained structural injustice at home and abroad, and got us fired up to continue and intensify the fight for a better world."[9]
References