Dale Kildee
From KeyWiki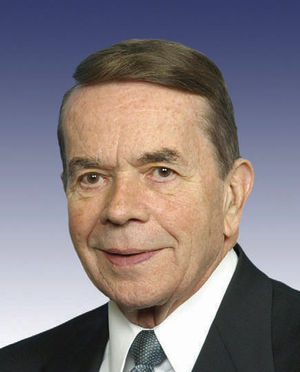 Dale Edward Kildee (born in Flint, Genesee County, MI, September 16, 1929) is a Democratic member of the United States House of Representatives, representing the 5th district of Michigan.
Father of Dan Kildee.
Early Life & Career
Graduated from St. Mary's High School, Flint, Mich., 1947; B.A., Sacred Heart Seminary, Detroit, Mich., 1952; teacher's certificate, University of Detroit, Detroit, Mich., 1955; graduate work, University of Peshawar, Pakistan, 1958-1959; M.A., University of Michigan, Ann Arbor, Mich., 1961; teacher.[1]
Public Service
Member of the Michigan state house of representatives, 1965-1974; member of the Michigan state senate, 1975-1976; delegate to Michigan state Democratic conventions, 1956-1977; delegate to Democratic National Conventions, 1968 and 1984; elected as a Democrat to the Ninety-fifth and to the seventeen succeeding Congresses (January 3, 1977-present).[1]
Community affiliations
Member of Optimists, Urban League, Knights of Columbus, Phi Delta Kappa (national honorary fraternity), and American Federation of Teachers. A life member of the National Association for the Advancement of Colored People.[2]
The Chile letter
On August 1 1979 Thirty-five U.S. Congressmen signed a letter[3]to President Jimmy Carter demanding that private bank loans to Chile be barred unless the Chilean government chose to extradite three military officials, including the former director of the Chilean intelligence service. The three had been indicted for complicity in the assassination of marxist Unidad Popular government member and KGB agent Orlando Letelier and the killing of Institute for Policy Studies (IPS) staffer Ronni Moffitt in 1976.
In May 1978 the Chief Justice of the Chilean Supreme Court rejected the U.S. request for extradition.
Chief sponsor of the letter was Rep. Tom Harkin (D-IA), who was joined by Congressmen John Burton (D-CA), John Conyers (D-MI), Robert Kastenmeier (D-WI), Ron Dellums (D-CA), Berkley Bedell (D-IA), Richard Ottinger (D-NY), Fred Richmond (D-NY), Robert Drinan (D-MA), Leon Panetta (D-CA), Don Edwards (D-CA); Norman Mineta (D-CA), Pete Stark (D-CA}, Anthony Beileson (D-CA) George Brown (D-CA), Toby Moffett (D-CT), Dale Kildee (D-MI), Eugene Atkinson (D-PA), Michael Barnes (D-MD), David Bonior (D-MI), Adam Benjamin (D-IN), William Brodhead (D-MI), Robert Carr (D-MI), Tom Daschle (D-SD), Tom Downey (D-NY), Harold Hollenbeck (R-NJ), Pete Kostmayer (D-PA), Stewart McKinney (R-CT), Edward Markey (D-MA), Andrew Maguire (D-NJ) Richard Nolan (DFL-MN), Gerry Studds (D-MA), Bruce Vento (DFL-MN) and Howard Wolpe (D-MI).
Other signatories included Tom Hayden, Jane Fonda, Communist Party USA front Women for Racial and Economic Equality, Robert Borosage, Richard Barnet, and Marcus Raskin of the Institute for Policy Studies, and the radical New American Movement and the Campaign for Economic Democracy.
The Harkin letter characterized the Chilean government as "an enemy of the American people" and urged the President to "take strong action against this terrorist government." The letter was released (9 A.M. on August 1 1979) at the same time a press statement from the Washington, DC, Chile Legislative Center of the National Coordinating Center in Solidarity with Chile, staffed by veterans of the Venceremos Brigade and the Communist Party USA, supported the Congressional letter and urged pressure so that the State Department does not accept a military trial of the three Chileans in Chile as a substitute for extradition and trial in the US
Democratic Party Super Delegates
In February 2008 Michigan Democratic Party Super Delegates were;[[4]
Charles Brown Mon, 25 Feb 2008
John D. Cherry, Lt. Governor
Rep. John D. Dingell, U.S. Congressman, 15th District
Joel Ferguson, at-large member of the DNC, businessman, member of MSU Board of Trustees
Dale Kildee, U.S. Congressman, 5th District
Sander Levin, U.S. Congressman, 12th District
Mark Schauer, State Senator, 19th District
Debbie Stabenow, U.S. Senator
John Conyers, U.S. Congressman, 14th District
Arthenia Abbott, Vice Chair, Michigan Democratic Party
Lu Battaglieri, President of Michigan Education Association, union representing retired teachers and education employees
Mark Brewer, Chair, Michigan Democratic Party, Vice Chair, Democratic National Committee
Elizabeth Bunn, UAW Secretary-Treasurer
Eric Coleman, County Commissioner of Oakland County, 23rd District
Debbie Dingell, WSU Board of Governors, senior executive at General Motors
Robert Ficano, Wayne County Executive
Jennifer Granholm, Governor
Kwame Kilpatrick, Mayor, City of Detroit
Carolyn Kilpatrick, U.S. Congresswoman, 13th District
Joyce Lalonde, Board of Directors, National Education Association
Carl Levin, U.S. Senator
Jeffrey Radjewski, business and finance manager of the International Brotherhood of Electrical Workers (IBEW)
Virgie Rollins, regional director, National Federation of Democratic Women, Chair, Democratic National Committee Black Caucus
Richard Shoemaker, UAW Vice President
Bart Stupak, U.S. Congressman, 1st District
Michael Tardiff, DNC
Richard N. Wiener, attorney and former Granholm staffer
Lauren Wolfe, President of the College Democrats of America, she is attending law school in Detroit.
DSA sponsored rally
Over 300 people attended the Call to Action Rally at the United Food and Commercial Workers Union (UFCW) Local 876 Hall in Madison Heights on February 18th 2010. The rally was organized to press members of the Michigan Congressional delegation , particularly in the Senate, to pass key components of the progressive agenda including health care reform, cap and trade energy legislation, immigration reform, and the Employee Free Choice Act. Greater Detroit Democratic Socialists of America co-sponsored the rally along with 31 other organizations including Health Care for America Now, the UAW, the Metropolitan Detroit AFL-CIO, the Service Employees International Union ), UFCW, UNITE-HERE Local 24, AFSCME Council 25, Reform Immigration for America, Repower America (the organization founded by former Vice-President Al Gore to promote investment in renewable energy), Gray Panthers of Metro Detroit, Michigan Universal Health Care Access Network, the Arabic Community Coalition for Economic and Social Security, Southeast Michigan Jobs with Justice, MoveOn, and MOSES.
Congressmen Sander Levin and John Conyers, Jr. addressed the audience. In addition, aides to Senators Debbie Stabenow and Carl Levin and Representatives Dale Kildee, Gary Peters, Carolyn Cheeks Kilpatrick, and John Dingell attended the rally.
DSA member Al Fishman spoke to the audience about how the disastrous wars in Iraq and Afghanistan had undermined Obama's domestic agenda in a manner analogous to the way in which the Vietnam War undermined President Johnson's Great Society programs. DSA Executive Board member Dave Ivers spoke about the imperative for a national jobs program, shared a personal anecdote about how the health care crisis had affected his family, and stressed the importance of Congress passing the Employee Free Choice Act to make it easier for workers to organize unions. Other speakers included Chris Michalakis, Legislative Director of UFCW Local 876, who spoke about the importance of comprehensive immigration reform. Luke Canfora of Repower America described the huge potential benefits of investment in renewable energy (decreased reliance on foreign oil, reduced emissions of greenhouse gases, and job creation). Marcia Boehm and Altheia Henry discussed the urgent need for health care reform. John Freeman, Michigan Director of Health Care for America Now, moderated the event.[5]
Service Employees International Union
Kildee has recieved $38,500 in campaign contributions from the Service Employees International Union.[6]
"Dear Friend to the Muslim Community"
On June 24, 2010, Farhan Bhatti writing for The Muslim Observer wrote of Lansing Mayor Virg Bernero who was running for Governor of Michigan in the Democratic primary,[7]
"He has already garnered many key endorsements, including the AFL-CIO, the UAW, the Michigan Education Association, the American Federation of State, County and Municipal Employees, and two individuals who are dear friends to the Muslim community, Congressman Dale Kildee and former Congressman David Bonior."
Veterans of Foreign Wars
As at September 24, 2010, the Political Action Committee of Veterans of Foreign Wars endorsed Sander Levin in his campaign for office.[8]
Staff
The following have worked as staff members for Dale Kildee:[9]
External links
References