Cybele Locke
From KeyWiki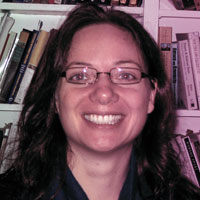 Cybèle Locke is a a senior lecturer in history. She identifies as a twentieth-century New Zealand social, cultural and labour historian. In her first book, Workers in the Margins: Union Radicals in Post-war New Zealand, she explored the roles women, Māori, Pasifika and unemployed workers played in working-class organisations and protest. Oral history enabled the recovery of people's experiences who have been marginal to the historical record. She has almost completed a book-length biography of Auckland communist and trade union leader Bill Andersen (1924-2005). Andersen's life is a window through which to examine the intersection between communism, trade unionism and social movements, from the 1930s to the early twenty-first century. Post-1972 New Zealand campaigns to eradicate the gender wage gap and the organisation of office workers in the United States are the subjects of her next research projects.
She was a Visiting Assistant Professor in the Department of Gender and Women's Studies at Connecticut College.[1]
A friend of Mab Segrest. Daughter of Terry Locke. Niece of Keith Locke and Maire Leadbetter.
Counterfutures
Counterfutures Advisory Board 2021. Ozan Alakavuklar, Maria Bargh, Anita Brady, Cassandra Barnett, Sophie Bond, Toby Boraman, Shannon Brincat, Ciara Cremin, Karen Davis, Eli Elinoff, Peter Howland, Campbell Jones, Cybele Locke, Georgia Lockie, Dougall McNeill, Brett Nicholls, David Parker (New Zealand) David Parker, Helen Potter, Nate Rigler, Brian Roper, Murdoch Stephens, Giovanni Tiso, Cindy Zeiher.
Living Wage Porirua
Lyndy McIntyre September 25, 2018 ·
Living Wage Porirua met tonight to plan another great event in our campaign to win the Living Wage at Porirua City Council. — with Hiueni Nuku, Jenny Dawson, Cybele Locke, Andrew Chick, Mark James, Jody Anderson and Jenny Collett in Porirua, New Zealand.
ARENA
2001 - ARENA Advisory Board members were Jon Barnett ,Aziz Choudry, Luke Coxon, Radha D'Souza, Tim Howard, Cybele Locke, Garrick Martin, Bill Rosenberg, David Small, Desigin Thulkanam.
People's Network
Individuals contributing to the People's Network's Common Ground included Azziz Choudry , Don Borrie , Don Ross (leader of the Organisation for Marxist Unity), Paul Maunder, Jim Delahunty, Ben Nathan , Moana Cole, Murray Horton leader of CAFCA), Madeleine Burdon (formerly in the Maoist controlled, Working Womens Alliance) Oliver Hoffman (Green Party), Alistair Shaw, David Fleming, Cybele Locke, Lisa Beech, Steve Collett, Joss Debreceny and Kyle Matthews -all Aotearoa Youth Network, David Small (ex Canterbury University Progressives Club), Tauni Sinclair (planned to visit Cuba in January 1997), Noeleen Landrigan, Kevin McBride, Jim Consedine, Jeff Drane, Josie Lander, Peter Healey (all Catholic activists, priests or nuns), Sue Bradford, Bill Bradford, Robert Reid and Maxine Gay (all former members of the Workers Communist League).
AYN regional contacts
External links
References