Curt Weldon
Jump to navigation
Jump to search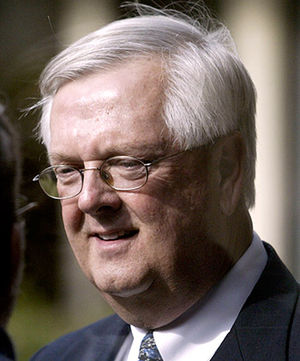 Rep. Curt Weldon is a Republican U.S. Representative for Pennsylvania.
Attended Event Honoring Rev. Sun Myung Moon
On March 23, 2004, a congressional reception was held in the Dirksen Senate Office Building, Washington, D.C., honoring Korean-born businessman and religious leader, the Rev. Sun Myung Moon. Moon, 85, has been controversial for years. Renowned for officiating at mass weddings, he received an 18-month prison sentence in 1982 for tax fraud and conspiracy to obstruct justice. In a 1997 sermon, he likened homosexuals to "dirty dung-eating dogs."[1] Democrats Sen. Mark Dayton of Minnesota, Rep. Danny K. Davis of Illinois, Rep. Sanford D. Bishop, Jr. of Georgia; and Republicans Rep. Roscoe G. Bartlett of Maryland, Rep. Christopher B. Cannon of Utah, and Rep. Curt Weldon of Pennsylvania – received "Ambassadors for Peace" awards at the ceremony. There were reportedly 81 members of Congress total at the event.[2]
Russian connections
In late April 1999, Representative Curt Weldon took a congressional delegation including Dennis Kucinich, Bernie Sanders, Roscoe Bartlett and others to Kosovo. The purpose of this delegation was to negotiate a Kosovo peace agreement. The negotiations involved our delegation, a group of Russian Duma members, and people close to genocidal dictator Slobodan Milosevic. Russia also sent Russian Mob connected Victor Chernomyrdin as its envoy to Kosovo.
References