Corey Walker
Jump to navigation
Jump to search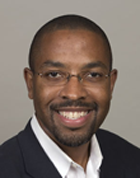 Template:TOCnestleft Corey D. B. Walker is Assistant Professor of Africana Studies at Brown University, author of the forthcoming book, Between Transcendence and History: Theology, Critical Theory, and the Politics of Liberation. He is a member of the National Political Committee of the Democratic Socialists of America[1].
Corey Walker is Vice President, Dean and Professor of Religion and Society at the Samuel DeWitt Proctor School of Theology of Virginia Union University. A scholar of African American social, political, and religious thought, Dean Walker has published broadly on African American religion and philosophy, African American history and culture, and religion and American public life. Dean Walker is the author of A Noble Fight: African American Freemasonry and the Struggle for Democracy in America (University of Illinois Press) and has completed the manuscript for his next book entitled Between Transcendence and History: An Essay on Religion and the Future of Democracy in America.
He is editor of the special issue of the journal Political Theology on "Theology and Democratic Futures" and Associate Editor of the award winning SAGE Encyclopedia of Identity. He has published over fifty articles, reviews, book chapters, and essays appearing in wide range journals such as Amerikastudien/American Studies, boundary 2, Cahiers Charles V, C.L.R. James Review, Journal of American History, Journal of the American Academy of Religion, and South Atlantic Quarterly. Dean Walker co-directed and co-produced the documentary film fifeville with acclaimed artist, filmmaker, and University of Virginia professor Kevin Jerome Everson. Dean Walker has served as Book Review Editor and as an Associate Editor of The Journal of the American Academy of Religion, generally considered the top academic journal in the field.
Honoring James Cone
September 3-7, 2018 Black Perspectives, the award-winning blog of the African American Intellectual History Society (AAIHS), is hosting a week-long online forum honoring theologian Rev. Dr. James Cone, one of the chief progenitors of modern Black intellectual thought. Cone's critical efforts to catalyze Black liberation theology have undoubtedly shaped religion and history, both through the innumerable students he trained but also through the moving of his work in the world. Our upcoming forum will honor his life and legacy, highlighting his influence across the various fields he shaped. Organized by Associate editor J.T. Roane, the forum will feature essays from Lilian Calles Barger, Wende Marshall, Vernon Mitchell, Jr., Xavier Pickett, Todne Thomas, Corey D.B. Walker, and Judith Weisenfeld.
The forum begins on Monday, September 3, 2018 and concludes on Friday, September 7, 2018. During the week of the online forum, Black Perspectives will publish new blog posts every day at 5:30AM EST. [2]
2006 YDS conference
The Young Democratic Socialists' winter conference, cosponsored by the Columbia University Working Families Party chapter, was held February 17-19 2006, in New York City. It was entitled "Turning the Tide Towards Freedom: Building the Youth and Student Movement for Justice."
Irene Schwoeffermann, Anna Kamenetz, Jay Woodson and Democratic Socialists of America NPC member Corey Walker lead a plenary discussion. [3]
2008 YDS event
On the heels of a strong Young Democratic Socialists turnout at DSA's 2007 national convention, its winter outreach conference's success represents another stepping stone for a revived YDS. The conference title, "Be Realistic, Demand the Impossible: Reviving Democratic, Socialist, and Youth Activism," honored the spirit of the young radicals of 1968 and reflected similar hopes and dreams that continue to motivate young activists forty years later.
On Friday evening February 15, 2008, the conference opened with a panel discussion: "2013 Isn't Soon Enough: The Anti-War Movement Post-Bush." The gathering of close to one hundred young activists served both as conference opener and an Iraq Moratorium event. YDS has participated in numerous Iraq Moratorium events (monthly actions to raise awareness against the war in Iraq) since September and the panel showcased our grassroots work on a national stage. [4]
Saturday's opening plenary, "The Struggle for Racial Justice Under Capitalism," moderated by YDS Anti-Racism Coordinator Emahunn Campbell, featured Columbia University professor Manning Marable, immigrant rights organizer Monami Maulik, and DSA National Political Committee member and Brown University Professor of Africana Studies Corey D.B. Walker. The speakers addressed the need to connect the struggle for socialism to the fight against racism. Marable analyzed how the origins of capitalism depended on racist ideology; he further contended that a prerequisite for the elimination of racism would be the abolition of capitalism.
Socialist International
US delegates to the Socialist International 13th Congress, Athens, Greece June 30th 2008 included Carol Browner, a delegation from Democratic Socialists of America; Frank Llewellyn, Corey Walker, George Roberts, David Duhalde and Alejandro Duhalde plus another DSA member Andrew Hammer attending with the International League of Religious Socialists, former New American Movement radical Jeremy Rifkin representing the Foundation on Economic Trends and Puerto Rican Independence Party, Ruben Berrios Martinez and Maria Jose Cisneros[5].
2011 YDS Winter Conference
On the weekend of March 18th-20th, 2011, the Young Democratic Socialists held their annual Winter outreach conference "Their Crisis, Our Pain: The Democratic Socialist Response to the Great Recession". Cornel West "will be the featured speaker on Saturday the 19th, and we will also host John Nichols, Bertha Lewis, Mark Engler, and Dan Cantor from the Working Families Party.
Other listed speakers included Komozi Woodard, Corey Walker, Fabricio Rodriguez, Christian Parenti, Stephanie Fairyington, Christine Kelly, Sheila Collins, Billy Wharton, Liz Shuler, Martin Weinstein, Michelle O'Brien, Skip Roberts, Joseph Schwartz.
Panels on race, the environment, organizing, and other topics will allow participants to learn from and communicate with fellow activists on some of the most important domestic and international issues. The event is perfect for both newcomers to Democratic Socialism/YDS, as well as activist veterans.
Add your name to the list here and you'll be notified when online registration goes live. Invite all your friends!
Location, Bayard Rustin High School 351 W 18th St New York, NY 10011.[6]
References