Conrad Worrill
Jump to navigation
Jump to search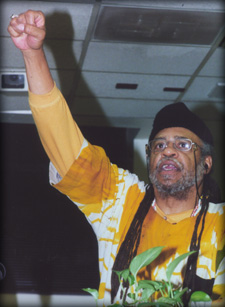 Template:TOCnestleft Conrad Worrill
New Mayor and New Politics
Conrad Worrill was a major organizer in Harold Washington's Mayoral campaigns[1].
Harold Washington for Mayor of Chicago
Circa late 1982, members of the Citizens Committee/Harold Washington for Mayor of Chicago (in formation) included Conrad Worrill.[2]
On May 17 1983 Conrad Worrill was a Panelist on A New Mayor and New Politics forum at Chicago State University Auditorium.
The election of Harold Washington as Mayor of Chicago was more than one man's victory. It was a progressive people's declaration. The Black community and progressive Latinos and whites formed an unbetable force in a campaign for justice and equality.
Panelist were Paul Booth, Juanita Bratcher, David Cantor, Slim Coleman, Danny Davis, Keith Davis, Ron Davis, Ishmael Flory, Rev Harry Gibson, Nancy Jefferson, Richard Newhouse, Lu Palmer, Art Vasquez, Conrad Worrill sponsored by Black Press Institute and Independent Citizens Alliance[3].
Nation of Islam and the Million Man March
Conrad Worrill wrote an article posted at the Indianapolis Recorder on July 1, 1995 explaining how the Minnesota Chapter of the Million Man March named itself Men Are Responsible to Cultivate Hope (MARCH), led by Minister James Muhammad.[4]
The historic call by Minister Louis Farrakhan and the Nation of Islam for 1 million Black men to march on Washington, D.C. on Oct. 16 has the potential to be one of the most important events of the Black liberation movement in the 20th century.
[...]
In St. Paul, Minn., another broad coalition of Black men has emerged in preparation for their organized participation in the march. They call themselves MARCH, Men Are Responsible To Cultivate Hope. This effort is being led by Minister James Muhammad.
According to the article, which decries "white supremacy," some of the demands include "reparations," and what appears to be the means to create an independent black state. In his 2014 book, "My Country Tis of Thee," Keith Ellison claims that Men Are Responsible To Cultivate Hope still meets and he tries to stop by occasionally.[5]
National Black United Front
In 1996 Worrill was head of the US's largest secular black-nationalist organization, the National Black United Front. At the time he was a professor at Northeastern Illinois University's Center for Inner City Studies and was prominent speaker at 1995's Million Man Man March[6].
References