Connie Hogarth
From KeyWiki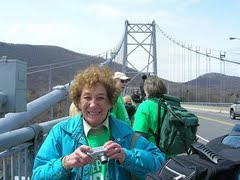 Connie Hogarth is Cofounder and former Executive Director of Wespac C. Hogarth Center for Social Action, Manhattanville College. She serves on the Advisory Board[1] of the Committees of Correspondence for Democracy and Socialism.
A leader on the political left[2]in New York City's northern suburbs, Hogarth has worked to ban the bomb, end racial segregation, stop the Vietnam War, abolish the death penalty, shut down nuclear power, impeach President Nixon, free Nelson Mandela, elect Jesse Jackson, X'67, disarm the Central American death squads, and form a Palestinian state.
A 1999 dinner program honoring her activism included written tributes from Jesse Jackson, Jr, actor Ossie Davis, writer Grace Paley and former U.S. Attorney General Ramsey Clark, who called her "an American Joan of Arc, a mighty moral force."
Early life
Raised in Brooklyn, Connie Holubar walked her first picket line[3] as a child with her father, a movie projectionist and union organizer. After three semesters at New York City's Hunter College, she won a scholarship to Chicago, where she was pre-med and also began her years-long studies of modern dance.
Activism
She moved back to New York following graduation and, after failing to win admittance to medical school, she became a medical researcher.
She worked under[4] Jacob Auslander, who, as a member of the McCarthy-era Joint Anti-Fascist Refugee Committee, was sentenced to three months in jail and a $500 fine. One of his patients was Ring Lardner Jr., one of the blacklisted Hollywood Ten. When Julius Rosenberg and Ethel Rosenberg went on trial for espionage, she traveled to Washington, DC, for her first Capitol protest. "I was immersed in the political life of the times," says Hogarth. "It was a revelatory and rich experience."
In 1953 she married cartoonist Burne Hogarth, who drew the Tarzan comic strip (1937–50) and founded the art school that became New York's School for the Visual Arts. Soon after son Richard was born in 1956 and son Ross in 1959, the Hogarths moved to suburban Westchester County.
She and Burne divorced in 1981, and nine years ago she married Art Kamell, a longtime activist and former labor lawyer.)
Hogarth's activism deepened after moving to Westchester, as the U.S. involvement in Vietnam grew and the antiwar movement gained traction. She was active on both the local and national level, working for the Women's International League for Peace & Freedom while also helping to found Northern Westchester People for Peace. In 1973 she helped start WESPAC, whose membership peaked at 5,000 in the early 1980s.
Hogarth also put her body on the line[5] in civil disobedience. Her first of some 20 arrests came in 1968 outside the White House, where she and 30 other protestors staged a "die-in," lying down at the gates to symbolize how many people died in Vietnam that day. Four months after the 1979 near-catastrophe at the Three Mile Island nuclear plant, she led one of Westchester County's biggest protests ever, as more than 4,000 people marched on the Indian Point nuclear complex on the Hudson River, 17 miles south of her home.
After 9/11, Hogarth renewed her interest in Indian Point activism. One of the planes that crashed into the World Trade Center flew a route almost directly over Indian Point. Suddenly suburbanites who had come to accept the risks of nuclear power feared that the plant, only 40 miles north of New York City, could become a terrorist target.
Letter to Judge Thapar asking for leniency for the Oakridge 3
Connie Hogarth signed a letter dated January 9 2014 asking for leniency for the "Oakridge 3":[6]
January 9, 2014
The Honorable Amul R. Thapar United States District Judge 800 Market Street, Suite 130 Knoxville, TN 37902
Dear Judge Thapur: The Defending Dissent Foundation is a 53 year old civil liberties organization that recognizes the value of dissent in a vibrant democracy. As such, we regard the actions of Sister Megan Rice, Greg Boertje-Obed and Michael Walli on July 28, 2012 as nonviolent civil disobedience in the finest American tradition. Therefore, we respectfully request that you exercise your right to judicial discretion in sentencing these three individuals. The Defending Dissent Foundation takes no position on nuclear weapons facilities or the content of the protest, but it is clear that the three sought to call attention to an issue of national importance and, through symbolic action, voice their concern and opposition. Their goal never was to harm anyone, and no one was harmed. The fact that the three were able to find their way into the facility and reach the uranium storage unit reflects the abysmal security system of the facility. These activists should not be held liable for the closure of the plant for two weeks to address security lapses. It should not be a factor in their sentencing. Non-violent civil resistance and civil disobedience have long played an important role in our democracy, bringing important issues to the public sphere and advancing our society toward justice, freedom and peace. Like others who have undertaken such action, Sister Megan Rice, Greg Boertje-Obed and Michael Walli are willing to serve time in jail, which they have done without complaint. However, to sentence the three to terms of up to twelve years would be an injustice. In your October 1, 2013 Memorandum Opinion and Order you wrote, "Of course, the defendants' non-violence will be relevant at sentencing, since the Court must account for both the "nature and circumstances of the offense and the history and characteristics" of the defendants… Given the obvious differences between the defendants and the paradigmatic saboteur, those factors surely will be worthy of discussion". We applaud your wisdom and insight and strongly encourage you to sentence the three with downward departures from the sentencing guidelines.
1987 Rainbow conference/Board
At the 1987 National Rainbow convention in Raleigh North Carolina, a new board was elected, which included Connie Hogarth.
Frontline Forum
Four participants in the recent Rainbow Coalition convention held a Frontline Forum in New York. 29th October "Jesse Jackson, and '88: what's at stake?".
CrossRoads
In the mid 1990s was[7]a contributing editor to Oakland based Institute for Social and Economic Studies- sponsor of CrossRoads magazine, which sought to promote dialogue and building new alliances among progressives and leftists... and to bring diverse Marxist and socialist traditions to bear while exploring new strategies and directions for the progressive political movements.
Greetings to Committees of Correspondence conference
Connie Hogarth sent greetings to the Second Committees of Correspondence National Conference, held July 12-14 1996, in New York.[8]
Retirement activism
In 23 years as executive director of the Westchester People's Action Coalition (WESPAC), Hogarth took on a bevy of causes before "retiring" in 1996. She was actively organizing for the shut-down of Indian Point nuclear power plants. Ms. Hogarth is a current member of the Indian Point Safe Energy Coalition (IPSEC), and continues to work for the shut-down of Indian Point.
This spring she served on the national Climate Crisis Coalition steering committee, which helped gather 40,000 petition signatures urging U.S. ratification of the Kyoto global-warming accords.
She planned the local American Civil Liberties Union chapter's annual dinner. To find the most politically viable candidate to oppose six-term GOP Representative Sue W. Kelly, she helped plan forums for six candidates seeking the Democratic Party nomination for New York's 19th District. She organized a town-hall meeting calling for President Bush's impeachment, with former U.S. Representative Elizabeth Holtzman, a New York Democrat, laying out the case to a standing-room only audience in Beacon.
On Saturdays she often picks up her neighbor, legendary folksinger Pete Seeger, to meet a gaggle of protestors at a busy suburban intersection, where they urge motorists to honk if they oppose the war. "
Hogarth is also teaching the next generation of activists how to make waves. At Manhattanville College in Purchase, New York, she runs the Connie Hogarth Center for Social Action, begun in 1997 by two professors who'd worked with her on special programs at the college while she led WESPAC. They named the center in her honor and called on her to pitch in. She meets weekly with undergraduates training for social-justice advocacy careers, while designing events that draw national figures like leftist historian Howard Zinn and actress Ruby Dee.
Hogarth has been active in the local NAACP, the Mid-Hudson Progressive Alliance, Lower Hudson Valley Civil Liberties Union and the Beacon Sloop Club[9].
Democratic Party
Hogarth serves as a committee person on the Fishkill Democratic Party Committee and is a member of the Dutchess County Democratic Committee[10].
Climate Crisis Coalition
Connie Hogarth serves on the Steering Committee of the Climate Crisis Coalition. Journalist Ross Gelbspan, who serves on the Climate Crisis Coalition steering committee with Hogarth, says he is impressed by her environmental-movement connections, her commitment, and her ability to catalyze a group. She has helped broaden the coalition's reach, Gelbspan says, by linking with activists in poor neighborhoods where extreme weather conditions exacerbate respiratory illnesses. "When our group comes up with an issue for which no one has a solution," he says, "Connie invariably comes up with suggestions that make things work."
National Committee Against Repressive Legislation
As of April 2006 Connie Hogarth was listed on the Steering Committee of the National Committee Against Repressive Legislation.[11]
Climate Crisis Coalition
Circa 2008, members of the Climate Crisis Coalition Steering Committee were[12];
Ross Gelbspan, Ted Glick, Connie Hogarth, Reverend Paul Mayer, Ibrahim Ramey, Tom Stokes , Judith Thompson.
Independent Progressive Politics Network
In 2009 Connie Hogarth served on the Advisory Committee of the Independent Progressive Politics Network[13].
Defending Dissent
As of Oct 3 2009 Connie Hogarth was listed as a Board Member of Defending Dissent.[14]
References