Connie Hall
From KeyWiki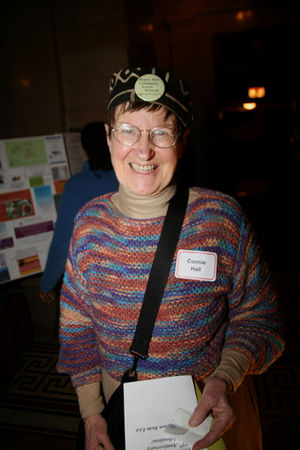 Connie Hall
IVI-IPO
In 1981 Connie Hall was a Chapter Chairperson for the 13th Legislative District of Independent Voters of Illinois-Independent Precinct Organization[1].
Chicago New Party
Madeline Talbott of ACORN was one of the key early organizers of the Chicago New Party.
She wrote a progress report on August 12 1992 which detailed meetings with Joe Gardner, Jackie Grimshaw (Deputy City Treasurer), Jim Pena (Federation for Industrial Retention and Renewal), lawyer Paul Strauss, Frank Rosen (Labor Party Advocates), Connie Hall (IVI - IPO), Greg LeRoy and Lisa Oppenheim, (both Midwest Center for Labor Research). All were supportive.
She was also looking forward to meeting Ron Sable and Dan Swinney and reported that in May Dan Cantor held a New Party fund raising meeting in the Chicago home of Quentin Young, "with half a dozen good people present".[2]
Saluting workers everywhere!
In 2009 the Peoples Weekly World carried an article "Saluting workers everywhere!"
Our unity makes Wall Street tremble
Employee Free Choice and universal health care!
A 'green', demilitarized, democratized economy that works for all!
Illinois Readers of the PWW signed the article.
Terrie Albano & John Bachtell - Jon Allen - Sijisfredo Aviles - Eric Robert Berdell - Carolyn Black & Bill Appelhans - Owen Brill - Helen Boothe - John Bradley - Docia Buffington & Abdul-Aziz Hassan - Cathy Campo & Kevin Lindeman - Cristobal Cavazos, Tania Brown & Anita Naoli - Andrew Chebuhar - Dean Christ & Joan Phillips - Ben Cline - Carmen Cohn & Lance Cohn - Alison Cooper - Clarice Durham - Joan Elbert - Thomas Fineberg & Maxine Fineberg - Oscar Forsman - Connie Hall - Ahmad Hassan - Harold Hill - Dajiang Hu - Marge Gamboa - Mike Giocondo & Carroll Krois - Luster Jackson - Ed Jenks & Mary Jenks - Earl R. Jones - Kenneth Kapel - Molly Kelley & Dallas Brown - Angela Larson & Bamshad Mobasher - Jim Lange - Joyce Lightfoot - Stephen Livingston - Guadalupe Lozano - Pepe Lozano - Bea Lumpkin & Frank Lumpkin - Megan Marshall - Scott Marshall & Roberta Wood - Bill Mackovich - Damien Matthews - Donn Miller - Stanley Moe - Ken Nelson - Tom Pace - Ted Pearson & Kathy Pearson - Martha Pedroza - Hector Pedroza - Shelby Richardson – Mark Rogovin & Michelle Rogovin - Barbara Russum -Armando Santos - Tom Shepherd - Evelyn Swan - Ruth Tregay -Kevin Tyson - John Wojcik.[3]
References
↑

IVI-IPO Letterhead July 23 1981

↑

Madeline Talbott, Chicago NP report August 12, 1992