Connell Crooms
From KeyWiki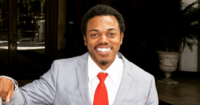 Connell Crooms is close to Freedom Road Socialist Organization/FightBack! in Jacksonville Florida. Connell Crooms ran for Jacksonville City Council in 2019. Crooms lost the general election on March 19, 2019.
Teamsters United
Dave Schneider and his comrades backed Fred Zuckerman, John Palmer & the Teamsters United slate in 2016 union elections.
Dave Schneider November 16, 2016 near Jacksonville, FL ·
You wanna know how we won Florida? This amazing Team right here, plus countless others not in the picture all over the state and in Georgia who believe we need fighting unions, not collaboration with Corporate America. Big shouts out to DP Williams, Connell Crooms, Richard Blake, Fern Figueroa, Jacque Griffin, Greg Vinson, William Workinger and everyone else who made this possible. The future is bright! #512POWER #HowTheSouthWasWon #unionPOWER #MakeTheTeamstersFightAgain — with DW Ponder, Richard Blake and Fern Figueroa.
Syria rally/Jacksonville 5
Police launched reacted strongly to a "No war with Syria" rally in Jacksonville's Hemming Park, April 7. 2017. At least four were arrested, and that one protester was "beaten so severely that he has been hospitalized".
About six Trump supporters attempted to disrupt the 50-person anti-war rally. A Trump supporter got behind the speakers with a pro Trump flag and hit a protester with it; at that point the cops launched their attack.
On demonstrator, Connell Crooms, was punched in the face and kidneys, while a taser was in his back. He was arrested and is now in the hospital. A member of Veterans for Peace, Will Haeger, was punched in the face by the cops. Rally emcee Dave Schneider was arrested across the street, where he was encouraging protesters to go to the jail to support those who had be detained.
"Police completely ignored the pro-Trump provocateurs, as they moved in to unleash merciless beatings. I have never seen this kind of brutality," said Richard Blake, one of the protest organizers.[1]
Five protesters were released on bail from Jacksonville jail on Saturday evening, April 8. The protesters were arrested and several were beaten at a "No War in Syria" rally held on April 7, where police allowed a right-wing provocateur with a Trump flag to enter the protest and physically assault speakers and organizers of the rally.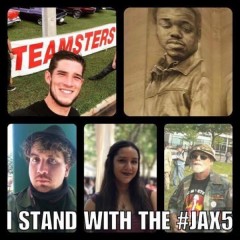 Instead of stopping the provocateur, the police descended upon Connell Crooms, a deaf Black man, who the provocateur had assaulted. The police savagely beat, kicked and tased Crooms - who is a well-known union activist and Black Lives Matter leader in Jacksonville - until he was unconscious and had to be taken to the hospital. The police also beat and arrested a 74-year-old Vietnam veteran, Willie Wilder; the leader of the Jacksonville Coalition for Consent Christina Kittle; and a transgender activist Toma Beckwith. Finally, the police arrested prominent union leader and activist Dave Schneider and charged him with "felony inciting a riot" for organizing the protest. Police did not arrest the provocateur who assaulted protest participants.
On April 8, over 200 people, including leaders in the labor movement, Black community, and progressive groups assembled to demand that all the charges against the Jacksonville 5 be dropped. Supporters chanted "Drop the charges" and the mother of Connell Crooms gave a tearful testament to Connell's character. Community leaders called for a full independent investigation into the police misconduct on April 7, and an investigation into the police spying program on progressive activists in Jacksonville. Just weeks earlier, Jacksonville's Florida Times Union reported that the Jacksonville Sheriff's Office (JSO) had been spying on protesters, amongst them, Dave Schneider, Connell Crooms and Christina Kittle.[2]
Belen Sisa at Rally for Michael Brown in 2014
On August 17, 2014, Fern Figueroa of Fightback! News wrote about an anti-police rally held by Jacksonville Progressive Coalition.[3] Connell Crooms addressed the crowd:
"About 100 people gathered at Hemming Plaza Saturday evening and began chanting as news vehicles drove up. Several interviews were conducted by the local media of protest organizers. Connell Bam Crooms, a Black warehouse worker at UPS and a member of Teamsters Local 512 in Jacksonville, was the first speaker to address the crowd. "Its been 50 years since the Civil Rights Act and here we are still having a conversation about race. Black men in America are viewed as disposable, as evident by the ridiculous rates blacks are imprisoned or murdered by the police compared to whites. Our leaders and their corporations view us as good for nothing but sports and manual labor. You'd be hard pressed to find a Black man in an administrative capacity with a degree and the expertise to make important decisions. If we aren't doing labor for big capital, we are either dead or causing trouble - or so our leaders would have us believe."
After a round of speakers, the crowd began marching downtown to the Police Memorial Building to confront the Jacksonville Sheriff's Office (JSO) and slam them for police brutality in the community.
This comes hot on the heels of Operation Ceasefire, a racist campaign by JSO where police officers attempted to enter over 18,000 homes in the majority-Black Northside of Jacksonville. The JSO officers used this campaign to invade people's right to privacy and terrorize the Black community on a large scale under the pretext of "making people safer" by searching for contraband. JSO also installed surveillance cameras all over the Black community.
Along the way, the crowd chanted, "From Ferguson to Palestine, occupation is a crime," and "Justice for Michael Brown." Other chants included "Same thing every time, being black is not a crime," and "Ferguson, JSO, killer cops have got to go!"
After the march had taken the street and blocked off a lane of traffic on their mile-long march, they got to the Police Memorial Building and assembled on the steps. Several speakers gave fiery speeches to the crowd, including Opio Lumumba Sokoni, president of the local Southern Christian Leadership Conference."
References