Communist Party of Illinois
From KeyWiki
The Communist Party of Illinois is affiliated with the Communist Party USA. Information on the CP of Illinois goes back as least as far as the 1930's (not including books and various newspaper articles) in terms of both the Federal Bureau of Investigation (FBI) and the Military Intelligence Division, U.S. Army (MIDUSA) regarding Minutes of Meetings, though similar materials on the Party go back as far as the 1920's (in U.S. Army files at the National Archives) in other printed formats.
KW is going to reproduce selected MID and FBI documents at the bottom section of this entry because of their historical value. Many of the peoples identified as CPUSA leaders and members from these files will show up in later Party organizations and fronts in Illinois, especially in Chicago, but also as leaders of the "Hanoi Lobby" on Vietnam. Several people, including Harry Canter and Morris Chilovsky Morris Childs will have played key Party and Soviet KGB agent/asset roles in local, state, and U.S. national affairs, quite possibly reaching, as some evidence points to, through both direct and indirect ties, to Barack Hussein Obama and in his rise to the U.S. presidency in 2008.
Additional congressional hearings on the CP of Illinois will be placed, time-wise in this KW section, so that readers/researchers will have published, sworn testimonies to go to for their projects.
Congressional Hearings on Communism in Illinois
"Investigation of Un-American Propaganda Activities in the United States", Special Committee on Un-American Activities (SPCUA), 87th Congress, 2nd Session, on H. Res. 282, to Investigate (1) the extent, of Un-American propaganda activities in the United States (2) the diffusion within the United States of Subversion and Un-American propaganda that is instigated from foreign countries or of a domestic origin and attacks the principle of the form of government as guaranteed by our Constitution, and (3) all other questions in relation thereto that would aid Congress in any necessary remedial legislation". "Committee Print", "Appendix -Part IX, Communist Front Organizations with special reference to The National Citizens Political Action Committee (NCPAC)", 1944. Has many sections on regional, state and local (i.e. city) CPUSA front organizations related to the NCPAC), with many names of leaders and participants.
Hearings on Packinghouse Workers Union *** GET REST OF TITLE
"Hearings on Communism in Chicago" , HCUA, 1965 (GET REST OF TITLE)
"Hearings on Riots at the Democratic Convention", HCUA, 1968 , Parts 1-3, NEED DATES
Events
Cuban Fiesta: May 29, 1976
"Cuban fiesta, music, dancing, slides, chalk-talk, refreshments! Hear from Cuba from 3 who were there:
To be held at Unitarian Chruch of Evanston, 1330 Ridge Avenue, Evanston, Illinois. Donation $3.50, Benefit Daily World.[1]
Same page, same issue: Announcement of invitation "to celebrate with Ruth Schaffner and Nate Schaffner on their 25th wedding anniversary, May 8, 1976, Skokie, Illinois
Also: Modern Book Store, the CPUSA publication outlet, 3230 No. Broadway, 60657, Chicago, Illinois and Guild Books, 1118 W. Armitage, 60614 (city unlisted).
"Memorial Services for Karlin Flory", 1985
In an article about the 1985 memorial service for Karlin Flory, son of "Ishmael Flory, former chairman of the Illinois District of the Communist Party USA, and the late Eloise Boone", he was identified as having been in "many activities for peace and equality" including protests at the South African Consulate, was a "Daily World supporter" who circulated the paper "in the early days of Operation Breadbasket, which later became Operation PUSH".
Among the speakers were:[2]
Musical tributes were sung by:
Survivors included:
Ishmael Flory tribute
Illinois Communist Party USA leader Ishmael Flory was honored at Malcolm X College in Chicago, September 29, 1991, by more than 100 guests.
Margaret Burroughs, a board member of the Chicago Park District MCed the event.
"Ishmael Flory is a man for all seasons...He never gives up", said State Senator Alice Palmer.
Alderman Jesus Garcia of Chicago's 22nd ward cited Flory's role in fostering African-American and Latino unity , and in building multi-racial coalitions for social progress.
Prof. Robert Starks of the Free South Africa Movement said "Ishmael has never failed to compliment me on my speeches, but at the same time he has never failed to pull me aside afterwards, too point out how I could have been a little more "progressive."
Tributes came from Communist Party USA chairman Gus Hall and Illinois organizational secretary Mark Almberg.
Other speakers included Crystal Bujol for the Flory family, long time friend Christine Johnson, Jack Spiegel of the Amalgamated Clothing Workers Union, Ronelle Mustin, peace activist Sarah Staggs, Harold Rogers, who brought greetings from Rep. Charles Hayes, Gerry Oliver, and Carl Bloice of the Peoples Weekly World.[3]
Annual Peoples World banquets
1993 People's Weekly World Banquet
An ad in the PWW of May 15, 1993, p. 19, said the following:
"Chicagoans - Hold the date!"
"1993 People's Weekly World Banquet", featuring:
Friday, June 4, 7:00 PM, Three Happiness Restaurant, 2130 S. Wentworth, Chicago (opposite large parking lot), People's Weekly World, 3116 S. Halsted St., Chicago, IL 60608
Same issue of the PWW:
"Philadelphia: Sunday May 23 from 3 pm to 6 pm, 37 W. Coulter St, "Annual People's Weekly World Dinner" -
"The Economy: What's in it for You?"
Speakers:
$12 Adults; $4 Youth, Unemployed, Strikers
1997 People's World banquet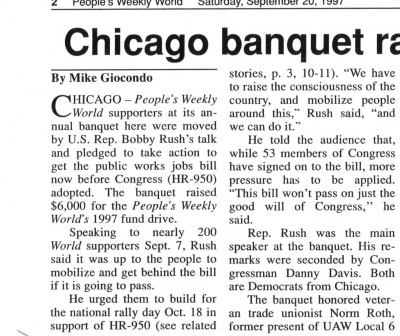 Bobby Rush was the guest speaker at the Chicago Communist Party USA's annual People's Weekly World fundraising banquet, September 20, 1997, which raised $6,000 to support the communist newspaper. 1997. Rep. Rush urged support for the Martinez Jobs Bill (HR-950), then before Congress. His sentiments were echoed by Congressman Danny Davis.
Rush was introduced by Katie Jordan of the Coalition of Labor Union Women.[4]
1998 PWW banquet
According to the Peoples Weekly World October 3 1998, Congressman Danny K. Davis interrupted his campaign work for United States Senate candidate Carol Moseley Braun and gubernatorial candidate Glenn Poshard to present an award at the 1998 Chicago Peoples Weekly World banquet. Davis praised Communist Party USA member and Hani-Lozano Award winner Harry Gaynor's "active role in tearing city's segregated walls and working for peace".
Attendees included;
This event raised $10,000 towards keeping the Communist Party paper afloat.[5].
2000 PWW banquet
The 2000 banquet, held October 28 at the House of Fortune restaurant featured Congressman Danny Davis as guest speaker.
Local honorees were;
A special award went to Evelina Alarcon, co-ordinator to the Cesar E. Chavez Holiday campaign.
Lance Cohn was a banquet organizer.[6]
2001 People's Weekly World Banquet
Excitement filled the House of Fortune restaurant in Chinatown here as Donna DeWitt, president of the South Carolina AFL-CIO, addressed the annual People's Weekly World banquet Nov. 18. The banquet raised $8,000 for the People's Weekly World fund drive.
DeWitt's keynote speech came only days after the release of the International Longshoremen's Association members known as the Charleston Five.
DeWitt, who played a key role in organizing support for the Charleston Five, warned of the right-wing's anti-labor and racist agenda that menace not only her state, but the whole country.
Emblematic of this agenda, she said, is the new campaign launched by South Carolina's aggressive and ambitious Attorney General Charles Condon against immigrants, in particular Mexican immigrants.
Focusing on the current crisis, John Bachtell, PWW banquet committee chairperson and head of the Illinois district of the Communist Party, denounced the terrorist acts of Sept. 11, but warned that "crimes against humanity must be met with global justice, not military tribunals."
The banquet presented its annual "Chris Hani/Rudy Lozano Awards" to three distinguished Chicagoans. Alderman Ricardo Munoz, a Mexican-American member of the Chicago City Council, was honored for his work in the fight for a living wage ordinance and for a new high school for his largely Mexican-American ward.
In his remarks, Munoz denounced the anti-worker trend of the city, state and federal governments. "In the country we have a president who wants to bail out corporations and leave workers hungry and without a job."
The second award recipient, Bernice Bild, has a long, distinguished resume as a fighter for social justice and peace, and has been the chief source of energy and inspiration behind Chicago Jobs with Justice's Committee for New Priorities.
Rev. Dr. Marshall Elijah Hatch, pastor of the New Mount Pilgrim Missionary Baptist Church and coordinator of ministry for the Rainbow/PUSH Coalition, has been a major figure in the movements against police brutality and for housing, among other struggles.[7]
2002 Chicago PWW banquet
Kathy Kelly, two-time nominee for the Nobel Peace Prize, and Ishmael Flory, long-time member of the Communist Party USA, headed the list of honorees at the 2002 annual Chicago People's Weekly World/Nuestro Mundo banquet. Barbara Moore, vice president of the Coalition to Protect Public Housing, and a representative of the Carousel Linen workers rounded out the list of those who had been nominated to receive the Chris Hani/Rudy Lozano Award.
William McNary, president of USAction, was be the keynote speaker. "People's artist" Peggy Lipschutz and singer Christian Lens highlighted the afternoon's cultural presentation.
"We are very proud of our honorees, keynote speaker and entertainers, all of whom represent the finest of today's struggles for peace, justice and democracy," John Bachtell, chair of the banquet committee, said. "They also represent the ideals for which Chris Hani and Rudy Lozano gave their lives."
Bachtell said the banquet committee sees the event "as more than a fundraiser for the People's Weekly World, important as that is. It is also planned as an opportunity to draw strength for a final push to defeat the right wing in this year's election wars."
Bachtell, organizer of the Illinois district of the Communist Party, said the election will be "even more crucial" if the Bush administration succeeds in its effort to win congressional approval for launching a war against Iraq. "We simply cannot allow such a crime to happen," he said.
The Chris Hani/Rudy Lozano Award is named in honor of Chris Hani, one-time commander of the armed wing of African National Congress and General Secretary of the South African Communist Party, and Rudy Lozano, a Mexican-American activist and key player in the campaign that elected Harold Washington as Chicago mayor in 1983. Both were gunned down by assassins.
In addition to Bachtell, banquet sponsors included Rev. Willie Barrow, chair, Rainbow/PUSH Coalition board of directors; Chicago Alderman Theodore Thomas; Katie Jordan, president, Chicago Coalition of Labor Union Women; Rep. Bobby Rush; and Tom Balanoff, president, SEIU Local 1.
Doors opened at 2 p.m., Oct. 20, at the Three Happiness Café, 2130 S. Wentworth.[8]
2003 Chicago PWW banquet
The beat of salsa music pulsed through the spacious hall at UNITE! headquarters in Chicago as activists and leaders from the area's labor, peace, student and equality movements streamed in for the 15th annual People's Weekly World/Nuestro Mundo banquet on November 15.
They came to honor Anita Torrez and Lorenzo Torrez, lifelong fighters for social and economic justice, and to carry on the fight against the ultra-right in the 2004 elections. The two were participants in the historic Empire Zinc strike in New Mexico in 1950 and in the movie, "Salt of the Earth." They were introduced by Jesse Rios, vice president of the Labor Council for Latin American Advancement.
Also honored were Margaret Caples of the Community Film Workshop of Chicago, Ella Hereth and other leaders of the Chicago Student Labor Action Project, and veteran labor journalist and PWW editorial board member Fred Gaboury. All were recipients of the Chris Hani/Rudy Lozano Awards, named after two people's leaders who gave their lives in the fight for democracy and justice.
Katie Jordan, a member of the Central States Joint Board of UNITE! and chair of the Chicago Coalition of Labor Union Women, welcomed the audience and underscored the importance of uniting a broad coalition to defeat George W. Bush next November.
Greetings were brought by Shelby Richardson, Jr., a leader of the Communist Party USA in Illinois, who also stressed the importance of a broad, united front to defeat the GOP in 2004, and paid tribute to the PWW as a key tool in that fight.
Cesar Casamayor, a student leader at Malcolm X College, delivered a powerful, spoken word performance dramatizing the militant rebellion of youth against the ravages of unemployment, cuts in educational programs, and racism.
Over $6,700 was raised for the PWW Fund Drive.[9]
2006 Chicago PWW banquet
Grupo Yubá, a group of Puerto Rican percussionists, singers and dancers who issued the first CD of "bomba" and "plena" music in Chicago, drew listeners into a spontaneous dance during the Chicago People's Weekly World banquetDec. 3. 2006.
In an upbeat mood, more than 140 labor, community, peace and justice activists gathered at the Parthenon Restaurant to celebrate the November election victory and honor several groups for their outstanding work during 2006.
In a spirited keynote, Alderwoman Freddrenna Lyle blasted the obscene wealth accumulated by global corporations and said this proved the need for the labor movement. Lyle was a leader of the fight to pass a Big Box Living Wage Ordinance in the City Council that would have required Wal-Mart and other giant retailers to pay a living wage with benefits. The measure prompted a hostile attack by big business and was later vetoed by Mayor Daley.
Lyle and other aldermen who led the fight are being targeted by the Chicago Chamber of Commerce for defeat in the February 2007 municipal elections.
Elwood Flowers, Illinois AFL-CIO vice president, who introduced Lyle, said she had stood with labor in every difficult fight. More Lyles are needed at all levels of government, he added.
John Bachtell, Communist Party district organizer, welcomed the gathering.
Dr. Margaret Burroughs, co-founder of Chicago's DuSable Museum of African American History, read her poetry and presented her beautiful art prints to Lyle and each of the honorees. Kyle Snyder, a U.S. Army resister threatened with jail, gave greetings and was given a standing ovation.
Every year the PWW banquet gives awards in honor of Chris Hani, South African Communist Party leader, and Rudy Lozano, revered leader of the Mexican American community. Both were brutally assassinated standing up for justice.
Five awards were presented this year. Among the recipients were Health Care Employees Acting at Resurrection Together (HEART), a group of Resurrection hospital workers organizing the hospital chain with AFSCME; and Chicago ADAPT, Americans Disabled for Accessible Public Transit, a group that pioneered the fight to make Chicago's buses accessible to the disabled. ADAPT recently helped lead a sit-in at the Tennessee governor's office over Medicaid cuts devastating to the disabled community.
Elvira Arellano of La Familia Latina Unida, who has taken sanctuary in a church to avoid deportation, was another honoree. Arellano represents 3 million families in danger of being split up by the Bush policies. Unable to leave the church, she sent a video greeting. Emma Lozano, president of the immigrant rights group Pueblo Sin Fronteras, and Arellano's son Saul accepted on her behalf.
Also honored was the March 10th Movement, organizers of the first gigantic immigrant rights rally in 2006 in Chicago. It helped spark rallies nationwide, including 1 million who marched on May Day in Chicago. Accepting were Jose Artemio Arreola, SEIU Local 73 executive board member, and journalist/activist Jorge Mujica, who observed, "Immigration is indeed a difficult problem. Here is an event with a Puerto Rican group playing African-inspired music, singing in Spanish, in a Greek restaurant, in a city founded by someone [Du Sable] born in Haiti."
Bea Lumpkin and Frank Lumpkin, lifelong members of the Communist Party USA and well-known leaders of many labor and community struggles, were honored as well. Recounting her personal encounters with Hani and Lozano, Bea Lumpkin declared, "Ideas of freedom and socialism can never be defeated."
PWW writers Susan Webb and Pepe Lozano emceed the event, which featured a photo slide show of the struggles of 2006.
It was an "inspiring event and everyone had a great time. Best of all, over $5,000 was raised for the PWW Fund Drive!"[10]
2007 Chicago PWW banquet
Veterans for Peace Director Michael McPhearson was the featured speaker at Chicago's 2007 PWW banquet, which drew 140 people and raised nearly $6,000. McPhearson had just come from a meeting of the United for Peace and Justice steering committee. He called for new and broader efforts to mobilize grassroots pressure for peace in the 2008 elections.
The evening opened with a clip from an upcoming film about artist/activist Peggy Lipschutz, whose legendary "chalk talks" have been a fixture of Chicago's labor and progressive scene for decades. Lipschutz, a longtime PWW reader and supporter, was one of the banquet's honorees. Pete Seeger, who performed with Lipschutz over the years and like her is a veteran PWW booster, sent greetings to the event.
Another honoree, Sheila Garland, organizer in Chicago for the National Nurses Organizing Committee/California Nurses Association, which has been organizing Cook County health care workers, brought "greetings from 75,000 nurses across the country." She related how the NNOC has been a leader in the fight against dismantling Chicago's public health system.
Also accepting an award was Ramon Becerra, president of the Chicago metro chapter of the Labor Council for Latin American Advancement. Chicago LACLAA has helped lead the fight for immigrant rights in Chicago, capturing the nation's attention on May 1, 2006, with a demonstration of hundreds of thousands of people.
The program featured Puerto Rican folkloric group Ecos de Nuestra Cultura, hip-hop musician Philip Morris, and Carol Williams, who spent seven years as a saxophone player in the U.S. Army band. She performed "Empty Boots," an ode to the American Friends Service Committee's traveling exhibit of boots symbolizing soldiers killed in Bush's Iraq war.
Chicago's PWW banquet committee, led by John Bachtell, Lance Cohn and Sijisfredo Aviles, was enthusiastic about the diverse, multiracial, young and old crowd. "It was just a wonderful event," said Bachtell. [11]
2008 Chicago PWW banquet
Over a 100 friends, supporters and staff of the People's Weekly World, celebrated the heroic efforts made by local election activists in the historic campaign of President Obama at the Parthenon restaurant in Chicago on Jan. 11, during the 21st Annual Banquet of the People's Weekly World under the theme "Yes We Did it!"
The event, also coined, "The Dawn of a New Era" highlighted numerous victories, big and small, in 2008 that culminated in the election of the country's first African American president, Barack Obama.
James Thindwa, executive director of Chicago Jobs with Justice was the event's keynote. Thindwa spoke about the fight for living wages, ending the war in Iraq, cutting the military budget and supporting Congress and the Obama administration to pass legislation that guarantees union rights and healthcare. Thindwa added that what working families need, in the midst of a financial crisis, is a people's bailout that would put people back to work and stimulate the economy.
Terrie Albano, editor of the PWW saluted each honoree and all activists who helped make change, unity, hope and history a reality framing the important contributions made by the American people mandating a new direction in Washington. Albano also noted that the PWW was there, from day one, covering each and every aspect of the 2008 election year making our publication a first class outlet that reports on the side of working people, labor, it's allies and struggles.
Other Chris Hani/Rudy Lozano 2008 honorees included Republic Windows and Doors workers with the United Electrical, Radio and Machine Workers Local 1110 who led a six-day occupation at their factory. Republic workers won a $1.75 million settlement in severance, vacation pay and health benefits from their employer who closed the factory with three days notice.
A group from Lake County, Indiana with the Service Employees International Union Local 73 was also honored for their commitment and dedication throughout the Obama campaign making the difference and turning that state blue.
The Chicago Youth Voter Collective was honored for their outstanding work in mobilizing over a thousand youth and students during the 2008 election year.
Also honored were Bruce Embrey, Sheena Patton and Tara Brownlee for their grass roots leadership helping to mobilize delegations of election volunteer doorknockers and phone bankers both in Chicago and Indiana.[12]
2009 Chicago PWW banquet
Enjoying great music, food and politics, a full house celebrated the 22nd Annual People's World Banquet Dec. 6 at the Parthenon Restaurant. Several thousand dollars was raised for the PW Fund Drive from supporters who dug deep despite the hard economic times.
The attendees, a rainbow crowd of labor, community and religious activists, entered the festive room to the sounds of the jazz trio, Lovers in Arms, and a running slide show of photos from struggles over the past year.
PW staff writer Pepe Lozano welcomed everyone.
The program was emceed by Katie Jordan, president of Chicago Coalition for Labor Union Women. She said it was vital for all progressive organizations to share in solidarity and CLUW was excited to be supporting the PW. She said the PW was a unique news source whose voice was needed now more than ever.
Author and labor leader Amy Dean keynoted the event. In introducing her, CPUSA labor secretary Scott Marshall called her work visionary and innovative. Dean recounted how she learned some enduring lessons as a young organizer for the ILGWU working with Rudy Lozano and through the election of Harold Washington as Mayor of Chicago, including the kind of commitment it took to fight for worker's rights, the need to build grassroots movements and win political power to effect real change.
She noted while electoral coalitions are one thing, governing coalitions are often another. It's vital that labor and its allies have a say in what policies unfold once their candidates are elected. Dean said much more must be done to build up the movement to ensure the Obama agenda and progressive change is advanced in Congress.
Before the dinner Dean signed copies of her new book, "A New, New Deal: How regional activism can reshape the American Labor Movement" which she co-authored with David Reynolds.
The program was punctuated by a joyful performance of Mescolanza, a new performance group of movement veterans Terry Davis, James Thindwa, Sijisfredo Aviles and Bob Huston who hope to carry multi-cultural social justice song to the picket line, rallies and events. Tim Yeager with his accordion joined them at the end for Solidarity Forever and the International.
For their outstanding contributions to worker's and social justice, the People's World also bestowed the Chris Hani-Rudy Lozano award on Dean, the South Austin Coalition, Chicago Alliance of Charter Teachers and Staff, Campaign for Better Health Care and Carmen Cohn, a long time reader and supporter of the People's World and rank-and-file organizer at Resurrection Hospitals.
Jonathan Vanderbrug, Health Care Justice Director for CBHC, the largest coalition of health care activists and consumers in Illinois, drew attention to the historic political juncture the nation finds itself in. He urged everyone to continue pressing his or her elected officials to pass health care reform with the public option. He said a victory was vital for future reforms including in immigration, climate change, financial reform on Wall Street and passage of EFCA.
Accepting the award on behalf of South Austin Coalition was community organizer Elce Redmond who is also a steering committee member of Chicago Jobs with Justice. The SACCC has a distinguished history organizing grassroots actions on the West Side of Chicago against foreclosures, for living wages and worker's rights. Redmond urged everyone to stick together and to raise the fight for a massive public works jobs program especially for the distressed African American and Latino communities.
Several leaders of the Chicago Teachers Union joined Chicago ACTS - AFT organizers Hugo Hernandez and Thindwa. Hernandez recounted the pioneering union organizing drive of teachers at three Chicago charter schools last spring. In negotiating the new contracts, ACTS is helping close a big wage and benefit gap between teachers at public and privatized schools, and regulating workload for the first time.
The workers at Resurrection Hospitals have been fighting to join AFSCME for seven years. Many have been fired and threatened. But this hasn't stopped Carmen Cohn, a physical therapist, from participating in the organizing campaign. Cohn described how the workers are being mistreated and just the act of organizing the union has forced some concessions from hospital management.[13]
2010 Chicago PWW banquet
More than 100 labor, community, religious, environmental and equal rights activists celebrated the People's World 23rd Annual Banquet in Chicago Dec. 5., 2010.
Supporters wined and dined at the Lee Wing Wah restaurant in Chinatown, honoring the theme, "Let's put people back to work: Rebuild America."
The event was dedicated to two women who had recently died: Dr. Margaret Burroughs, artist and co-founder of the historic DuSable Museum of African American history; and veteran peace and justice activist Joan Elbert.
Katie Jordan, president of Chicago Coalition of Labor Union Women, welcomed all and said of the internationally-celebrated Burroughs that she "was adamant about her legacy and the legacy of African American people. She taught that our roots were not born in slavery, but born in the heart of a land that had kings and queens."
(Burroughs, who regularly attended banquets and once received the Hani-Lozano award, believed art was a vital weapon for social change, often donated her artwork to worthy causes including the People's World.)
Jessica Marshall, a Chicago native and high school teacher, emceed the program. "We might have had some setbacks in the midterm elections but those of us here won't let up. We're not going anywhere when it comes to fighting for justice," she said.
"And during the holiday season there are a lot of people hurting right now. The voice of the unemployed and underemployed must be heard."
Keynote speaker Susan Hurley, executive director of Chicago Jobs with Justice, said the economic crisis was brought on by the greed of Wall Street and big banks, and they should be held accountable for the millions who suffer with no jobs and little recovery.
Hurley said she got started in the fight for workers' rights and social justice through her mom, who comes from the "Evangelical tradition" and the Depression-era where waste of resources was unthinkable.
"Wasting human potential in the richest country of the world is unimaginable and morally outrageous. To think that Republicans in Washington want tax cuts for the nation's most wealthy Americans while millions are left out in the cold is morally outrageous," she said.
Lawmakers ought to be fighting tooth and nail for the needs of hard working families nationwide, including jobs creation and extending unemployment benefits, she said.
"Everyday people are struggling to make ends meet and we at Jobs with Justice and our allies are fighting for what is just and demanding it now," said Hurley.
Special greetings were delivered by Joe Iosbaker, one of 17 peace and justice activists whose homes were raided by the FBI in search of evidence of "material support for terrorism," and were subpoenaed to appear before a grand jury. Iosbaker announced the U.S. Attorney Patrick Fitzgerald issued three new subpoenas on Dec. 5.
Iosbaker said freedom of speech and association were at stake in this fight. He expressed his admiration for communists, socialists and labor and peace activists who had fought the McCarthy witch hunts.
Besides Hurley, those honored were Rick Garcia with Equality Illinois, the Illinois chapter of the Sierra Club, Tio Hardiman, director of CeaseFire Illinois, and the Immigrant Youth Justice League, an instrumental network of undocumented youth who have "come out of the shadows" and are fighting for immigration reform and the DREAM Act.
Garcia is recognized as a key leader who fought and won passage of same-sex civil union legislation. Equality Illinois is a statewide group that advocates for the rights of lesbian, gay, bi-sexual and transgender people. Garcia said he and the organization's field director both come out of the labor movement. "I was trained by Cesar Chavez," he said.
Garcia said the victory is sweet but "we still have a lot of work ahead of us" on equality for same-sex couples, bullying and outreach to gay and lesbian youth.
Tony Fuller, on behalf of Sierra Club, accepted the award and outlined the grassroots effort by the organization to join with others to fight for green jobs and pass the citywide Clean Power Ordinance, aimed at cleaning up the harmful coal-burning power plants in the city.
The banquet is a mixture of food, speeches and music. Interspersed throughout the program were local artists, Jugo De Mango, and educator Amina Norman-Hawkins of Chicago Hip-Hop Initiative.
CeaseFire's Hardiman spoke about his organization's effort to prevent violence and work directly with young people and gangs. He announced the director of "Hoop Dreams," Steve James, has a new movie called "The Interrupters," which will premier at the Sundance Film Festival next year. The movie tells the story of the work by this Chicago-based group to "interrupt" the cycle of violence before it starts.
While the Chicago awards focus on statewide and local struggles, the publication has a nationwide audience. John Wojcik, People's World labor editor, read a message from a Louisiana labor leader thanking the publication for its coverage of the BP oil spill and the spill's impact on working families of the Gulf Coast.[14]
2011 Chicago PWW banquet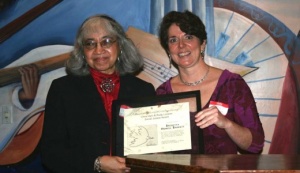 Labor and community activists, elected officials, readers and supporters of the PeoplesWorld.org and MundoPopular.org gathered in Chicago Nov. 20th, 2011, for the annual banquet bash at the Parthenon Restaurant. They feasted on sumptuous Greek food and honored heroes of the growing labor and people's movement.
Keynote speaker Ed Sadlowski, Jr., a leader of Wisconsin AFSCME and Madison capitol occupation described the exploding movement to recall Wisconsin Gov. Scott Walker and restore democracy and worker's rights to the state.
He told how the labor movement was making life unbearable for Walker by following him wherever he went including to Kansas City.
"He's made our lives miserable and we're making his miserable," said Sadlowski.
The roots of the labor movement run deep, he said. Sadlowski credited his own "class struggle" education to his steelworker family and many of those present he had worked with over the years.
"Something's terribly wrong when 1% of the population controls 40% of the nation's wealth," said Congressman Danny Davis, D-Ill., who appeared on behalf of his longtime friend Brenetta Howell Barrett.
Barrett was one of those receiving the Rudy Lozano-Chris Hani Social Justice award.
Davis said it was the steadfastness of fighters like Barrett, who had been in every fight he could recount, that the movement for justice and equality would be successful.
Barrett, who among other things is a leader of Chicago Committee to Defend the Bill of Rights, a former commissioner in Mayor Harold Washington's administration and trailblazing fighter for political independence, said it was critical to reelect Pres. Barack Obama in 2012 and blasted the racist attacks on him.
"Everyone needs to be involved in that fight if we are to have any meaningful change," said Barrett, who it was noted was a master of combining street heat with political and electoral action.
"One. We are the people. Two. We are the united. Three. We are not leaving," chanted Occupy Chicago activists as they came forward to address the crowd. Using the "human mic" they described the growing fight against corporate greed. Each of the 8 young people, all of whom had been arrested demonstrating for freedom of speech and assembly, explained why they had become involved and couldn't sit on the sidelines while Wall Street ran rampant over people's lives.
Enlace, a community group in the Little Village neighborhood was another group honored. Director Michael Rodriguez said he was proud of the role the group played in getting Cook County to stop cooperating with Immigration and Customs Enforcement officials in detaining undocumented workers for potential deportation. Enlace was also a leader of the fight for passage of the Illinois DREAM Act.
Also honored was Mark Clements, a Chicago Police torture victim who spent 20 years in prison for a crime he didn't commit. He urged those present to continue working with him and the Chicago Alliance Against Racist and Political Repression to exonerate all the wrongfully committed and bring full justice to those tortured.
Janet Edburg and Gregory McLaughlin, activists with the South Halsted Unemployed Action Center, urged guests to contact Sen. Mark Kirk and demand he support extension of unemployment benefits and the Obama Jobs for America Act.
In between the food and speeches, some marvelous musical performers entertained guests. Emcee and co-editor of the People's World Terrie Albano noted there was a folk music revival taking place as part of the growing anti-corporate movements.
Visiting from Los Angeles, Laura Cambron performed Son Jarocho, a traditional musical style from Vera Cruz. Also rocking the house were the Hardwood Boys complete with banjo, guitar, washboard and a washtub base. The group performed "If I Had a Hammer" and other folk and labor classics.
Participants donated generously to help make sure the PeoplesWorld.org continues its mission to give voice to labor and community grassroots struggles rising across the land. Everyone left exuberant after a closing rendition of "Solidarity Forever."[15]
People's World party
On May 19, 2013, a People's World party, potluck and fundraiser celebrating international labor solidarity and the fight for immigrant rights. Held at Chicago's Unity Center, which houses the website's editorial offices, Artemio Arreola from the Illinois Coalition for Immigrant and Refugee Rights spoke on the current struggle for immigration reform. Musicians performed traditional songs from Vera Cruz, Mexico, called Son Jarocho. The event, emceed by Melissa Parks, director of a low-income energy program at Unity Center, ended with Ethnic Dance's Paul Collins leading audience members in group folk dances, from countries such as Turkey, Bulgaria, Bolivia and the United States .
Christopher Sims read a poem.[16]
PW backyard fundraiser
Identifications of Illinois Communist Party Members
People's Weekly World Sept. 24, 1994, Page 9 Illinois CP Members
Al Ellis - "Illinois press director for the Communist Party", in "The right party in the right place - the Communist Party" by Scott Marshall
"Building Solidarity Against Corporate Attack", 1995
According to the People's Weekly World, June 24, 1995, Page 19, the PWW was holding a banquet themed on July 9 entitled "Building Solidarity Against Corporate Attack: Saluting Working Women & Men", Hickory Pit Restaurant, 2801 Halsted St., Chicago. "Guest Speaker" included:
"For information and tickets: "People's Weekly World Banquet 1995", 3116 S. Halsted St., Chicago, Ill, 60608, (312) - 842-5665"
May Day Cinco de Mayo Greetings
The following lists are for "greetings" for only May Day and later for combined May Day and Cinco de Mayo greetings, and will be listed by city where mentioned.
1976
The following sent greetings in 1976:[17]
May Day Greetings:
Misc greetings:
1989
From an undated special Mayday Greetings section of the CPUSA's People's Daily World (PDW), in a section for "IL" (Illinois), we find the following:
"Unite to break the monopoly grip of Commonwealth Edison!" from the new fighting 47th ward - Chicago
References