Committee to Defend Diane Bukowski and Freedom of the Press
Jump to navigation
Jump to search
Template:TOCnestleft Committee to Defend Diane Bukowski and Freedom of the Press
Bukowski arrested and charged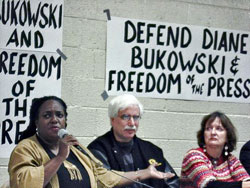 Freelance journalist Diane Bukowski, whose byline appears frequently in far left The Michigan Citizen newspaper, was convicted May 1 2009, on two felony charges stemming from her involvement as a reporter on the scene of a deadly police chase in Detroit on Nov. 4.
Bukowski was arrested as she attempted to photograph the grisly scene and after a state trooper yelled to her, "Who the f**k do you think you are?" Police confiscated her camera, deleted her photos and claimed Bukowski had crossed yellow crime-scene tape, which she denied.
Bukowski was originally charged with one misdemeanor count of obstructing an investigation. But Wayne County prosecutor Kym Worthy charged Bukowski with five felony counts that totaled a possible sentence of 20 years in prison. The prosecutor's office later dropped three of the charges.
Bukowski and The Michigan Citizen, a Detroit-based weekly "addressed to African Americans and the progressive community", had a history of successfully fighting for access to public documents from the prosecutor's office in police brutality and murder cases. Bukowski had written dozens of stories "chronicling police brutality, prosecutorial misconduct and police murders in Detroit. She is well-known in the community as a strong anti-racist fighter and reporter on issues involving foreclosures, utility shutoffs and union struggles".
The "railroading" of Bukowski on "trumped-up charges aroused strong community support from unionists, political leaders and community organizers who formed the Committee to Defend Diane Bukowski and Freedom of the Press. Bukowski and her supporters say this is a clear-cut case of retribution by the cops and prosecutor for her role in exposing the many injustices of the criminal justice system."
A meeting to organize further support for Bukowski and her appeal took place May 7 2009 at the offices of The Michigan Citizen. [1]
Every anti-racist and progressive activist in Michigan has a stake in the final outcome of this case.
Diane Bukowski defended
Detroit activist Diane Bukowski has become a cause celebre for the Michigan left.
She was sentenced to probation, community service and fines following a trial ending May 1 2009, on two felony counts of resisting and obstructing a police officer.
In a hearing Friday, Nov. 20, 2009 trial Judge Michael Hathaway granted Bukowski's motion for an evidentiary hearing and scheduled it for Dec. 23.
"It was a significant event in the process of vindication," Attorney John Royal said following the hearing.
Bukowski was tried on charges stemming from a doubly fatal accident following a police chase of a motorcyclist and a pedestrian hit during that chase, Nov. 4, 2008.
One of the strongest issues on appeal, Royal said, was that Judge Beverly Hayes-Sipes, who presided at the preliminary hearing, dismissed all charges against Bukowski that crossing the yellow accident scene tape constituted resisting and obstructing. Hayes-Sipes bound Bukowski over only on allegations that she had physically resisted being arrested and hand-cuffed.
The prosecutor never appealed the Hayes-Sipes ruling, Royal said, yet at trial, Assistant Prosecutor Thomas Trzcinski tried her and the judge instructed the jury to consider whether she had crossed the yellow tape as constituting resisting and obstructing.
Crossing the yellow tape was an issue that was not properly before Judge Hathaway, Royal said. "No one brought that to the court's attention. It is one basis for arguing ineffective assistance of counsel."
Royal explained he thinks that after the prosecutor saw the Channel 2, Fox News video tape of the accident scene, which caught the arrest and handcuffing of Bukowski on tape, that there was, from his perspective, clearly no evidence of Bukowski resisting the officers.
Bukowski's lawyers John Royal and Sharon McPhail argue selective prosecution, why was reporter Bukowski prosecuted while other media outlets and reporters routinely cross the yellow line[2].
Supporters
Supporters of the Committee to Defend Diane Bukowski and Freedom of the Press included[3];
Publisher, Catherine Kelly
Editor, Teresa Kelly
U.S Rep. John Conyers
Detroit City Cncl. Pres. Monica Conyers
Pres. Pro-Tem JoAnn Watson
frmr. Councilwoman Attorney Sharon McPhail
Det. Sch. Brd. Mbr. Marie Thorton
Alabama NAACP Pres.Ed Vaughn
former Judge Claudia Morcom
State Rep. Lamar Lemmons, Jr.
State Sen. Hansen Clarke
Leamon Wilson, Pres.AFSCME 312, Co.25 Reg. IVP
John Riehl, Pres.AFSCME 207
Shawndrica Simmons, Pres. AFSCME 3309
David Sole, Pres. UAW 2334
Phil Schloop, Bus. Mgr. OEIU 547
Dempsey Addison, President APTE
Cecily McClellan, Vice-President APTE
Michigan ACLU
Jonina Abron, frmr. edtr. Black Panther Party Newspr
John Woodford, frmr. editor/chief, Muhammad Speaks Newspr.
Charles Simmons, Prof. Journalism & Law, EMU;
National Lawyers Guild (Detroit chapter)
Attys. Matthew Abel, David A Robinson, John Royal, George Washington, Tom Lavigne, Gary Benjamin, Marilyn Mullane, Tom Stephens, and Hugh Davis-(Buck)Davis
Bukowski Tax Serv; Mark Bukowski & Cecilia Bukowski
Derek Grigsby, Chr. Det. Green Party USA
Fred Vitale; Teppert St. Blk.Clb.
Richard Clay: MAAS, BlackBoysinCrisis.com;
Aziz Adisa Masai, M.Ed;
Roderick Casey, Pres. PODUE
BAMN
Steve Conn, teacher;
Heather Miller, teacher
Detroit Solidarity
The Universal Contact Center Church, EPAC
The Raging Grannies of Metro Detroit
City Cncl.cnd. Karinda Washington
Bill Wylie-Kellerman, St. Peters Episc.
Orig. Det.Cltn.v.Police Brutality
Minister Malik Shabazz
Judy Roberts family
References