Color of Change
Jump to navigation
Jump to search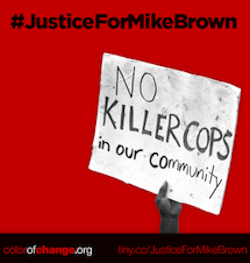 Color of Change is a progressive community organizing group focused on mobilizing black Americans co-founded in 2005 by James Rucker and Van Jones.[1]
Hillary Clinton Connection
Color of Change is listed as a "partner" of Hillary Clinton's group Onward Together.[2] Other Partners are Arena, Alliance for Youth Action, The Collective PAC, Demand Justice, Emerge America, Indivisible, iVote, Latino Victory, National Domestic Workers Alliance, Run for Something, Swing Left and Voto Latino.
"Communities Against Hate" Leader
Color of Change is listed as a leader of the Open Society Foundation's Communities Against Hate initiative. [3]
Corporate Pressure
Excerpt from the Onward Together website:[4]
White House Community Policing
On July 13, 2016 Rashad Robinson, Executive Director of Color of Change attended a Community Policing meeting at the White House. Barack Obama "met with a range of people at the Eisenhower Executive Office Building...to discuss community policing and criminal justice..." Invitees included "activists, civil rights, faith, law enforcement and elected leaders – to have a conversation about ways we can keep people safe, build community trust, and ensure justice for all Americans."[5]
Anti-Andrew Breitbart Campaign
In 2011, Color of Change "marshaled 43,000 calls to HuffPo demanding that the front page be Breitbart-free," as reported by journalist Dave Weigel for Slate. Weigel explained that the Color of Change "campaigns with a 1-2-3 strategy: Pick 'race-baiting' conservative. Demand that the conservative lose his platform. Melt the phones and inboxes until victory."[6]
Defended Voting Rights in Ohio and Georgia
In 2014 PowerPAC+ partnered with national and local groups Color of Change, Campaign for America's Future, the New Georgia Project and the Ohio Legislative Black Caucus.
Partners
The Collective PAC July 3, 2018.
Join the #CollectivePAC in New Orleans THIS FRIDAY for a special town hall meeting on the power of black women to transform America! We'll be joined by special guest #DonnaBrazile and our partners MoveOn, Higher Heights for America, Color of Change, Democracy in Color & BlackPAC.[8]
Staff
References