Color of Change
From KeyWiki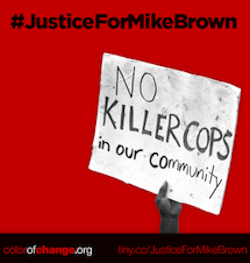 Color of Change is a progressive community organizing group focused on mobilizing black Americans co-founded in 2005 by James Rucker and Van Jones.[1]
Hillary Clinton Connection
Color of Change is listed as a "partner" of Hillary Clinton's group Onward Together.[2] Other Partners are Arena, Alliance for Youth Action, The Collective PAC, Demand Justice, Emerge America, Indivisible, iVote, Latino Victory, National Domestic Workers Alliance, Run for Something, Swing Left and Voto Latino.
"Communities Against Hate" Leader
Color of Change is listed as a leader of the Open Society Foundation's Communities Against Hate initiative. [3]
"Communities Against Hate is a national initiative to collect data and respond to incidents of violence, threats, and property damage motivated by hate across the United States. The initiative leverages a reporting database (communitiesagainsthate.org) that aggregates reports from victims, witnesses, and news accounts of hate incidents, as well as offers legal resources and social services to support people in need. Communities Against Hate aims to aggregate data on hate incidents, providing legal and social support, raising awareness, and educating the public on the prevalence of hate.
"The initiative is led by the Leadership Conference Education Fund, the Lawyers' Committee for Civil Rights Under Law, and partner organizations representing diverse communities that reflect the fabric of America, including: Center for Community Change; Color of Change; Genders & Sexualities Alliance Network (GSA Network); Hollaback!; Muslim Advocates; National Council of La Raza; National Network for Arab American Communities (NNAAC); New York City Anti-Violence Project; and the Transgender Law Center. The Southern Poverty Law Center is serving as a strategic advisor to the initiative.
Corporate Pressure
Excerpt from the Onward Together website:[4]
"Over the last year, Color Of Change has been at the forefront of holding accountable those who enable Trump and the extremist, right wing agenda he stands for, from corporate executives to local prosecutors. Color Of Change has led successful campaigns to get Glenn Beck (2011) and Bill O'Reilly (2017) ousted from Fox News; force business leaders to abandon Trump's various business councils; force Paypal, American Express, and a number of finance and tech companies to cut off payment processing — and therefore the fuel — to white supremacist groups that are trying to create more attacks on our values like Charlottesville; and to make sure politicians stand up for freedoms instead of caving to corporate interests.
"Color Of Change will continue leading the fight to end mass incarceration, police violence, and unfair bail practices, while holding prosecutors accountable to making decisions that favor community safety and growth rather than corporate profits. Most critically, Color Of Change will use public pressure to hold Trump's enablers accountable and cut off his power base, end some of the most harmful and far-reaching policies and practices of his administration, and mobilize Black voters at higher and higher levels.
White House Community Policing
On July 13, 2016 Rashad Robinson, Executive Director of Color of Change attended a Community Policing meeting at the White House. Barack Obama "met with a range of people at the Eisenhower Executive Office Building...to discuss community policing and criminal justice..." Invitees included "activists, civil rights, faith, law enforcement and elected leaders – to have a conversation about ways we can keep people safe, build community trust, and ensure justice for all Americans."[5]
Anti-Andrew Breitbart Campaign
In 2011, Color of Change "marshaled 43,000 calls to HuffPo demanding that the front page be Breitbart-free," as reported by journalist Dave Weigel for Slate. Weigel explained that the Color of Change "campaigns with a 1-2-3 strategy: Pick 'race-baiting' conservative. Demand that the conservative lose his platform. Melt the phones and inboxes until victory."[6]
Defended Voting Rights in Ohio and Georgia
In 2014 PowerPAC+ partnered with national and local groups Color of Change, Campaign for America's Future, the New Georgia Project and the Ohio Legislative Black Caucus.
We took the fight to protect voting rights from Ohio to Georgia. And thousands of you nationally signed petitions, donated money, and spread the word about our work to make sure we protect the rights of every voter.[7]
Partners
The Collective PAC July 3, 2018.
Join the #CollectivePAC in New Orleans THIS FRIDAY for a special town hall meeting on the power of black women to transform America! We'll be joined by special guest #DonnaBrazile and our partners MoveOn, Higher Heights for America, Color of Change, Democracy in Color & BlackPAC.[8]
Staff
References