Clinton Jencks
From KeyWiki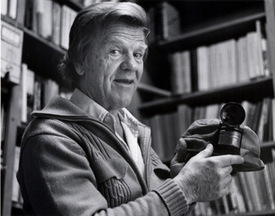 Clinton Jencks, died 2005, was a Southern California academic, and activist.
He was married to Muriel Jencks.
Miners union/Salt of the Earth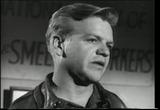 Jencks was hired in 1947 by the International Union of Mine, Mill & Smelter Workers Local 557 in Denver to go to Bayard, NM to work with the Amalgamated Bayard District Union of Mine, Mill & Smelter Workers Local 890, a predominately Mexican-American union. In 1950, Jencks helped Local 890 stage a 15-month strike against Empire Zinc, and was elected its president in 1951.
Shortly after this strike, in the midst of the Hollywood red scare, a group of blacklisted film industry artists formed their own production company and were looking for a story about American working people. They chose a story based on the IUMMSW strike, and used the actual participants in the strike as actors. Clint Jencks essentially played himself. Every step in the production of the film, processing, editing, etc. encountered determined opposition from the industry. It was almost impossible to find theaters that would show the film, but in 1954 Salt of the Earth, starring Clint Jencks opened to very, very limited distribution.
Salt of the Earth was ultimately recognized as a national treasure, and was selected by the Library of Congress as one of 100 films to be preserved for posterity.[1]
Communist Party member?
During the "Jencks Case," in 1954 an undercover FBI informant accused Jencks of being a member of the Communist Party USA.[2]
Academic career
Clint Jencks went on to get his Ph.D. in economics[3]at U.C. Berkeley. He joined the SDSU Economics Department in 1964 and played an important role in the SDSU community and in the SDSU faculty union movement for 22 years.
Memorial to Martin Chancey
In 1981, Grace Doucette, Andy Feenberg, Anne Marie Feenberg, Virginia Franco, Ruth Heifetz, Muriel Jencks, Clint Jencks, Dorie Koppelman, Wally Koppelman, Fred Lonadier, Nick Nichols, Trudy Robideau, Herb Shore, Dave Strom, Jackie Tunberg, Bill Tunberg and Dick Walker signed a memorial to Martin Chancey for his work with the New American Movement.[4]
DSA member
San Diego Democratic Socialists of America[5]regrets to announce that our esteemed member Clint Jencks died on December 15, 2005. Clint Jencks was 87 and was a Professor Emeritus of Economics at San Diego State University, having retired from SDSU in 1986.
After retirement, Clint Jencks remained a familiar figure and participant in DSA and the San Diego progressive movement.
References