Clayton Van Lydegraf
Jump to navigation
Jump to search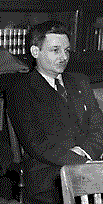 Template:TOCnestleft Clayton Van Lydegraf (1915 -1992), a long-time political activist in the Pacific Northwest and elsewhere, was an important figure in the development of the New Left in the 1960s, first in Seattle and eventually on a national level. He was one of very few veteran activists of the Old Left who early-on understood the importance of the new generation of activists coming up in the mid-1960s - influenced and inspired by the Civil Rights movement and who were motivated by opposition to the Vietnam War. He developed friendships and working relationships with young activists in Seattle at least as early as 1966, informally teaching Marxism-Leninism, strategic thinking, and lessons from his decades of activism dating to the 1930s. His ideas were later important in influencing the development of the politics of Weatherman and the Weather Underground Organization.
Van Lydegraf had been a leader in the Communist Party USA through the 1950s, but he left by the early '60s over political differences. He later joined the Progressive Labor Party, but quit as it descended into dogmatism and sectarianism. He was unaffiliated when he came into the circle of New Left activists, but he joined numerous groups, including Draft Resistance–Seattle and Students for a Democratic Society.[1]
PLP work
PLP's original concept of participation in the trade-union movement was exactly borrowed from the Communist Party USA. This meant slow clandestine work in union committees and in alliance with supposedly progressive union leaders like Harry Bridges of the ILWU, Leon Davis of the 1199 and David Livingston of District 65 in New York. All of the PLM's trade-union cadre were ex-CP'ers, white and mostly middle aged, in their forties and older. They were not inclined to any bold moves, were not in basic industry and were generally not together in a concentration. The one exception was a small group of New York City railroad workers, led by Wally Linder. However, when he was laid off in 1963 the base and membership of PL in railroads dried up and Linder became a full-time PL functionary, "the trade-union organizer." Generally this not impressive trade union base (Considering he was N.Y. State trade union organizer for the CP, Rosen did not take much with him into PLM.) was either dying out (literally) or quitting by 1965. When Clayton Van Lydegraf and Lee Coe quit in late 1966 they took better than one-third of the trade-union cadre with them.[2]
Weathermen Flint "War Council"
December 27-31, 1969, about 400 of the national membership of the Weatherman faction of Students for a Democratic Society held a "War Council" at a ballroom dancehall in Flint, Michigan. Posters of a giant cardboard machinegun, Ho Chi Minh, Che Guevera, and Fidel Castro hung everywhere.
Among the attendees of the "War Council in Flint" identified by the Flint police department and/or its informant were: Michael Avey, Karen Ashley, Bill Ayers, Edward Benedict, Margaret Bennett, Douglas Bernhardt, Jeff Blum, Harvey Blume, David Chase, Peter Clapp, Judy Clark, Bernardine Dohrn, Diane Donghi, Linda Evans, Brian Flannigan, David Flatley, John Fuerst, Lynn Ray Garvin, Bert Garskof, Michele Garskoff, Mark Glasser, Theodore Gold, Lenny Handlesman, Ann Hathaway, Karen Hardiman, Daniel Hardy, Tom Hayden, Phoebe Hirsch, Arthur Hochberg, Anne Hodges, John J. J. Jacobs, Jeff Jones, Sam Karp, David Klafter, Dianne Kohn, Peter Kuttner, Bradford Lang, Stephen Lang, Karen Latimer, Jonathan Lerner, Naomi Lev, Bradford Long, Alan Maki, Eric Mann, Howard Machtinger, Carol McDermott, L.R. Meadows, Lisa Meisel, Jeff Melish, James Mellen, David Millstone, Russell Neufeld, Diana Oughton, John Pilkington, Edward Purtz, Jonah Raskin, Natalie Rosenstein, Dennis Roskamp, Mark Rudd, Karen Selin, Mark Shapiro, Janet Snider, Mike Spiegel, Jane Spiegelman, Marsha Steinberg, David Sole, Susan Stern, Clayton Van Lydegraf, Cathy Wilkerson and Mary Wozniak[3].
Hard Times Conference
In 1976 Clayton Van Lydegraf for Bay Area PFOC attended the Weather Underground and Prairie Fire Organizing Committee organized Hard Times Conference Jan 30 - Feb 1 at the University of Chicago.[4]
References