Clay Claiborne
Jump to navigation
Jump to search
Template:TOCnestleft Clay Claiborne is a California based businessman and socialist activist.
Early life and activism
Clay Claiborne's father Clay Claiborne, Sr. was a senior Republican Party official and conservative activist.
Clay Jr became radicalized in the late 1960s when he became associated with members of the DuBois Club and Students for a Democratic Society at Washington University, St. Louis Missouri.
He also joined the St. Louis Worker Unity Organization, a Maoist group for four years. He probably then joined the October League.[1].
Linux activism
Claiborne got into the computer-building business in 1984, when he founded Cosmos Engineering. In 1996 he started concentrating on computers running Linux both under his Cosmos Engineering brand name and as Linux Beach, a name Clay selected because he has been a devout Venice Beach resident for many years.
Clay Claiborne and his company, Cosmos Engineering, was one of the first computer builders to offer Linux-based PCs and servers. He cofounded the Linux Users of Los Angeles (LULA) group back in 1999, but lately he's dropped out of Linux activism and is spending most of his time on social (mostly anti-war) activism.
Endorsed Marcy Winograd
In 2006 Clay Claiborne a Filmmaker - Vietnam, An American Holocaust was a Peace & Social Justice Community endorser of Marcy Winograd of the Los Angeles Progressive Democrats of America in her unsuccessful primary bid for the Democratic Party nomination 26th Congressional District in California[2]
Vietnam film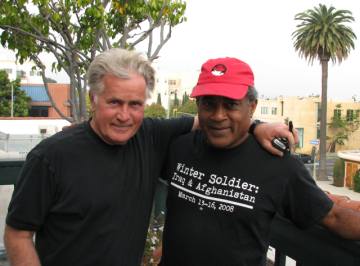 By 2007 Claiborne had wound back is business activities to make a film[3]about the Vietnam War.
He'll still happily build you a Linux-based entertainment center PC, but his current passion is making a Vietnam War video retrospective he hopes will help Americans remember how poorly that adventure ended, and how the experience we gained in Vietnam should should be applied to our occupation of Iraq.
His current main project is a Vietnam War retrospective video based on thousands of TV and film clips taken while the Vietnam War was still going strong, all filed and catalogued in a PHP/MySQL system Clay wrote for himself that runs on his personal MythTV box. The amount of time he's putting into this video project has severely curtailed his business activities; he's still building and supporting Linux computers, but he says that he is currently "dipping into savings" since he cut back his work hours to make more time for anti-war activities.
CCDS Vietnam tour
The Vietnam Women's Union welcomed and arranged a study tour in Vietnam for the Committees of Correspondence for Democracy and Socialism from December 31st 2008 to January 13th 2009.
A CCDS group member, Mr. Clay Claiborne - a film maker, who has just completed a documentary film of US war in Vietnam named "Vietnam Holocaust" also informed that he will make another report of Vietnam after the war with the cause of developing socialism. Another CCDS group member, Mr. Fred Nguyen, a reporter at Pacifica WBAI New York Radio, also completed csme interviews and sent them to the US for broadcasting during the CCDS group's visit to Vietnam.[4]
CCDS convention and Vietnam film
At the CCDS 6th National Convention July 2009[5]in San Francisco, Saturday was the evening of solidarity with Vietnam. It featured highlights of the recent CCDS sponsored tour of Vietnam and the ongoing crisis of Agent Orange. While full of enthusiasm, it had a more painful dimension. Earlier in the day, a powerful documentary film by Clay Claiborne, "Vietnam: American Holocaust" brought all the bitter horrors and memories of those years back to the surface. Claiborne was part of a CCDS Study Tour to Vietnam last year, and after presenting the film to the Vietnamese, they ran it on nationwide television.
References