Clarissa Rojas
Jump to navigation
Jump to search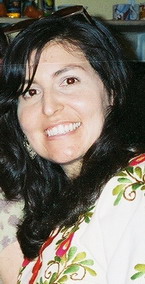 Clarissa Rojas...
Clarissa Rojas was raised in Mexicali, Baja California, Mexico, and Calexico, California. She is a poet, teacher, scholar and activist/organizer. When she was 12 years old, her family immigrated to Chula Vista, California. She began organizing in high school and has devoted much of the last 15 years working to resist violence, in its myriad manifestations, against and within raza, queer and communities of color.
Education
Rojas holds a B.A. in Women's Studies and Chicano Studies from UC Santa Cruz, an M.A. in Ethnic Studies from San Francisco State University and she's recently freed and PhD'd from UC San Francisco's Sociology Department.
Opposing the "War on Terror"
In the immediate aftermath of 9/11 supporters[1]of STORM and the Bay Area Committees of Correspondence for Democracy and Socialism established Ad Hoc Committee 'On Poitical Strategy' to fight against Bush's war against terrorism.
The committee included Betita Martinez, Cindy Wiesner, Max Elbaum, Edget Betru, Harmony Goldberg, Clarissa Rojas, Roxanne Dunbar-Ortiz, John Trinkl, Hany Khalil and Bob Wing.
The group issued an October 5, 2001 statement to other activists;
As we immersed ourselves in the fightback to Bush's war against terrorism, we felt the need to get our political bearings as leftists. So we organized a discussion attended by 27 diverse left activists in the San Francisco Bay Area on Sept. 30.
September 11, and the Bush administration's reaction to it, is a defining historical moment, ushering in a new and dangerous period in international politics. Washington's agenda is to entrench the national security state and a new level of international dominance on the basis of a permanent war on terrorism--bringing the "new world order" to fruition.
The defining political axis of this new period is Washington's international war on terrorism--and the fight against it...The political and ideological balance of forces, demands, and outcomes of all struggles will be affected by this central issue, to one degree or another.
Given this, the fight for peace should be the central demand for the people's movements...However, peace is not a centrist, liberal demand, but in fact is central to an anti-imperialist agenda. Its main content is that of staying the hand of imperialist war and fighting U.S. militarism in all its forms.
Achievements
Clarissa Rojasteaches Ethnic Studies and Raza Studies at San Francisco State University, where she's taught for 9 years. She served on the founding national planning committee of INCITE! and is co-editor of Color of Violence: the INCITE Anthology and appears in The Revolution Will Not Be Funded: The Nonprofit Industrial Complex. Her poetry has been published in literary journals in Mexico and the "U.S." She practices rebel dignity, believes in caracoles, and trusts the creative spirit.
References