Clarice Durham
Jump to navigation
Jump to search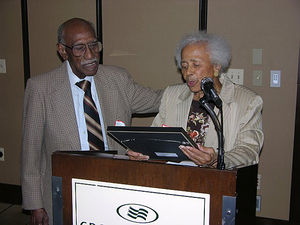 Template:TOCnestleft Clarice Durham is a long time activist in Chicago's African American community and a friend of Timuel Black since high school[1].
She was married to Richard Durham and was the sister-in-law of the late Earl Durham[2].
Early life
Clarice Davis was born in Mobile, Alabama and moved to Chicago when she was eleven years old. She attended Wendell Phillips High School until it was temporarily closed because of a fire. She graduated from DuSable High School where she was the valedictorian of her class.
Clarice Davis met Richard Durham in the early 1940s while working with the National Negro Congress. The couple married in 1942[3].
Activism
During their married life, Clarice Durham made significant contributions to husband's work by reading, editing and typing many of the Destination Freedom scripts. Mrs. Durham has remained a lifelong human rights activist. After working for the National Negro Congress, she was a member of the Progressive Party in Chicago in the late 1940s. Mrs. Durham continues to be an activist for the Chicago chapter of the National Alliance Against Racial and Political Repression and has campaigned for freedom for Mark Clements, a victim of police torture[4].
Richard Criley Memorial
In 2000, Clarice Durham served on the welcoming committee for the Chicago Memorial Service for Richard Criley, a long-time activist with the Communist Party USA and a leader of the Chicago Committee to Defend the Bill of Rights.[5]
Working with Ishmael Flory
Clarice Durham worked closely with life long Chicago Communist Party USA member Ishmael Flory[6].
"He was very persuasive and a consummate organizer," said Clarice Durham, who campaigned with Mr. Flory against South African apartheid. "He could talk to people across all kinds of lines -- social, political and racial."
DSA Dinner
From left to right: Timuel Black, Sidney Hollander, Jane Ramsey, C.J. Hawking, Clarice Durham, and Frank Llewellyn.
On May 1 2009 Clarice Durham presented an award to Timuel Black at the Chicago Democratic Socialists of America 51st Annual Eugene V. Debs-Norman Thomas-Michael Harrington Dinner[7].
...if you are on the left in Chicago and involved in politics in any serious way, you know the name Tim Black if not the person. The award was presented to Tim Black by Clarice Durham, a chum from high school and every bit as much a political activist as he.
NAARPR
In 2009 Clarice Durham was co-chair of the Chicago branch of the National Alliance Against Racist and Political Repression[8].
Saluting workers everywhere!
In 2009 the Peoples Weekly World carried an article "Saluting workers everywhere!"
Our unity makes Wall Street tremble
Employee Free Choice and universal health care!
A 'green', demilitarized, democratized economy that works for all!
Illinois Readers of the PWW signed the article.
Terrie Albano & John Bachtell - Jon Allen - Sijisfredo Aviles - Eric Robert Berdell - Carolyn Black & Bill Appelhans - Owen Brill - Helen Boothe - John Bradley - Docia Buffington & Abdul-Aziz Hassan - Cathy Campo & Kevin Lindeman - Cristobal Cavazos, Tania Brown & Anita Naoli - Andrew Chebuhar - Dean Christ & Joan Phillips - Ben Cline - Carmen Cohn & Lance Cohn - Alison Cooper - Clarice Durham - Joan Elbert - Thomas Fineberg & Maxine Fineberg - Oscar Forsman - Connie Hall - Ahmad Hassan - Harold Hill - Dajiang Hu - Marge Gamboa - Mike Giocondo & Carroll Krois - Luster Jackson - Ed Jenks & Mary Jenks - Earl R. Jones - Kenneth Kapel - Molly Kelley & Dallas Brown - Angela Larson & Bamshad Mobasher - Jim Lange - Joyce Lightfoot - Stephen Livingston - Guadalupe Lozano - Pepe Lozano - Bea Lumpkin & Frank Lumpkin - Megan Marshall - Scott Marshall & Roberta Wood -Bill Mackovich - Damien Matthews - Donn Miller - Stanley Moe - Ken Nelson - Tom Pace - Ted Pearson & Kathy Pearson - Martha Pedroza - Hector Pedroza - Shelby Richardson – Mark Rogovin & Michelle Rogovin - Barbara Russum -Armando Santos - Tom Shepherd - Evelyn Swan - Ruth Tregay -Kevin Tyson - John Wojcik.[9]
Connections
A memorial was held, Nov. 11 2017, where friends, family, and comrades of Josephine Wyatt gathered to remember her 95 years of life and struggle.
Among the speeches about her life was a video from Angela Davis. Josephine had been tireless in the campaign to free Angela Davis and all political prisoners in the early 1970s. She was at the founding convention of the National Alliance Against Racist and Political Repression, which grew out of the struggle for Davis' freedom in 1973. Josephine continued until her death to be a leader in the Chicago chapter, which became the Chicago Alliance Against Racist and Political Repression when the national organization ended.
Josephine Wyatt was born in Georgia, and moved to Chicago in the 1940s, where she and her husband joined the Communist Party USA. A number of the speakers, including her son, spoke about the CP and her dedication to it. One of those speakers was Mark Durham, whose 98-year-old mother, Clarice Durham, also spoke about Josephine, her friend of many years. Clarice continues on the leadership body of the Chicago Alliance.
Josephine was so dedicated to the struggle for Black freedom that when the CP leadership under Gus Hall greatly de-emphasized the Black National Question in the late 1980s, she left the party and carried on the work in the Chicago Alliance. Years later, she recruited Frank Chapman to become active again in Chicago when he left the CP.[10]
References