Cindy Sheehan
From KeyWiki
Cindy Sheehan
Winograd team
Bill Honigman June 10, 2014:
Teamwork 2006.  :-) — with Carrie Darrow Honigman, Marcy Winograd, Cindy Sheehan, Stephen Shaff, Tim Carpenter, Mimi Kennedy, Jodie Evans and Kevin Spidel at SoCal.
Visiting Chavez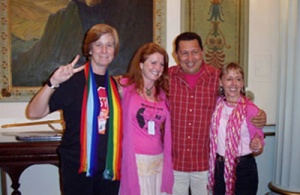 On 28 January 2006, Jodie Evans, Medea Benjamin and Cindy Sheehan visited with president of Venezuela, Hugo Chavez.
United for Peace and Justice Affiliation
In July 2007 Cindy Sheehan representing The Camp Casey Peace Institute was affiliated to United for Peace and Justice.[1]
FightingBobFest speaker
Cindy Sheehan was a guest speaker at Wisconsin's annual progressive Fighting Bob Fest, in 2007.[2]
Free Mumia Abu-Jamal
In 2008 Cindy Sheehan, Candidate, Cindy for Congress, San Francisco, CA; Founder/President of Gold Star Families for Peace, Venice, CA signed a statement circulated by the Partisan Defense Committee calling for the release of convicted "cop-killer" Mumia Abu-Jamal.[3]
National Peace Conference
The National Peace Conference, took place at the Crowne Plaza Hotel in downtown Albany New York, July 2010. Many workshops are scheduled and many leaders of the peace and progressive movements will be there: Cindy Sheehan, Kathy Kelly, Medea Benjamin, Ann Wright, Dahlia Wasfi, Leila Zand, Michael McPhearson, Kevin Martin, David Swanson, Glen Ford, and many others.
Keynote speakers were Noam Chomsky and Donna DeWitt (President of the South Carolina AFL-CIO).
"End The US Occupation Of Iraq"
End The US Occupation Of Iraq, Saturday, October 14th 2006 2:00 – 5:00 PM.
Madison Middle School,5525 N. 16th St., Phoenix.
Special Guest: Cindy Sheehan signing her new book "Dear Mr. President"
MC's: Kyrsten Sinema, AZ Representative and Jeff Farias, Air America, Phoenix KPHX
SPEAKERS:
Special Appearance by "The Bush Chain Gang"
Sponsoring Organizations: Progressive Democrats of America; End the War Coalition; Arizona Democratic Progressive Caucus; Arizona Alliance for Peace and Justice; Code Pink Phoenix;; Democracy for America – Maricopa County; Democracy for America – Tucson; Veterans for Peace Phoenix; Women in Black Phoenix; Tonatierra; 911 Truth of Arizona; Grandmothers for Peace; Changing Hands Bookstore; Air America Radio, KPHX. For more information, Contact Dan O'Neal at dan@pdamerica.org. [4]
People's Congress of Resistance endorsers
Party for Socialism and Liberation - PSL, August 9, 2017;
Conveners, and Endorsers (organizations and individuals) of the People's Congress of Resistance as of August 9, 2017 included Cindy Sheehan.
References