Cindy Farquhar
From KeyWiki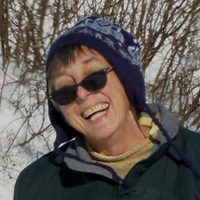 Cindy Farquharis a Baltimore, Maryland activist. She shares a home with Sharon Jones.
Celebrating 100 years of the Party
According to Tim Wheeler a multi-racial crowd from the mid-Atlantic region, Sept. 15, 2019 celebrated the founding of the Communist Party USA (CPUSA) a century ago in 1919, filling a church here with singing, poetry, and calls for the ouster of President Trump.
Kuya Kemet, chair of the gathering, welcomed people who traveled from Virginia and Washington D.C. to join the Baltimore crowd.
Keynote speaker Carol Widom, a leader of the CPUSA from Brooklyn, N.Y., assailed Trump for abandoning Puerto Rico after it was devastated by Hurricane Maria two years ago. It triggered a massive uprising, she said. "It was a broad struggle that went beyond just trying to get rid of the government."
Herself Puerto Rican and a retired New York City school teacher, Widom said the suffering unified long-divided advocates of statehood and independence. A general strike swept the island led by school teachers, electrical workers, and other unions. The women's equality movement, youth, and community groups joined. The "corrupt governor" was forced out, she said, although the "Junta" still enforces colonial domination.
"As Communists, our role is to expose colonialism," she said. Solidarity with Puerto Rico must be a demand in the campaign to defeat Trump, she said. The insurrection in Puerto Rico, Widom continued, "showed the power that workers have to change the world." The crowd applauded and Luci Murphy, a Washington, D.C. singer, led the crowd in singing, "No more racism, we are going to change the world."
Lady Brion, a spoken-word performer, recited her "Prison-Industrial Complex," a modern-day "plantation," with inmates taking the part of chattel slaves.
The church was bedecked with banners and placards: "People Before Profits," "Black Lives Matter," and "Que Viva! Puerto Rico Libre."
Jaime Cruz, a Puerto Rican, now chair of the Claudia Jones CP Club in Washington D.C., praised Widom's call for solidarity. He called for celebration of Claudia Jones, born in Trinidad-Tobago, a leader of the CPUSA imprisoned under the infamous Smith Act and deported to the U.K. during the years of Cold War repression.
Cindy Farquhar, chair of the Baltimore CP Club, presented a history of the Communist Party in Maryland. Highlights included George Meyers' organizing Celanese workers in Cumberland, Md., into the Textile Workers Union in the 1930s. He was later elected president of the Maryland-D.C. CIO. He and a fellow Baltimore CP stalwart, Roy Wood, were imprisoned for four years under the Smith Act. .[1]
Pressuring Ben Cardin
Members of Baltimore Pledge of Resistance went to the district office of Rep. Ben Cardin (D-Md.) June 17 2005, to demand that he speak out against the Iraq war. The group met for several hours with Cardin's chief administrative aide Chris Lynch.
Cindy Farquhar told Lynch she was "disappointed" that Cardin did not sign on to the Woolsey Amendment, named for Rep. Lynn Woolsey (D-Calif.) requiring President George W. Bush to announce an "exit strategy" to bring U.S. troops home from Iraq.
"We're long past the idea that providing a better helmet is 'supporting the troops,'" she said. "We are also asking him to join in pursuing the investigation of the Downing Street Memo. There are 120 House members who have signed Conyers' letter to Bush on that memo."
Lynch asked, "What does the Conyers' letter do?"
Maria Allwine, a Green Party candidate for the U.S. Senate replied, "It asks Bush to answer the Downing Street Memo's allegation that he 'fixed' intelligence on Iraq. Mr. Bush doesn't feel he needs to answer it." Rep. John Conyers (D-Mich.) is the leading Democrat on the House Judiciary committee.
If Cardin "can't even put his signature on a letter demanding that Bush answer those questions, I can see that Cardin doesn't represent me," Allwine said.
As the meeting proceeded, other POR members began reading aloud and attaching to a mock "memorial wall" the names of the 1,700 U.S. soldiers and thousands of coalition troops and Iraqis who have died. "Presente," they said after each name.
When 5:30 p.m. arrived, another Cardin aide announced that the office was closing. Those who refused to leave would face arrest, she warned. Many departed but Farquhar, Allwine, Baltimore Veterans for Peace leader Ellen Barfield, and peace activist, Max Obuszewski made clear they would not leave until they heard from Cardin.
Finally, Lynch telephoned Cardin. The aide returned about 7 p.m. to tell the POR delegation that the Congressman had agreed to three of the four proposals: He would sign on to Conyers letter, endorse Rep. Nancy Pelosi's (D-Calif.) "timetable" for withdrawal from Iraq; and would call for the closing of the U.S. Detention Center at Guantanamo Bay, Cuba.
Cardin conveyed that he wants to meet with the delegation on the fourth proposal: voting against future funding of the war.
"Everyone believes it was a clear victory," Obuszewski told the People's World. "One reason we went to Cardin's office is that he is running for the U.S. Senate. We want to get the dialogue going right now."
Their success, he added, dramatizes the importance of individual and organized group visits to lawmakers during the upcoming July 4 congressional recess. With public support of the war plummeting, he said, many lawmakers, even those who supported the war, can be convinced to support peace initiatives. [2]
Communist Party tribute
In July 2007, the Communist Party USA paper Peoples World published a tribute "We salute Joyce Wheeler" to retiring Baltimore public school teacher and Communist Party member Joyce Wheeler. Cindy Farquhar and Sharon Jones signed the tribute page. Most of the more than 100 signatories were identified Party members.[3]
"Stop the War Machine"
Cindy Farquhar July 25, 2016
With Max Obuszewski and Theresa Reuter.
The Left and Elections forum
The Left and Elections forum in Baltimore Sun. Oct. 24th. Speakers: Les Bayless, union organizer and peace activist, and Cindy Farquhar, member of Progressive Working Group.
Event is free, and there will be plenty of time for discussion about legislative possibilities in the General Assembly in 2011.[4]
New member phone bank
New member phone bank Public · Hosted by Communist Party USA.
Saturday, April 15, 2017 at 11 AM - 4 PM EDT
Your living room
We're organizing a phonebank to our new members on Saturday and we need your help. The callfire service allow you to make the calls from home, using your smartphone, laptop or deskstop. You'll get a real charge from talking to them! Aint' nuthin like it!! Please click "going" if you can make calls! Thanks!
Those invited to participate on on Facebook included Cindy Farquhar.
References