Christine Quinn
From KeyWiki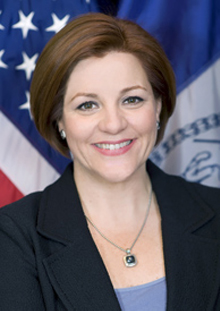 Christine C. Quinn is speaker of the New York City Council.
She has spent her career in public service, fighting for policies and services that are critical to the lives of New Yorkers. Chris started out as a housing organizer, helping low-income tenants stay in their homes and protecting affordable housing. As the director of the Gay & Lesbian Anti-Violence Project, Chris Quinn worked closely with the NYPD against hate crimes.
Since 1999, Christine Quinn has served Manhattan's lower west side in the City Council. She was elected Speaker in 2006.s to support new ventures in the five boroughs.
A longtime advocate for affordable housing, Quinn renewed incentives for developers who build affordable units. Protecting tenants is a top priority – Speaker Quinn passed legislation to allow landlords to be taken to court for threatening tenants or interrupting essential services, as well as forcing landlords to repair dangerous apartments. Her innovative Housing Asset Renewal Program has turned unsold condominiums into affordable middle-income housing.
Speaker Quinn has long advocated investment in early childhood education and has worked to expand the City's universal Pre-Kindergarten program. She has also worked extensively to better our middle schools, and at her urging the Department of Education has funded innovative new programs at the highest-need middle schools in the city.
Quinn and the Council led the environmental movement with legislation, the first of its kind in the nation, requiring manufacturers to collect and recycle electronic waste, and passed a bill establishing a plastic bag recycling program. And Quinn has passed bills to improve energy efficiency in large commercial buildings – a move that will reduce the city's carbon footprint.
As the first openly gay Speaker of the City Council, Quinn has worked extensively on issues of "justice and equality".
Speaker Quinn legislated against harassment at reproductive health clinics and exposed anti-abortion front groups that pretend to be family planning clinics. She coordinated a public/private partnership to expand free HIV testing for tens of thousands of public hospital patients.
Working with immigrants' rights organizations, Quinn recently "ended the injustice at Riker's Island that was turning innocent immigrants over to the INS and splitting up families".
Quinn has worked extensively to expand access to healthy food and reduce hunger. She's expanded access to food stamps for those that need them, and make sure they could be used to buy fresh produce at Greenmarkets around the city.
Quinn and her wife, Kim Catullo, live in Chelsea.[1]
"Community organizer"
Writing in the Huffington Post of September 8, 2008, in an article entitled "From Organizer To Elected Official" Democratic Socialists of America member Peter Dreier listed several serving US politicians who had begun their careers as "community organizers". They were US Senator Barbara Mikulski of Maryland, Representatives John Lewis of Georgia, Jan Schakowsky and Danny Davis of Illinois, Raul Grijalva of Arizona, Linda Sanchez of California, and Donna Edwards of Maryland, Washington House of Representatives Speaker Frank Chopp, Los Angeles Mayor Antonio Villaraigosa, New York City Council Speaker Christine C. Quinn, Minnesota Secretary of State Mark Ritchie, state legislators Beth Low of Missouri, Michael Foley of Ohio, Gilbert Cedillo of California, Tom Hucker of Maryland, Tony Hill of Florida, and Crystal Peoples of New York, Alameda County (California) Supervisor Nate Miley, City Council members Jay Westbrook of Cleveland, Chuck Turner and Sam Yoon of Boston, and Melvin Carter of St. Paul, and San Francisco School Board member Jane Kim. [2]
Socialist Scholars Conference 1990
The Socialist Scholars Conference 1990, held September 6-8, at the Hotel Commodore, New York, included panels such as:[3]
Homelessness and the Right to Housing in New York
Duane relationship
Quinn served as head of the Housing Justice Campaign for the Association of Neighborhood and Housing Development. She entered politics to manage the City Council campaign of Tom Duane in 1991, after which she was Duane's chief of staff for five years. She later became the executive director of the New York City Anti-Violence Project, and was appointed a member of the NYC Police/Community Relations Task Force by then-Mayor Rudy Giuliani.
Quinn's former partner, Laura Morrison, was chief of staff to former State Senator Tom Duane.
Communist Party award ceremony
On November 4, 1999 New York State Assemblyman Richard Gottfried presented State Assembly citations to four honorees, Iris Baez, founder and president of Community and Parents Against Police Violence, Ron Daniels, Executive Director of the Center for Constitutional Rights, Elizabeth Hall, a member of the National Committee of the Communist Party USA and Steelworkers Organization of Active Retirees, and Bobbie Rabinowitz, a founder of the New York City Labor Chorus at the Peoples Weekly World 75th anniversary celebrations at the Henry Winston Unity Auditorium in New York. Event co-chairs were Maria Ramos of the United Federation of Teachers and Carolyn Rummel, managing editor of the Peoples Weekly World. [4]
Chelsea area Council member Christine Quinn, sent a citation from the City Council listing the accomplishments of each of the honorees..[5]
2000 PWW award luncheon
On October 22, 2000 the Peoples Weekly World held its 4th annual celebration luncheon in New York, at the Henry Winston Auditorium.
Awardees were;[6]
Speakers included City Councilmembers Bill Perkins and Christine Quinn, Assemblymember Richard Gottfried, State Senator Tom Duane, Larry Moskowitz of the Communist Party USA and Working Families Party and Elena Mora for the Communist Party.
US Rep. Charles Rangel sent greetings and State Senator Eric Schneiderman sent a letter of commendation to the honorees.[7]
AAFE connection
On May 9, Christine Quinn was scheduled to attend the opening of a new Asian Americans for Equality Community Center at 141 Norfolk Street.[8]
Cuomo housing team
On Dec. 8, 2010, Governor-elect Andrew Cuomo announced his transition team for the areas of human services and housing.
The 15 committee members include Chung-Wha Hong, executive director of the New York Immigrant Coalition; City Council Speaker Christine Quinn, who has been a staunch defender of rent regulations; and Chuck Bell, program director of Citizens Union and a national advocate for health care and environmental protection.
The three assemblymembers on the panel have all been sympathetic to tenants' rights: Karim Camara of Brooklyn; Grace Meng of Queens; and Carl Heastie, head of the Bronx delegation and part of the anticorruption faction in that borough. Union and nonprofit members are Stuart Appelbaum, president of the Retail, Wholesale and Department Store Union; Christopher Kui, executive director of Asian Americans for Equality, which provides housing, social, and citizenship services in Chinatown and Flushing, Ross Levi, legislative director of New York State Pride Agenda, a leading gay and lesbian advocacy group; and Susan Hagar, president of United Way. Also on the panel is Rossana Rosado, publisher of the Spanish-language newspaper El Diario, whose editorials have not shared the antitenant bias of New York's major English-language dailies, the Times, the Daily News, and the Post.
The committee also includes the CEO of the New York State Association of Realtors.[9]
Supporting the "Progressive Caucus"
The New York City Council Progressive Caucus was formed early in 2010 to fight for progressive values and combat Bloomberg, a mayor who has often, in the words of caucus co-chair Brad Lander, "undermined grassroots democracy." By June 2010, 12 of the city's 51 council members had joined the caucus.[10]
The new group, is starting with a membership of 12, who are all Democrats, or almost one-quarter of the 51-member body.
The creation of the group, which includes seven members just elected in November, was meant to send a message to Mayor Michael R. Bloomberg and the Council speaker, Christine C. Quinn, its organizers said.
The caucus will be the first in recent memory to coalesce around ideology rather than racial or sexual identity, according to Council members. And by voting yes or no as a bloc, the caucus could establish a liberal litmus test for all Council members that could be easily tracked by future Democratic primary voters, who tend to skew left.
The group also demonstrates the clout of the labor-backed Working Families Party, which supported most of the members.
Ms. Quinn, said in an interview that she did not view the caucus "as a threat." By contrast, she said she anticipated agreeing with caucus members a vast majority of the time.
"I am a progressive," Ms. Quinn said, "and I have an incredibly long record as a progressive I am extremely proud of."
She later added: "I support any and all efforts or movements to help members become more effective, and get more done. That's not a challenge to me; that's exciting to me.[11]
On Estelle Katz
When Estelle Katz, a member of both the Communist Party USA and the Chelsea Reform Democratic Club, died in November 2012, fellow club member, and City Council Speaker Christine Quinn said this of her;
"Without Estelle's light," "Chelsea and New York City will be a little darker." Katz was a leader, said Quinn, "in the true sense of the word. She thought about others before she thought about herself, and was always working to make our community a better place. She was not shy about sharing her thoughts and feelings with me or other elected officials. I couldn't be where I am, without Estelle's work and support."[12]
Trayvon Martin case
A majority of New York City Council members, dressed in hoodies and holding Skittles candies and bottles of iced tea, held a press conference in front of City Hall March 29, 2012, to express their solidarity with the family of Trayvon Martin and to express their outrage at the fact that his murderer, George Zimmerman, has still not been arrested.
A resolution expressing the council's outrage was initiated by council members Letitia James, D-Brooklyn, and Melissa Mark-Viverito, D-Manhattan.
Council Speaker Christine Quinn, D-Manhattan, announced that she would be introducing the resolution with Mark-Viverito and James, and that it "will condemn the killing, the weaknesses in its investigation and the lack of an arrest."
"Our resolution," said Quinn, "Will also call for an examination of 'Stand Your Ground' laws nationwide, including their impact on increasing the flow of illegal guns to New York City."
Quinn continued, "Trayvon Martin was killed for his gender and his race. By releasing George Zimmerman, the Sanford police was saying it doesn't matter."
Councilwoman James declared, "The demonization of black men has got to stop."[[13]
Demos event
On Thursday, May 31, 2012 Demos, The American Prospect, and "our supporters celebrated our work over the past year. We also honored three incredible leaders who have advanced our vision of shared economic prosperity, inclusive democracy, and effective government. Thanks to all for helping us be at our best in this critical moment".
2012 Transforming America Awardees, were Sheila Bair, Leo Gerard, Ai-jen Poo
Honorary chairs included Congressman Christine Quinn.[14]
Sinn Fein lobbying
In March 2013, Sinn Fein lobbyist Rita O'Hare showed her wide reach of connections, meeting with a New York City Council staffer from Christine Quinn's office on March 11, and then meeting with Secretary of State John Kerry at the State Department the morning of March 18. That same afternoon, she met with Sen. Patrick Leahy, D-Vt..[15]
New York mayoralty
In the 2013 New York mayoralty race there were four significant early Democratic Party candidates.
According to Communist Party USA member Danny Rubin, writing in the People's World;[16]
It is widely agreed that the politics of the four range from Christine Quinn, toward the right, to Bill DeBlasio, to William Thompson, to John Liu on the left. Council Speaker Quinn's politics are similar to Michael Bloomberg's but still better than any of the non-Democrats. Yet her election would hardly change the direction of the city. While appealing to some because she would be the first woman and first openly gay mayor, her positions on issues go against their interests. She continually slows down and compromises all pro-working families legislation, such as holding up a vote on sick leave. She joins the Republicans in pledging to reappoint Ray Kelly as police commissioner, despite his stop-and-frisk policy. She has strong real estate developer financing.
Muslim Democratic Club of New York
New York City's first Muslim club is looking to have an impact on the mayor's race. And organizers of the group, the Muslim Democratic Club of New York, cited current Mayor Michael Bloomberg's policies–notably, the city police department's controversial Muslim surveillance efforts–as a key motivating factor as they seek to ensure his successor follows a new path.
"The mayor has been a problem for this community," one club leader, Ali Najmi, said. "We want to send a message to City Hall that the next mayor needs to treat us differently."
Representatives for New York City Council Speaker Christine Quinn and former comptroller Bill Thompson and Public Advocate Bill de Blasio were also in attendance.
Robert Jackson of Harlem, the only Muslim member on the New York City Council, spoke to the crowd. So did Zead Ramadan, who is also Muslim and is one of the candidates running this year to replace Jackson.[17]
DREAMers press conference
August 15, 2014, St. Mary's Church in Manhattan, the New York Immigration Coalition held a press conference and group workshop to begin the application process for deferred action for several hundred DREAMers.
They were joined by Congresswoman Yvette Clarke, Secretary of State Cesar Perales and City Council Speaker Christine Quinn. Contact was Kim Saravia.[18]
CUBA: LGBTQ Exchange Delegations
From May 10-15 2018, Center for Democracy in the Americas hosted a delegation to Cuba of U.S. congressional staff and other leaders on issues of gender equality and public health, including former Speaker of the New York City Council Christine Quinn (Member of CDA's Board of Directors) and Nadine Smith and Stratton Pollitzer of Equality Florida. The trip advanced dialogue and mutual exchange between U.S. and Cuban LGBTQ communities, and continued dialogue begun on an October 2017 trip with Rep. Mark Takano (CA-41) on the same subject. The delegation met with artists, academics, activists, and entrepreneurs on the island.[19]
Posted on October 17, 2017
From October 14-17, CDA organized a delegation to Havana to advance dialogue and mutual exchange between U.S. and Cuban LGBTQ communities.
The delegation included Representative Mark Takano (CA-41), former Speaker of the New York City Council Christine Quinn, and other leaders in U.S. civil society. The trip made Rep. Takano the first U.S. Member of Congress to visit Cuba in the aftermath of the State Department's announcement that it would shrink its diplomatic mission in Havana and reciprocally expel Cuban diplomats from the U.S. He also became the first Member of Congress to directly engage with Cuban officials in Havana since President Trump's June announcement that he would instruct his administration to increase restrictions on trade with and travel to Cuba. The delegation met with U.S. and Cuban government officials, as well as members of Cuban civil society including artists and academics.[20]
References