Christine Gregoire
From KeyWiki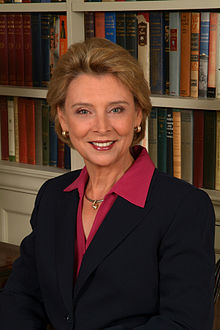 Christine Gregoire is the Democratic Governor of Washington State.
Background
Chris O'Grady was raised in Auburn, Washington, by her mother, who worked as a short-order cook to support the family. She rode horses, picked blueberries and learned the value of hard work and a good education. After graduating from Auburn High School, Chris O'Grady entered the University of Washington. She graduated with a teaching certificate and Bachelor of Arts degree in speech and sociology. She met her husband, Mike Gregoire , in September 1971 when they both worked for the Washington Department of Social and Health Services. Christine Gregoire received her law degree in 1977 from Gonzaga University.[1]
EMILY's List
Gregoire was supported by EMILY's List during her campaigning.
21st Century Democrats support
21st Century Democrats is a Political Action Committee that has stood for Progressive causes for over 20 years. Founded in 1986 by Institute for Policy Studies affiliate, Iowa Senator Tom Harkin, Democratic Socialists of America affiliates, former Texas Agriculture Secretary Jim Hightower, and former Illinois Congressman Lane Evans. Its three main goals are to help elect progressive candidates, train young people about grassroots organizing, and lastly, to continue to support our elected officials after Election Day "through our comprehensive progressive network".
Long time Board chair was Democratic Socialists of America member Jim Scheibel, a former Mayor of Saint Paul, Minnesota.
The mission of 21st Century Democrats is to build a "farm team" of progressive populists who will be the future leaders of the Democratic Party.
In each election cycle, we endorse a diverse array of candidates who exemplify our values and show unusual promise to advance our progressive goals. We invest in some of the most competitive races as well as in some of the most challenging – those in which the candidates are outstanding but the traditional Democratic supporters are most reticent. We back candidates in primaries as well as general election races, and we focus the bulk of our resources on electing challengers and protecting vulnerable incumbents.[2]
Gregoire was one of 71 key progressives endorsed by 21st Century Democrats in the 2008 election cycle, second round. [3]
External links
References